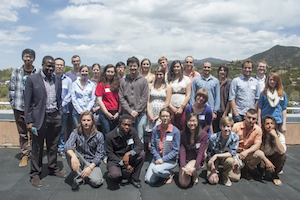 St. John's College has awarded 28 Ariel Internship stipends for summer 2014. Nine of those internships will be carried out in Santa Fe.
In today's job market, many employers consider college internships crucial to career preparation. In the Ariel Internship Program, students pursue diverse interests to support or determine their next steps—a job right out of college, advanced academic degrees, or further training in a new area. St. John's College offers a single liberal arts curriculum with no specialized majors. Learning is experiential and collaborative, focusing on original texts in philosophy, literature, and history, as well as science, mathematics, and music. St. John's graduates pursue a staggeringly broad range of careers—from medicine and law to beekeeping and jewelry making—which are reflected in their college internship choices. Santa Fe, where St. John's has been educating students since 1964, provides a wealth of diverse internship opportunities, from bio-medical research to book binding.
Instead of heading to a lab at a far-away research university for the summer, Cody O'Ferrall, a junior from Sacramento, CA, will do his internship in complex systems study and epidemiology at the Santa Fe Institute. His stipend is funded by Dr. Stephen Forman, an alumnus of St. John's Annapolis campus, whose philanthropy to the college supports bio-medical internships. O'Farrell will focus on the mathematical modeling of disease transmission, utilizing data and computer programming.
"I enjoy math, and our approach to mathematics at St. John's has only furthered my interest," O'Farrell says. "I also enjoy biology and a philosophical approach to the study of life. The Santa Fe Institute seemed like a perfect place to develop an interdisciplinary approach to my questions."
Caitlin O'Brien, a junior who moved around with her family while growing up, has an internship in book binding and book arts at the Santa Fe Community College Center for Book Art & Printmaking. Her internship is funded by a grant from the Mellon Foundation. She plans to become a book conservationist and wanted a thorough understanding of how they are made. She will spend the summer developing a portfolio of paper and binding styles and other projects to aid her in her application to North Bennet Street School, an historic craftsmanship school in Boston, after she graduates from St. John's next year. O'Brien will work with local book artists Marilyn Chambers, Patricia Pearce, and Marina Brownlow on their projects and cataloging.
Other St. John's students performing internships in Santa Fe are Cale Carson (JR) in criminal defense and civil rights law at Marjon Law P.C.; Stephen Hendrix (JR) in education at Breakthrough Santa Fe; Michael Johnston (SO) for historic preservation at Cornerstones Community Partnerships; Ian MacMillan (SR) and John Stupfel (JR) for journalism at the Santa Fe Reporter; Ashley Stanley (JR) for museum education at the New Mexico History Museum; Maggie Thornton (JR)for web design and branding at Mindshare Studios, Inc.; and Quinn Ernwood (JR) for blacksmithing at Prosser Forge.
Additional bio-medical research stipends, funded by Dr. Forman, were awarded to Dongyu Cui (SO) and Rachel Reid (JR) for oncology research at City of Hope in Duarte, CA; Kaytlin Gochenaur (SO) for medical pathology at the Adirondack Medical Center/Trudeau Institute in Saranac Lake, NY; Mia Goldman (SR) for human development research at Cornell University; and Unhye Myong (SO) for psychology research at either New York University or Northwestern University.
Additional Ariel stipends funded by a grant from the Mellon Foundation were awarded to Andrea Fiegel (SR) for museum education at the Delaware Museum of Natural History in Wilmington, DE; and Benjamin Holme (JR) for branding and communications at Siegelvision in New York City. Gabriela Amaya-Williams (JR) will do an internship in museum education or public programs, either in Santa Fe or in Santa Ana, CA.
General Ariel stipends were awarded to Kudakwashe Bhejana (SO) for finance and asset management at Portfolio, LLC, in Albuquerque, NM; Elliot Chen (SR) for physics research at Decision Sciences International Corp. in Poway, CA; Jackson Cusick (SR) for branding and communications at Siegelvision in New York City; Alexandra Fitzmorris (SR) in community gardens and small business development at Greenhouse, LLC, in Fresno, CA; Jingxing Gao (SO) in educational management at Fujen Summer School in Shanghai, China; Katie Huang (SR) in architecture in Oakland, CA; Selena Makrides in public relations in Atlanta, GA; Johannes Maronga (FR) in law at Gill, Godlonton and Gerrans in Harare, Zimbabwe; Jemima Strong (JR) in sustainability and non-profit management at The Island Institute in Sitka, Alaska; and Zizheng Wang (FR) in entrepreneurship and computers at 100 State in Madison, WI.