Join the Tradition that Questions Tradition
St. John's College offers one of the most rigorous college educations in America and it's also the "most contrarian college in America," according to Frank Bruni at The New York Times. Through our Great Books Program, students are required to engage deeply with 200 of Western civilization's most foundational texts, mathematical proofs, and scientific discoveries. By studying the original texts and conducting the radical experiments of the thinkers that shaped our modern world, students graduate equipped to thoughtfully engage with any challenge they face. The third oldest college in America and one of the top universities, St. John's has retained its long-standing niche as a home for deep seekers and scholars, and for those looking for a departure from compartmentalized learning in American higher education.
With two campuses in historic state capitals, Annapolis and Santa Fe, and the ability for students to study on both campuses, St. John's College has long been considered one of the top liberal arts colleges and best colleges in both the northeastern and southwestern United States. And now, it's one of the most affordable. A small liberal arts college, St. John's College's commitment to rigor and learning, to the free and civil exchange and examination of ideas, and to the intellectual tapestry of Western civilization, delivers an alternative to the excesses and vocational approach seen on many of today's college campuses.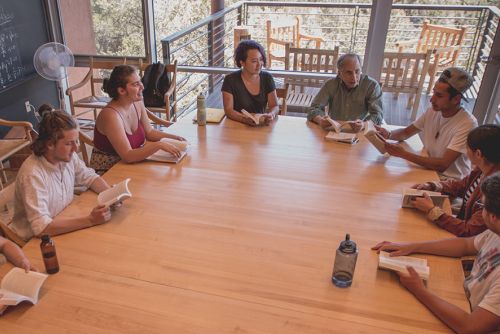 Life Doesn't Have Majors and Neither Does St. John's College
There are no lecture classes at St. John's College, and no professors telling you what to think—all students participate in deep inquiry and vibrant dialogue to develop enduring habits of critical analysis, active listening, and innovative thinking. Further, students study the original and influential works of mathematics and recreate science experiments from the groundbreaking inventors who continue to influence advances made today.
There are no undergraduate majors—all students follow the same common curriculum, known as the Program, and areas of study include philosophy, literature, mathematics, history, biology, physics, economics, political theory, theology, music, chemistry, and languages. Considered the "most forward-thinking, future-proof college in America," St. John's College offers a truly integrated liberal arts education, and as a result students form a comprehensive foundational knowledge and develop creative and critical thinking skills, preparing them for an ever-changing world.

#2
The Princeton Review ranked St. John's for "Professors Get High Marks."
Our Rankings

7:1
Small discussion-based classes have a low student-to-faculty ratio.
Our Faculty

17-19
Seminars have fewer than 20 students, typically led by two faculty members.
Our Classrooms
Your education should be an odyssey
Johnnies are seekers who yearn for the deep and the durable. See the journeys our alumni and students are taking with their St. John's education.