This January, as 20 second-semester juniors unpack, they will arrange Moliere and Racine upon shelves in Aix-en-Provence family homes.
For 16 weeks, like lodgers, 10 Johnnies from each campus will enjoy breakfasts and dinners prepared by their respective French hosts as part of St. John's College's new Study Abroad program. The classrooms of their program—The Institute for American Universities, or IAU College—lie along the cobblestone streets of historic downtown Aix, less than an hour north of Marseille, near Avignon and Arles. Lab equipment necessary for duplicating experiments by Faraday and Maxwell is provided.
"We'll do the program in full, the same program the juniors do on both campuses," says Santa Fe tutor Judith Adam.
Since February, she has called herself the Tutor for Study Abroad. As one of four faculty members going to Aix, Adam hoped to be practicing her French this summer. Yet after Santa Fe Dean Matt Davis assigned the task of writing the study abroad proposal, and the board agreed to go ahead in 2017, she found herself in charge with "less than one year to get the program off the ground." In Aix, Adam looks forward to Annapolis and Santa Fe students "coming together in one place," mixed in one seminar and two sets of tutorials.
According to its website (IAUFrance.org), IAU College, founded in 1957, hosts an array of students from more than 200 colleges and universities across the United States. Throughout the year, thousands of young scholars live with families and study in classrooms in the medieval center of town. A half-hour stroll along a country road leads to the Marchutz School of Fine Arts, part of the IAU program since 1976. Here towers Montagne Sainte-Victoire, a limestone ridge more than 3,000 feet high that sprawls across 11 miles. It inspired 60-plus paintings by Cezanne.
Last April, Adam and Annapolis tutor Brendan Boyle introduced the study abroad program. Approximately 50 students attended teleconference information sessions, and then filled out applications that included essays. Due to limited space during this pilot year, students were selected through a lottery.
"Judith has the most difficult task," says Boyle, who was asked by former dean Pamela Kraus to administer from Annapolis. "Creating a community of learning no different from the ones we have thousands of miles away involves logistical, practical challenges that Judith is spending a lot of time negotiating. Her efforts have been Herculean."
Directed by the deans and the Instruction Committee, Adam hammers out the minutiae of program-related issues such as adequate study space, setting up a lab from scratch, and making sure blackboards are in classrooms.
"It would be chaos," Adam says, without the assistance of Amy Weber from Santa Fe's admissions office, an international education professional who has guided students from various institutions since 2005. After Weber was named Assistant Director for Off-Campus Studies, she organized non-academic details including visa applications, insurance, plane tickets, and other items to ensure that students and faculty will be adequately prepared.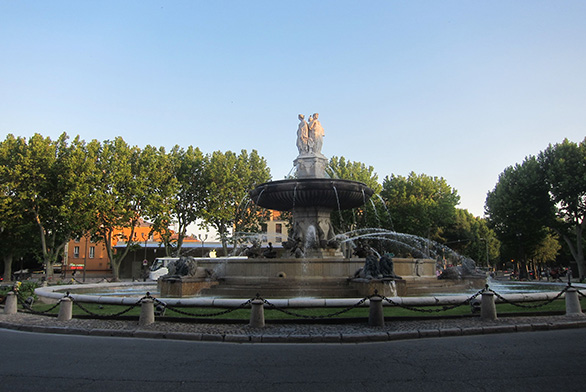 Although maintaining the integrity of the academic program and ensuring the safety and well-being of participants are top priorities, another focus is financial accessibility. Johnnies in Aix will have the same financial aid they normally receive, although work-study opportunities will be limited, at best. A freshman who usually supplements income via work-study "could anticipate needing to save a little money for second semester junior year," suggests Adam. Study abroad is a whole-college program, and Adam is disappointed that faculty recruitment, this first year—a casualty of time and scheduling pressures—exclusively represents Santa Fe.
St. John's has always encouraged individual students, often at their own expense, to go abroad for summer or gap-year programs.
"We will only do a program that is financially possible for all or most of our students," Annapolis tutor Patricia Locke explains. Locke stresses that it will be "our exact program, only in France." She spent nine months in Aix last year, and now, on sabbatical, plans to live there this fall as a Resident Fellow, sponsored by IAU. Although she will help set up the program, she declined the offer to join the first faculty group because she has been in Europe all year. Accompanying Adam will be tutors John Cornell, Patricia Greer, and Jay Smith, none of whom will be teaching full-time. In partnership with IAU student services, they will act together as assistant dean.
Both Adam and Locke tell how the long-standing friendship between St. John's and Marchutz makes IAU a natural fit for this program. Individual St. John's students and faculty have studied fine arts at Marchutz for many years. Two summers ago, Santa Fe tutor Susan Stickney brought six Santa Fe and two Annapolis Johnnies to Marchutz's six-week program; this past summer Annapolis tutor Sarah Stickney did the same with a smaller crew. Decades ago, the late Santa Fe tutor, Dean Haggard, led a seminar at Marchutz on the Meno. Adam brags that "IAU has been interested in St. John's because they see how good our students are. They're stars in Marchutz."
Depending how the Aix experiment goes, Locke foresees the possibility of a second program in Greece. The original idea, she says, was that Annapolis faculty and staff would organize a program in Greece, while Santa Fe focused in France. "I, with Nick Maistrellis, was investigating the possibility of a sophomore semester in Greece." Dean Davis, in Aix for several days last January and February, was able to work out many details quickly, and they proceeded in that direction, "starting small, to get the kinks out," says Locke. If a Greece program was initiated, ideally, "the students could choose between France and Greece," Locke says.
"IAU is very knowledgeable about St. John's," Davis explains. "In fact, the Marchutz school is modeled around us. Their biggest class of the week is a five-hour, or longer, seminar on Fridays in which they are looking at paintings and talking about them." He is confident that at IAU, "They know us. They know what we need. They're not going to interfere. They're not going to try to make us take their classes."
Johnnies in Aix will have classes in spoken French available, but not mandatory. "They know our program is very rigorous and takes a lot of time." Davis praises the home-stay aspect because "it will give the students a deeper sense of what it's like to live abroad." His decision to put Adam in charge was easy. "Judith seemed like a very good choice. Not only had she been to Aix, but she's well versed in French, speaking and reading it well."
When it comes to security, both the IAU website and Davis do not mince words. Davis says he will monitor the situation in Europe. Speaking for both deans, he insists, "Our job is the welfare of our students. We would never put students in danger."
Before launching this project, faculty engaged in considerable discussion and debate. One concern, writes Annapolis Dean Joe Macfarland, is that "Many study abroad programs are deeply unserious; they are quasi-educational vacations." He adds, "I have come to think that study abroad is not essential to liberal education, but still a beneficial addition to it." Macfarland describes how, "In the laboratories, we spend a good deal of time looking at phenomena, trying to see the world before us with fresh eyes, letting what appears shake our preconceptions, and then giving a fresh account to ourselves in words. Our learning is not entirely nested within words, written and spoken; we are thinking about how we are placed in the world and how we act in it." He concludes, "I think study abroad provides opportunities to supplement and enrich our discursive learning."