Classical Education and St. John's College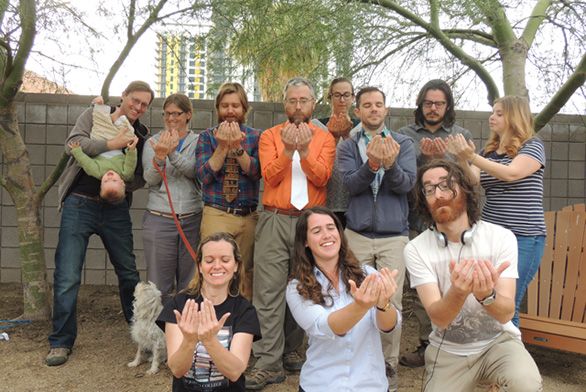 Though classical education does not practice the same pedagogy as St. John's College, the two share a similar goal: to foster understanding of the Western tradition. Like Johnnies, classical education students are exposed to primary sources and encouraged to approach them in an open-minded manner. Unlike Johnnies, however, their opinions are less central to discussions; rather than engaging in seminars, these younger students are guided through books with the help of a teacher.
It's unsurprising, then, that many of those teachers happen to be St. John's alumni. After all, the largest classical education network in the United States, Great Hearts Academies, was founded by alumnus Peter Bezanson (SF94), who now serves as CEO at classical education company BASIS.ed. Within the network of thirty public charter schools in Texas and Arizona, about 45 employees are St. John's graduates.
Among them is Ann Rightnour (A07), a faculty member at Anthem Preparatory Academy north of Phoenix. In her time with Great Hearts, she says, she's "never taught the same thing twice." Previous course loads have included pre-calculus and medieval history, and her current schedule entails six classes a day, one each for kindergarten through fifth grade, in Latin—a subject she taught herself last summer with the help of a spoken-language immersion program in Pennsylvania.
"It's not unusual for graduates of St. John's that work at Great Hearts to be tasked with learning a new subject because of their reputations for love of learning and capacity for teaching themselves," she says. "What I love about Great Hearts is how much it doesn't pigeonhole you."
In addition to her job at Anthem Prep, Rightnour runs the region's St. John's alumni chapter and notes that "the majority of our alumni in the Phoenix area work for Great Hearts or have worked for Great Hearts. Many come here for that reason."
The Colorado Springs–based Thomas MacLaren School, a public K-12 charter school founded in 2018, also boasts a handful of teachers from St. John's. Its co-founders, Executive Director Mary Faith Hall (SFGI97) and her husband, attorney and former teacher Eric Hall (SFGI94), met at the St. John's Graduate Institute's Master of Arts in the Liberal Arts (MALA) program.
"Unless you've gone through St. John's and really experienced seminars and that way of teaching and learning, you don't know how challenging it is," says Eric. "People who go through St. John's know what a good opening question is, how to facilitate it, how to redirect a conversation in a way I have not seen anywhere."
Mary Faith reports that there is some overlap in the approaches of MacLaren and St. John's.
"We have a very similar reading list, but we go at a much slower pace, so much of the work is really learning how to read those really difficult texts," says Mary Faith. "I think any of our seniors could walk into a St. John's seminar and do really well."
A kindergarten-level classical education, on the other hand, entails activities like singing folk music and being read stories and rhymes.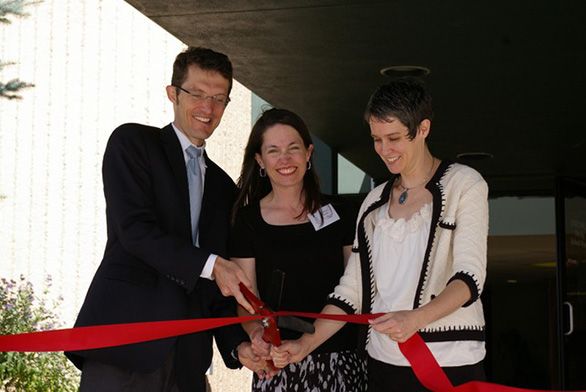 "The main emphasis is on love of reading," Mary Faith continues. "What makes it a liberal arts school is the context in which we do this. Education is for its own sake. Whether you are a kindergartener or a twelfth grader, that's the culture in which all of this is taught."
MacLaren licenses its curriculum from the Trinity Schools, which has one location in Indiana and another in Minnesota.
"It was pioneering," Mary Faith says of Trinity, where she attended high school and where both she and Eric have taught. "It wasn't reinventing the wheel, it was just bringing back what had been tried and true, where there were not just skills taught but content."
Another well-known arm of classical education, the CiRCE Institute (Center for Independent Research on Classical Education or Consulting and Integrated Resources for Classical Educators), focuses more faith. Christianity is often, but not always, an aspect of the classical education curriculum—but, as CiRCE's Director of Integrated Resources and Training Matt Bianco says, is not essential.
"Everything we say or think or do hopefully has [a Christian] underpinning," he says, but "CiRCE is probably most well-known for our writing curriculum among the homeschool community. Any curriculum we develop is going to be based on classical principles—in this case, principles of classical rhetoric. We're pulling from Cicero, from Aristotle, from Quintilian."
Public schools and charter schools are welcome to employ CiRCE's program.
"It can be used by people of other faiths," Bianco says. "We have great respect for Plato, Socrates, and the dialectic, and we encourage people to ask the hard questions about what they know and what they think they know as part of cultivating wisdom and virtue."
Bianco and his wife homeschooled their own children, because, as he says, "we wanted our kids to read the great books. We wanted them reading original texts."
When his oldest, Alec Bianco (A18), was visiting colleges, there was one that clearly stood out.
"That was St. John's. When we were driving home, he said, 'This place is perfect. I love what they are reading, I love the kinds of discussions they are having.'"
Bianco sees value in a classical education at lower and higher levels—and for him, it's not an either/or choice.
"For me, any book worth reading is worth reading multiple times," he says. "The books we call the great books are classic because they are worth reading multiple times. Your attention and the things you see and that are important change so much from year to year."