This spring 18 St. John's students from Santa Fe and Annapolis, along with myself and three other tutors—John Cornell, Patricia Greer, and Russell Winslow—embarked on an experiment: to complete the second semester of the junior year in Aix-en-Provence, France.
This was a first for the college. We took the Program, or part of it, to another continent; our challenge was to see if we could do it justice while opening up the college to a foreign, yet somehow familiar, place and language. While we were not responding to any perceived lack in the Program itself, but to the interest of many of our students to study abroad, the experience helped us to reflect on the college in surprising and revitalizing ways.
Classes were held on the campus of the IAU College (Institute for American Universities), in the heart of the city. There was a certain joy for all of us to be found just in the daily experience of inhabiting this strikingly beautiful place, with its Roman and Medieval roots and architecture stretching across the centuries, surrounded by Cézanne's Provencal landscape on all sides. There, just living appears to be a goal—and an art.
The everydayness of Aix is a public life. The people effectively live "outside," walking everywhere, shopping at the many daily markets (extraordinary for their number and variety even in France), and punctuating their day with coffee at cafes and bars, a habit that we all easily adopted—taking our books with us. The complex, somewhat formal, system of greeting one another that we encountered in France—even between storekeepers and waiters and their customers—struck a contrast with the warmth of American informality. The students lived with French host families in town—an adventure in itself. And for some students who were temporarily adopted by their host "parents" this was perhaps the most important aspect of their immersion experience in France.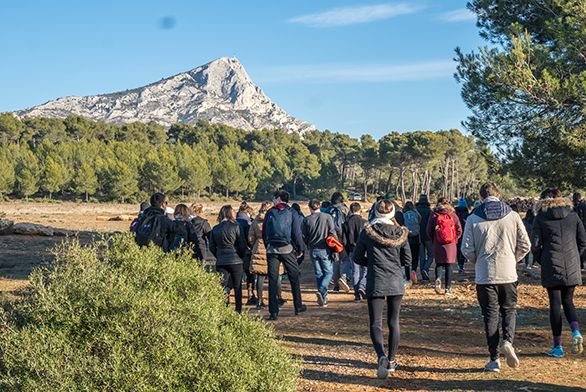 Once we had settled in, cobbled together some tables and blackboards, combined the students of two campuses, and waited for the college to emerge in this strange place from all of its assembled parts, our engagement with the St. John's curriculum was reassuringly like it is at home: the classes were St. John's classes, and the Program was the Program. In fact, despite the distracting wonder of the place, our studies seemed even to be enlivened by our new and challenging circumstances.
As it turned out, doing lab without a laboratory led to a deeper reading of texts, and stimulated a new spirit of inventiveness among the students when it came to constructing their own demonstrations and exploring the phenomena from scratch. A language tutorial reading Racine and Molière—playwrights that every French student reads in high school—had its own parallel resonances with the place. And the fact that we were combining students from both campuses seemed to spark interesting exchanges about how we do things at the college.
Though we arrived with the curriculum already in hand, our time together in France felt like revisiting the foundations of the college, which was reinvigorating and refreshing. Through IAU there were regular weekend day trips, led in French, to sites and cities around Provence and the Mediterranean coast, including Avignon, Nice, Arles, and the villages of the region.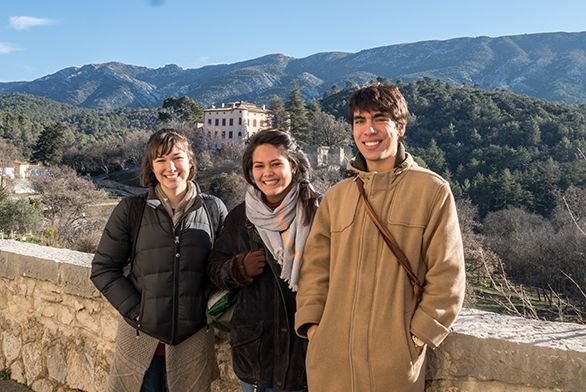 But the highlight was the St. John's excursion in early March to Paris, where the St. John's Alumni Association treated us to dinner on our first night. It was a thrill the next day to sit down together quietly in front of Rembrandt's "Bathsheba" in the Louvre and hold a seminar, led by Marchutz School professor and St. John's alumnus John Gasparach. And we were able to tour the Arts and Métiers museum—where Lavoisier's workshop, the first Leyden jars and voltaic piles were on display.
Based on this experience the tutors began to see the future possibilities for tailoring a number of our own excursions for St. John's students next spring, both in Aix, and farther afield.
This year has been a beginning—an unforgettable beginning, with promising future possibilities. It would be hard to express all of the gratitude that is due to the many members of the college community (and beyond) on both campuses who have contributed to the success of this experiment so far—to just getting it off the ground and landing safely in Marseille. And to the 18 students who took a risk with us, and to the faculty who pioneered in good spirit, we are immensely grateful. Nous nous souviendrons toujours.