The Art of Seeing
Literature and the Visual Arts
July 24–30, 2022 | Santa Fe, NM
What is it to see others? Under the guidance of Leonardo da Vinci, the greatest master of seeing, we will explore rational ways to understand perception, and then we will apply his formulas to help us analyze da Vinci's own paintings, and those of American landscape artists such as Santa Fe's own Georgia O'Keeffe. But what is it to see ourselves? Jane Austen's Pride and Prejudice gives us another way to see, with characters who struggle with their own perspectives on each other and themselves. Deeply intelligent and funny, Austen understands people and their self-deceptions better than anyone. In the end, we ask ourselves: what happens when we see well, or when we fail to see?
Sample readings include Austen's Pride and Prejudice, Leonardo on Painting, and visual art by Leonardo da Vinci and Georgia O'Keeffe.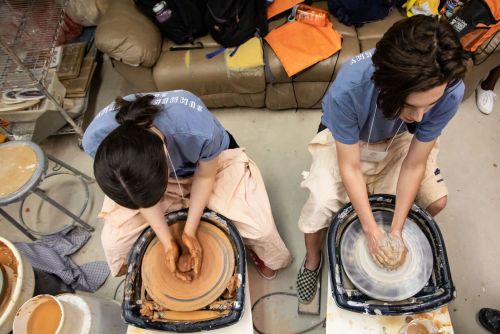 Classes and Readings
Seminar
Austen, Pride and Prejudice
Mathematics
Da Vinci, Leonardo on Painting
Visual Arts
Da Vinci, Annunciation
Da Vinci, Mona Lisa
O'Keeffe. Landscapes
Example Workshops
Improv Comedy, Pottery, Yoga
Example Excursions
Cave Dwellings at Bandelier National Monument; Santa Fe's Palace of the Governors; Historic District
Summer Academy in Santa Fe
The community formed among students is a natural extension of the friendships and ideas shared in the classroom. To further nurture a sense of community, Summer Academy students participate in non-academic workshops such as archery, pottery, yoga, and cooking. Off-campus excursions will include a refreshing visit to Lake Abiquiu and a tour of Meow Wolf's immersive, multimedia arts installation.