The Heart of the Matter
July 23–29, 2017 | Annapolis, MD
What moves the heart? The heart is lauded for bringing about great acts of love, but the heart is known equally well for being fickle and impulsive. In the seminar class, students consider how the heart can be a cause for both suffering and joy through the stories depicted in Jane Austen's Pride and Prejudice and Shakespeare's Twelfth Night. In the laboratory class, students explore the physiological function of the heart as they study the treatise by William Harvey that describes his discovery of the circulatory system. Students have an opportunity to take a closer look at the heart by dissecting a cow heart and sheep pluck. Finally, the language tutorial brings together literature and philosophy, including excerpts from Dante's Inferno and Pascal's Pensees, Montaigne's "On Cannibals," and Eudora Welty's "A Worn Path," to observe the power of the heart to move us toward vice, barbarism, truth, and sacrifice.
Classes and Readings
Students are expected to complete all of the readings before arriving on campus. With the exception of Pride and Prejudice, all readings for The Heart of the Matter have been compiled into this PDF document—or "manual of readings." There is no need to print the manual, as the college will supply students with a hard copy upon arrival.
For more information, the college urges students and parents to review expectations and policies, a campus map, and additional need-to-know details about Summer Academy.
Laboratory (science)
Harvey, On the Motion of the Heart and Blood
Dissections of cow heart and sheep pluck
Language (literature and philosophy)
Dante, Inferno
Montaigne, "Of Cannibals"
Pascal, Pensees
Welty, "A Worn Path"
Seminar (literature and drama)
Austen, Pride and Prejudice
Shakespeare, The Twelfth Night
Workshops
Croquet, swing dancing, sailing, and choral singing
Excursions
Tour of historic downtown Annapolis and a boat cruise on the Chesapeake Bay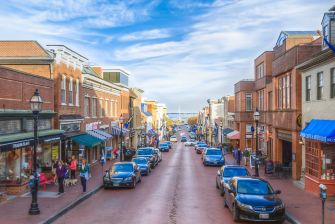 About Summer Academy in Annapolis
At the St. John's College Summer Academy, the community formed among students is a natural extension of the friendships and ideas formed in the classroom. To this end, Summer Academy students experience life at St. John's by taking lessons in croquet, swing dancing, sailing, and choral singing. Students' conversations about the heart will continue as they are taken on a historic tour of the Downtown Annapolis and embark upon a sunset cruise on the Chesapeake Bay.