Justice, Nature, and Law
July 16-22, 2017 | Annapolis, MD
What law governs human beings? This question lies at the foundation of human inquiry into everything from the nature of man, to the formation of societies, to the pursuit of love, to the bonds of family. In the seminar class, students consult ancient philosophical and dramatic texts with this question in mind, reading Sophocles' Antigone, Plato's Republic, and the Book of Job from the Bible. In the laboratory class, students read excerpts from Pascal's scientific treatises in order to explore the natural laws that govern air and liquids. Classes include original laboratory experiments such as measuring the weight of the atmosphere and adhering glass surfaces to one another with nothing but water. Finally, in the language tutorial, students explore the laws at work in the nation, the family, and the heart through reading stories by Franz Kafka, Flannery O'Connor, and Eudora Welty, as well as Abraham Lincoln's Second Inaugural Address.
Classes and Readings
Students are expected to complete all of the readings before arriving on campus. All readings for Justice, Nature, and Law have been compiled into this PDF document—or "manual of readings." There is no need to print the manual, as the college will supply students with a hard copy upon arrival.
For more information, the college urges students and parents to review expectations and policies, a campus map, and additional need-to-know details about Summer Academy.
Laboratory (science)
Pascal, Treatises on the Equilibrium of Liquids and the Weight of Air
Language (literature and political oratory)
Kafka, "Before the Law"
O'Connor, "A Good Man is Hard to Find"
Lincoln, "Second Inaugural"
Welty, "Why I Live at the P.O."
Seminar (drama, philosophy, and religious text)
Sophocles, Antigone
Plato, Republic
Bible, Book of Job
Workshops
Croquet, swing dancing, sailing, and choral singing
Excursions
Tour of historic Maryland State House and performance of The Tempest by the Annapolis Shakespeare Company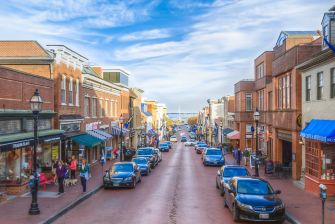 Summer Academy in Annapolis
At the St. John's College Summer Academy, the community formed among students is a natural extension of the friendships and ideas formed in the classroom. To this end, Summer Academy students experience life at St. John's by taking lessons in croquet, swing dancing, sailing, and choral singing. Students' conversations about justice, nature, and law will continue as they are taken on a tour of the Maryland State House and attend a performance of Shakespeare's The Tempest by the Annapolis Shakespeare Company.