In 1999, Stephen Hills sold his sound and video business and retired to Hawaii at age 47. He'd loved running his business, loved his employees and clients, but his wife was suffering from several stress-related illnesses and it was time for a change.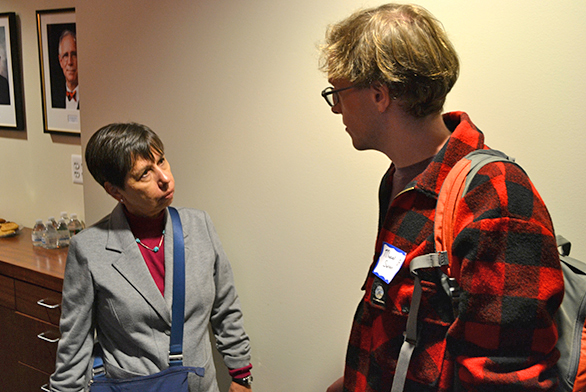 "It was hard to leave it all behind, but I love my wife more than my business," he said. "We simplified and moved to Maui."
Stephen, who acquired his nickname, "Sunny," after the move, lives in a beach-front condo and is a very relaxed man. He and his wife travel several months out of the year, often on cruise ships and sometimes by rail. It's a deliberate life, made possible by Sunny's success—not in his former life as a retailer and installer of sound and electronic equipment, but as a Google AdWords wizard, capable of turning a twenty-dollar conversion into a two-dollar conversion in one hour. Clients appreciate this and are willing to pay for it, and wait for it. Sunny's waiting list is 75 companies deep. If he wanted to work full-time, he could probably take them all on now, but he prefers to work two or three hours a day and spend the rest of his time doing other things.
Sure, he's a smart guy with plenty of marketing savvy, but he credits St. John's College with giving him the ability to ask himself what he truly wants, and what he truly likes, and the courage to follow through on those truths, even when he lacks a safety net. It was just a few years after St. John's, when he was in graduate school at the University of Oregon, studying broadcast journalism, that he made his first risky decision: he dropped out to take a minimum-wage job in radio, inspired by a pivotal moment on a fieldtrip, during which he watched two men work.
"We saw the news guy do the news through a glass wall. Past him, through another wall of glass, we could see the DJ. The news guy seemed old. He was chain-smoking and drinking black coffee, reading stories about fires and accidents and death—just horrible stuff. When he finished he pointed to the other guy through the glass, who'd been sitting there with his feet up on the counter, relaxing. As soon as the news guy pointed to him, he put his feet down and said into the microphone, 'It's time for music now on 1120 KPNW!' He was having fun. I said to myself, 'That future, or that future?'"
Among other skills he picked up in radio, he learned to write tight advertising copy, which served him well when he went into business on his own as well as when he pursued his first post-retirement career as a certified professional co-active life coach. He developed a positive-thinking CD and made a website for it, but wasn't getting enough traffic to sell many copies.
"Google AdWords had been born a few years earlier. I started using that," he said. He read a book by Perry Marshall, the leading Google AdWords trainer, implemented what he learned, and started selling CDs. He then took a seminar with Marshall—and ended up leading the student group in new sales and revenue, despite the fact that he was selling just one CD and many of them had full-fledged online businesses. Soon enough, Sunny was being asked to speak at Marshall's first live seminar, which attracted his first clients. In 2008, Sunny began leading Marshall's online seminars twice a year, from wherever he happened to be at the time. Sometimes, that meant leading seminars from a cruise ship. (Sunny recently decided to take time off from that job in favor of more travel.) He is the president of Bizbuild.com, Inc., and runs several websites, including SaveYourAds.com and SunnyThoughts.com.
He calls himself the "Robin Hood of Google AdWords" because "I take the money advertisers were giving to the king—Google—and redistribute it to my peers, the other advertisers in Sherwood Forest, if that makes any sense."
Sunny says he can beat any agency, easily, because agencies use automation tools and he uses his mind. "I am very much a contrarian. If Google says one thing, I do the other. St. John's taught me how to challenge things, to think differently. I learned to question everything. St. John's gave me the courage to know I would be able to learn anything."