Alumni Week 2021
Monday, September 27 through Saturday, October 2, 2021
Thank you for participating in St. John's College Alumni Week 2021. We hope you enjoyed engaging with the various content and events hosted throughout the week, and that the programming provided you an opportunity to remember your Johnnie experience and strengthen your relationship with the college and fellow alumni.
Until we can be together again, we invite you to revisit the week's activities listed below.
See you soon!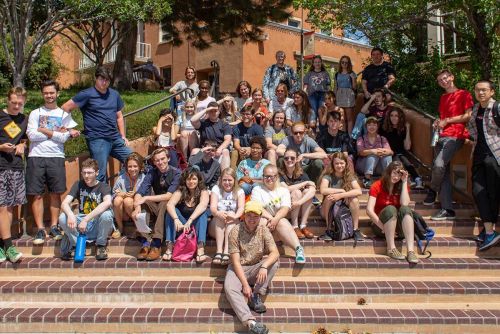 Schedule of Events
Monday, September 27 through Saturday, October 2, 2021
Monday, September 27
Welcome
Q&A with College Leaders
Alumni Association Awards
*Prerecorded Events
Join us for a kickoff celebration honoring remarkable members of our Johnnie community and for answers to alumni-generated questions from college leaders.
Tuesday, September 28
Return to the Classroom: How to Read a Painting of a Face and Lab Revisited
*Prerecorded Events
Missing the classroom experience? Return to your favorite tutorials led by beloved tutors.
Wednesday, September 29
*Prerecorded Event
Tune in for flash talks guided by images from alumni on the meaning of "perseverance."
Thursday, September 30
Breaking Barriers Panel Presentation

7 p.m. ET / 6 p.m. CT / 5 p.m. MT / 4 p.m. PT
*Live Event
Hear the personal experiences of some of St. John's first women students.
Friday, October 1
Return to Ptolemy Demonstration

3 p.m. ET / 2 p.m. CT / 1 p.m. MT / 12 p.m. PT
*Live Event
Annual All Alumni Meeting and Alumni Association Election

4:30 p.m. ET / 3:30 p.m. CT / 2:30 p.m. MT / 1:30 p.m. PT
*Live Event
Revisit Friday Night Lectures
*Prerecorded Event
Pick up right where you left off with Ptolemy and Lecture, and take part in the annual meeting of alumni and leadership elections.
Saturday, October 2
Seminar
Toasts and Tributes with Alumni Association Board
*Live Events
Commemorate our week together at seminar with classmates and tutors, followed by a celebratory toast hosted by the Alumni Association Board.
Registration is now closed. If you have a question about your selected seminar, please contact your Class Chair(s) or the Alumni Relations Office at alumni(at)sjc.edu.
Note: seminars with fewer than five participants are subject to cancellation. If a seminar is canceled due to low attendance, registrants may choose to transfer to an open seminar or request a refund. Alumni Week programming subject to change.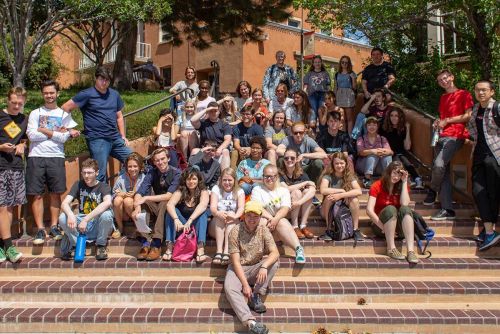 Registration and Pricing
Registration now closed
Live Events must be registered for in advance in order to provide login credentials on the dates of programming.
Prerecorded Activities will be posted on this page on the date of their occurrence and are open to all participants. To receive links to prerecorded content via email, registration is recommended.
Cancelation Policy
Due to the limited availability of virtual seminars, spaces are nontransferable and nonrefundable.
Alumni Association Board Honorees 2021
Alumni Association honorees are selected annually by the board in recognition for their pursuit of and successes in leading examined lives of virtue, as well as their steadfast commitment to the St. John's College community. Following are recipients of the Award of Merit, Volunteer Service Award, and Honorary Alumni designations to be commemorated during Alumni Week 2021.
2021 Award of Merit Honorees
Annapolis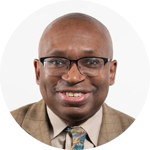 Robert George (A85)
For achievement in the field of journalism and distinguished service to the college and its alumni
Robert George (A85) has served both the college and its alumni through extensive volunteer activity, including service on the Alumni Association Board and its committees, the Board of Visitors and Governors, and volunteering as a DJ for nearly every Annapolis homecoming over the past three decades. His distinguished career in politics and journalism, where he has quietly championed civility and served as a model for civil discourse, displays how we hope Johnnies might contribute to society. George currently writes editorials on education and other policy issues for Bloomberg Opinion. He was previously a member of the editorial boards of the New York Daily News and New York Post. He began his career in politics working for the Republican National Committee and as senior writer and special assistant for then-Speaker of the U.S. House of Representatives, Newt Gingrich. He was involved in election monitoring in Nigeria, reported on slavery in Sudan, and has participated in fact-finding missions to Israel and China. Over the course of his career, George has appeared on MSNBC, CNN, Fox News, and many other political affairs outlets, and has written for National Review, Reason, HuffPost, and a variety of other print and online publications.
YouTube Video Watch an interview with Robert George
John Sifton (A96)
For achievement in the field of human rights advocacy
John Sifton (A96) has devoted most of his career to human rights. After focusing on international humanitarian law in law school (NYU 2000), he worked for Refugees International in the Balkans, and then as a researcher and later advocate at Human Rights Watch. In an interview last year with the college about human rights work, he described human rights research and advocacy as "a relentless pursuit of the truth and a constant but often unrewarding effort to bring abusers to justice." In addition to advocacy, Sifton is a writer, starting with a New York Times article published after 9/11 and leading up to his 2015 book, Violence All Around. Praised by The New Yorker, HuffPost, and other outlets, Violence All Around offers insights into human rights work as well as meditations on the nature of violence. Using his work on atrocities and war crimes as a springboard, Sifton explores the reluctance of historians and philosophers to analyze violence itself, not just as moral or immoral activity or as means to an end, but as a set of independent phenomena that condition human existence. According to Sifton, few observers, perpetrators, or victims are given an opportunity to consider these contexts. "I just don't get the sense that a lot of the people who work in human rights think about that."
YouTube Video Watch an interview with John Sifton
Santa Fe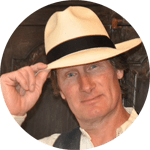 William Fischer, PhD (SF86)
For achievement in the field of evolutionary biology and bioinformatics
Will Fischer, PhD, (SF86) is a scientist who works at the interface of viral evolution, vaccine development, and pandemic prevention. His work has contributed to mitigation efforts against HIV, filovirus diseases (Ebola and Marburg), Hepatitis C, Hand, Foot, and Mouth Disease, and COVID-19. He played a vital role in the development of the mosaic vaccine design concept, which enables construction of vaccines for previously intractable pathogens. Since 2005, his work at the Los Alamos National Laboratory has been focused primarily on HIV. In 2020, he turned his attention to tracking the molecular evolution of SARS-CoV-2, the virus responsible for the COVID-19 pandemic. His recent work has significantly contributed to a better understanding of SARS-CoV-2 variants, and ways to apply this understanding to ensure continuing success with vaccines and antibody therapeutics. Fischer's deep biological knowledge, computational skills, and ability to design visual presentations of complex data—a skill he began to develop at the chalkboard in the St. John's classroom—have significantly contributed to vaccine design strategies and have helped save lives around the globe. He is a well-rounded, deep-thinking scientist, and his insights have benefited many issues relating to public health.
YouTube Video Watch an interview with William Fischer
Natalie Goldberg (SFGI74)
For achievement in the field of arts and literature
Natalie Goldberg (SFGI74) is the author of 15 books (and counting), including Writing Down the Bones, which has sold more than one million copies, has been translated into 19 languages, and revolutionized the way we practice writing in this country. Her most recent book, Three Simple Lines: A Writer's Pilgrimage into the Heart and Homeland of Haiku, has garnered wide praise—and includes a shout-out to the Santa Fe college bookstore. Her other books include the novel Banana Rose, memoir Long Quiet Highway, and a collection of essays, The Great Spring. For more than 40 years, Goldberg has practiced Zen Buddhism and taught seminars in writing as a practice. People from around the world attend her life-changing workshops, and she has earned a reputation as a great teacher. The Oprah Winfrey Show sent a film crew to spend the day with Goldberg for a segment on spirituality that covered her writing, teaching, painting, and walking meditation. She has been a speaker at commencement and other college events, including an event in 2018 where she reflected on the value St. John's College has had in her career as an author, noting that, "[at St. John's] you meet the mind of the author, which is really how you learn to write. The books you love, you study the mind of the authors, they're your teachers. So, me and Socrates and me and Aristotle, we're good friends … And that's what you need in order to write."
YouTube Video Watch an interview with Natalie Goldberg
2021 Volunteer Service Award Honorees
Annapolis
Charles "Charlie" Green (AGI02)
In recognition of the dedication and leadership exhibited by the alumnus as a contributor of time, talent, and treasure to the Mitchell Gallery, croquet, the Graduate Institute, and the Caritas Society. In addition to voluntarism and philanthropic commitment, this alumnus also recruited family and friends to become Caritas and Mitchell Gallery Board members.
Jacob Greenstine (A10)
In recognition of dedication and leadership exhibited by this alumnus in providing community for Philadelphia-area alumni through innovative virtual programs during the COVID-19 pandemic. This alumnus shared practice guidance and lessons learned with other chapter leaders for multiplier effect.
Santa Fe
Eli Castro (SF94)
In recognition of dedication and leadership exhibited by this alumnus as lead alumni volunteer for the SJC Consulting Club's inaugural case competition marking the college's first business case competition sponsored by a major firm, and longtime support to Admissions and the Office of Personal and Professional Development and Career Services Office, including mentorship for students interested in business and finance.
Joan Haratani (SF79)
In recognition of the dedication and leadership demonstrated by this alumna by her long-time tenure on the Board of Visitors and Governors and valuable contributions to the college and students through her work on the Campus Culture Committee, Diversity and Inclusion Task Force, and targeted donations such as contributing to the equipping and renovation of the "Rock Room" in Mellon Hall.
2021 Honorary Alumni Inductees
Annapolis
Donlin Long, PhD
Donlin M. Long, PhD, is the head of a dedicated family of Johnnies. His wife, Harriet (AGI93), served on the college's Board of Visitors and Governors, his daughter Elisabeth Long (A86) currently serves on the Alumni Association's Board of Directors, and he himself served on the St. John's College Presidents' Council. He is also the loving father of two other graduates of St. John's, Kimberly Riley (AGI87) and David Long (A90). After completing a PhD in neuroanatomy in 1964, Long served as professor of neurosurgery and chief neurosurgeon at the Johns Hopkins University for 27 years. He was one of the first program directors in the nation to adopt a major interest in chronic pain and developed an infrastructure for patient care at Johns Hopkins while advancing the standards for pain care around the world. During his career, Long has published more than 250 peer-reviewed articles and 100 book chapters, as well as 16 books. He was named a distinguished professor of neurosurgery at Johns Hopkins from 2000 until his official retirement in 2010. In addition to these accomplishments, he and Harriet have been active members of the college community and consistent donors since 1983. They established the Long Family Endowment with a leadership-level legacy commitment to the Freeing Minds campaign and are sustaining members of the college's Mitchell Gallery. In 2019, they became members of the college's Tocqueville Society for planned giving.
YouTube Video Watch an interview with Donlin Long
Santa Fe
Mary Anne Burke
Mary Anne Burke has been a member of the St. John's College community for more than 14 years, beginning as a staff member of the Advancement Office before transitioning to the Student Activity Center as fitness and wellness coordinator in Santa Fe. Burke, a known fitness and wellness buff and certified personal trainer, was nominated by current students in recognition of her extraordinary dedication, enthusiasm, and attention to the well-being of the college community. To create a more inclusive environment and to increase community engagement, Burke launched the Warrior Women Workouts, designing a fitness program that is welcoming, non-judgmental, and inclusive, and allows for customization by each participant. In response to the isolation caused by the pandemic, Burke partnered with Annapolis Athletics Director Chris Krueger (A07) to organize the "Meta-Ionnathon"—a race "of Pheidippidean proportions" between Santa Fe and Annapolis Johnnies to see who could (virtually) reach the other campus first. She also brought the archery program to the college, in which students compete locally, regionally, and nationally. Whether by student, staff, or faculty, Burke has been described as relationship-focused, maintaining connections with former students even after graduation. As Assistant Dean Michael Golluber notes, "Mary Anne has changed my life. Before she came, all [I] did is study and suffer from stress and anxiety. She helped me to start moving and to remember I had a body. I might be dead now if it weren't for her. I know many feel the same way I do about this."
YouTube Video Watch an interview with Mary Anne Burke
Paul and Cecie Dry
Paul and Cecie Dry's embrace of the St. John's College community and their commitment to the Program have resulted in their ongoing participation in classroom learning and financial support to the college. After reading a small ad in The New Yorker, Cecie and Paul first attended Summer Classics in Santa Fe in 1996 and have participated almost every summer since. In 2004, they initiated and funded a twice-yearly seminar in Annapolis led by tutors Eva Brann and Sam Kutler. Cecie attended the Executive Seminar program in Philadelphia and studied in the Graduate Institute in Annapolis. At Paul Dry Books, Paul has published numerous works by St. John's tutors. The Dry Family Foundation supports The Eva Brann Endowed Tutorship and the Southwest Scholars Partners Program, which is designed to benefit enrollment on the Santa Fe campus. Their engagement with the college is generational as Guillermo Bleichmar, their son-in-law, has been a tutor at the Santa Fe campus since 2009. The Drys have truly embraced the spirit of St. John's College and made its health and wellbeing a central part of their lives.
YouTube Video Watch an interview with Paul and Cecie Dry
Give in Honor of Your Class
Reunion Giving focuses on the power of collective giving. Each year more reunion celebrants give back, increasing the impact of a long legacy of Johnnies on the future of St. John's College.
Support a Class Endowment Fund
Designate your gift to a specific Class Endowment Fund. The endowment provides St. John's with a steady, dependable, and enduring stream of revenue. When it comes to ensuring our future, it doesn't get more important than this.
Volunteer as an Alumni Class Chair
The Alumni Class Chair Program seeks to deepen the relationship between alumni and the college by increasing engagement through class liaisons. Through this meaningful program, volunteers prepare their classes for reunion while increasing awareness for the importance of giving.