Alumni Week 2022
Monday, June 6 through Saturday, June 11, 2022
Thank you for participating in St. John's College Alumni Week 2022. We hope you enjoyed engaging with the various content and events hosted throughout the week, and that the programming provided you an opportunity to remember your Johnnie experience and strengthen your relationship with the college and fellow alumni.
Until we can be together again, we invite you to revisit highlights from past Alumni Weeks.
See you soon!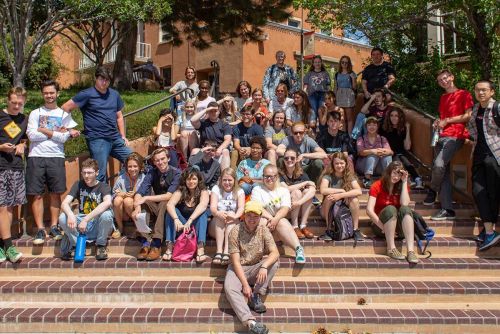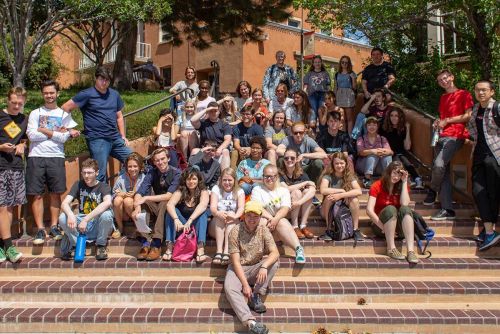 Registration and Pricing
Registration is now closed
Live Events must be registered for in advance in order to provide login credentials on the dates of programming.
Prerecorded Activities will be posted on this page on the date of their occurrence and are open to all participants. To receive links to prerecorded content via email, registration is recommended.
Pricing
Payment, along with registration, is required for participation in virtual seminars only.
Price for seminar: $50
Cancellation Policy
Due to the limited availability of virtual seminars, spaces are nontransferable and nonrefundable.
Alumni Association Honorees 2022
Alumni Association honorees are selected annually by the board in recognition for their pursuit of and successes in leading examined lives of virtue, as well as their steadfast commitment to the St. John's College community. Following are recipients of the Award of Merit and Honorary Alumni designations to be commemorated during Alumni Week 2022.
2022 Award of Merit Honorees
Arturs Krišjānis Kariņš (A88)
For extraordinary advocacy of freedom and democracy and service to the people of Latvia as Prime Minister
Mr. Kariņš is the Prime Minister of Latvia. He may be the only Johnnie alumnus to date to serve as head of state of a sovereign nation. He became prime minister in 2019 and has led one of the longest serving Latvian governments in modern history.
As a freshman in 1984, Mr. Kariņš received an honorable mention for the best freshman essay, an honor he has touted throughout his adult life. He continued his education at the University of Pennsylvania, where he received a Ph.D in linguistics. Mr. Kariņš later moved to Latvia where he was first elected to Latvia's parliament in 2002, and in 2009 was elected to serve as a member of the European Parliament. As Prime Minister, Mr. Kariņš has been an outspoken advocate for freedom and democracy, arguing that "Democracy is contagious. It is an attractive idea because it is the people, not autocrats, who decide who runs the country and in which direction to move."
Pedro Martinez-Fraga (A84)
For achievement in the field of law and international relations
Pedro J. Martinez-Fraga is a renowned international lawyer. He is a partner at law firm of Bryan, Cave, Leighton, and Paisner, where he co-leads the firm's international arbitration team, and is a World Bank arbitrator. He served as lead U.S. counsel on behalf of the Republic of Chile in the case against former Chilean President, Augusto Pinochet, and has also worked on the prosecutions of Venezuelan President Hugo Chávez and deposed Haitian president Jean-Bertrand Aristide.
His writings in the fields of public and private international law have been published in 15 countries and five languages, including more than 50 reviewed articles and six books. Mr. Martinez-Fraga has lectured at more than 30 universities across the globe. He is an Honorary Professor of Law at both the Universidad de San Ignacio de Loyola and the Universidad del Pacífico in Lima, Perú.
Boaz Roth (AGI92)
For achievement in the field of education
Mr. Roth has dedicated his life to teaching in the St. John's mode. He is Chair of the English Department at Thomas Jefferson School in St. Louis, where he has taught English, Greek, and math for almost 30 years and coached basketball for more than 20 seasons. The school has small, seminar based discussions in every discipline and boasts that its average student will have read 80 works of classic literature by graduation. His school's basketball court has ἀρετή painted on its floor and a local newspaper once found it noteworthy to state that "The varsity basketball team huddles with coach Boaz Roth, then springs back and yells, full-throated: 'Arete!' This is how one cheers at Thomas Jefferson School."
In addition to his Masters from St. John's, where he is remembered both for his focus as a student and a driven basketball player, Mr. Roth earned a B.A. with a double major in philosophy and economic theory from the American University.
John Ruskey (SF90)
For achievement in the arts and exploration
John Ruskey is a river guide, adventurer, canoe builder, artist, and Bluesman. With his company, the Quapaw Canoe Company, he leads canoe tours on the Mississippi River 200 days out of the year, in addition to workshops for ecological education and camps for local kids. One of his long running projects is rivergator.org, an all-encompassing internet and print resource providing detailed instructions for paddling the Mississippi River between St. Louis and the Gulf of Mexico.
Mr. Ruskey was the first curator of the Delta Blues Museum and is the co-founder and director of the Delta Blues Education Fund. Mr. Ruskey has written a monthly column, "Down in the Delta," for Blues Revue Magazine since 1998. In 1997, he won the Early Wright Blues Heritage Award, presented to a non-musician for outstanding work to preserve, promote, perpetuate, and document Blues in the Mississippi Delta.
Mr. Ruskey has maintained his association with the college and frequently mentions his education there and has led a seminar on the Mississippi River with other alumni on Mark Twain's The Adventures of Huckleberry Finn.
2022 Volunteer Service Award Honorees
Chelsea Adam (A12)
Ms. Adams began volunteering for the college and the Association soon after she graduated in 2012. Her service includes ten years of service on the Association's Alumni Giving Council, ALF Working Group, Admissions Working Group and Awards Committee. She has also volunteered with the Summer Academy, Online Great Books Academy, and at numerous college fairs. In addition, she has served as Class Chair for the Annapolis class of 2012. Adams is known to both college and Association leadership as a cheerful and tireless volunteer. Her years of service in all facets of alumni volunteerism is extraordinary.
Claiborne Booker (A84)
Mr. Booker has given both the Association and the college years of cheerful and diligent service. He was elected by the college's alumni to the Board of Visitors and Governors in 2011 for a three-year term, which was extended for an additional two years. After he completed his tenure on the BVG, he immediately began four years of service on the Association's board of directors from 2016–20, leading our volunteer efforts to support annual giving. Mr. Booker is like Aeneas, "duty-bound, and known' in the service of St. John's.
2022 Honorary Alumni Inductees
Michael Bechko
Mike Bechko is the Network and Telephone Systems Coordinator on the Santa Fe campus and joined the college's IT department in May, 1999. Because IT supports the entire college, alumni, staff, faculty, and students have all had the pleasure of working with Mr. Bechko over his 23-year tenure.
Of Mr. Bechko, it is said that "his ready smile, great sense of humor, incomparable dependability, and relaxed demeanor make it possible for us to face technology's continued stressors. Nothing rattles Mike: as one staff member notes, she's never heard him yell, 'though there are many times when he should have.'"
In his life outside the office, Mr. Bechko enjoys engaging in new forms of exercise and approaches to well-being; and he steadfastly believes in the importance of using one's brain for other-than-work activities.
Cara Sabolcik
Cara Sabolcik was a vital part of the Greenfield Library staff on the Annapolis campus for 21 years, retiring as the Associate Library Director in 2021. In her role, she worked across all functions of the library, including mentoring students and curating library exhibitions. Ms. Sabolcik was instrumental in establishing the college's Digital Archives and digitized the library's audiovisual collection.
It is also important to note that Ms. Sabolcik discovered that W. E. B. Du Bois gave a lecture on April 13, 1952, which was then independently confirmed by alumni, and which became the basis for the collegewide celebration this year of the 70th anniversary of this important occasion.
Ms. Sabolcik's service to St. John's also includes various appointments on the Staff Council and in numerous faculty, undergraduate, and Graduate Institute study groups through the years. In the greater community, Ms. Sabolcik served as chair and vice chair of the Maryland Interlibrary Loan Group, thereby enabling access to books otherwise not readily available to St. John's College and making the Greenfield Library more widely known as a participating peer institution.
Susan Shamos
Dr. Susan Shamos is the Founder of The Centus School Counseling Program, which places experienced counselors and social workers in schools that otherwise would not have enough access to high-quality mental health services for students. Together with her husband Jeremy (SFGI76), Susan has been a supporter and benefactor for multiple arts organizations throughout Denver and the state of Colorado. Susan and Jeremy led Denver's efforts to host the 2008 National Performing Arts Convention, a gathering of 5,000 U.S. and international artists and arts professionals.
Notably, Susan has participated in Summer Classics at the college for over three decades. She and Jeremy are among the top 15 lifetime donors to the college, inspiring others to join them in philanthropy and enriching the college community by gifting substantial works of art for public spaces on campus. Susan has served on the college's Board of Visitors and Governors since 2016.
Mark Sinnett
Mark Sinnett served as a tutor at St. John's College from 2000–20. In this role, he drew upon his background in mathematics and theology, having received his doctorate in mathematics from the University of Texas at Austin, as well as a PhD in Systematic Theology from Cambridge University. Prior to coming to St. John's, Mr. Sinnett was a Lecturer in mathematics at Concordia Lutheran College, Kansas University, and San Jacinto College. He is also a Minister of Word and Sacrament in the Presbyterian Church, having served as Minister at the First Presbyterian Church, Stephenville, Texas, and as a Senior Minister at Clemmons Presbyterian Church in Clemmons, North Carolina. Mr. Sinnett had the honor of being a Visiting Scholar at St. John's College, Cambridge, in 1997.
A beloved tutor, Mr. Sinnett was overwhelmingly chosen by the graduating class of 2022 to be their graduation speaker.
Give in Honor of Your Class
Reunion Giving focuses on the power of collective giving. Each year more reunion celebrants give back, increasing the impact of a long legacy of Johnnies on the future of St. John's College.
Support a Class Endowment Fund
Designate your gift to a specific Class Endowment Fund. The endowment provides St. John's with a steady, dependable, and enduring stream of revenue. When it comes to ensuring our future, it doesn't get more important than this.
Volunteer as an Alumni Class Chair
The Alumni Class Chair Program seeks to deepen the relationship between alumni and the college by increasing engagement through class liaisons. Through this meaningful program, volunteers prepare their classes for reunion while increasing awareness for the importance of giving.