Inauguration of Mark Roosevelt
An inauguration celebration for Mark Roosevelt, seventh president of St. John's College in Santa Fe, was held September 16, 2016.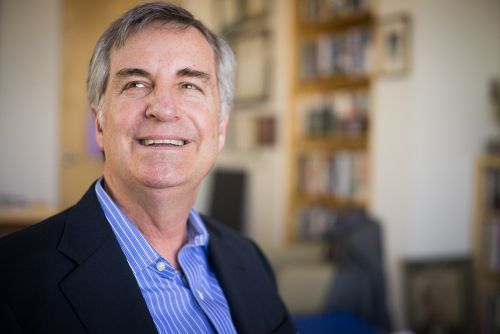 Roosevelt Finds His Calling
"There's a fear of pomposity," Mark Roosevelt said in the week leading up to his inauguration as the seventh president of St. John's College in Santa Fe.
Those fears were put to rest September 16 and 17, 2016, in an inauguration weekend that included barbecue and beer from the Cowgirl Hall of Fame, a Dixieland jazz band, film showings, and an American Indian hoop dancer who had the crowd on its feet. Roosevelt did his part to reduce pomposity by pairing his academic robes with blue-soled sneakers for the ceremony. These spirited aspects of the program were meshed with more familiar traditions, including the procession of faculty in academic regalia, and attendance by numerous board members, Alumni Association leaders, and college alumni (the event was timed to coincide with Santa Fe's homecoming weekend). The inauguration also included warm welcomes to Roosevelt from Santa Fe Dean Matthew Davis (A82)on behalf of the Santa Fe staff, and from Audrey Morf (SF17) on behalf of students.
Greg Avis, Roosevelt's friend and a former board member at Antioch College, where Roosevelt was previously president, introduced St. John's new college-wide leader, praising him for his razor-sharp intelligence. "This is not a 'job' for Mark," Avis said. "It is a calling."
In his own inauguration address, Roosevelt spoke of the importance of the St. John's education: "It changes people who can go on and change the world," he said. And he spoke to the challenges faced by our unique small college. "Please know this," Roosevelt said. "My commitment to preserving this education and celebrating its impact is unwavering."
Briana Saussy (A03, EC05), a member of the college's Alumni Association, says she has already seen Roosevelt's devotion to the St. John's mission and his ability to work through the tensions and concerns about the consolidation of two campuses under one president. "My personal impression," she says, "is that Mark is very much the right person to steer the college at this point in time."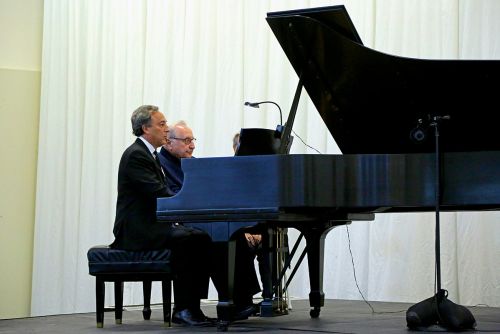 Music Becomes Philosophy: Lessons Learned at Presidential Inauguration
Pianist, composer and teacher Seymour Bernstein, at 89, is having something of a moment.
After retiring from an international performing career at age 50, Bernstein turned to teaching and writing, laboring in partial obscurity until 2014, when actor and director Ethan Hawke met him at a dinner party and made him the subject of his documentary film, Seymour: An Introduction. Since then, Bernstein has found a new audience among piano students, music lovers, and a general audience who recognize him as a mensch and a mentor: a sage, as much as a musician.
St. John's President Mark Roosevelt and his wife, Dorothy, had never heard of Bernstein when they watched Seymour: An Introduction on Netflix earlier this year. It was just as the planning had begun for Roosevelt's September 2016 inauguration.
"We just loved it," Roosevelt said in an interview. "I realized that much of what is represented in the film is central to what St. John's is about: The willingness to cast aside societal and cultural expectations, the value placed on teaching, and the passing on of things."
Roosevelt invited Bernstein, along with one of his piano students, New York Times art and architecture critic Michael Kimmelman (who has studied with Bernstein since the age of 5) to be featured guests at the inauguration. On the Thursday night before Roosevelt's installation, the college hosted a free showing of the film at Santa Fe's Lensic Performing Arts Center, followed by a conversation and Q&A with the star of the film himself. And "star" turns out to be an apt descriptor: Bernstein related to the assembly of alums, board members, and friends of the college how, on a trip to Korea after the film debuted, he was mobbed and followed by camera crews. "Now," he said in an interview, "I know what a rock star feels like."
At Friday's inauguration, in the Winiarski Student Center on the St. John's campus, Bernstein and Kimmelman charmed the audience with a shoulder-to-shoulder performance of Franz Schubert's Fantasie in F Minor (Bernstein calls it "a symphony for four hands"). After the ceremony they were joined by tutor Sarah Davis for a wide-ranging and very personal panel discussion about success, ego, and the connection between work and meaning, with Bernstein suggesting that everyone look in the mirror and say, "I love you."
Bernstein also devoted several hours to mentoring student musicians in one of his legendary public master classes before a live audience: St. John's student Evan A. Quarles (SF17) and two New Mexico high school students, Presley Gao of Los Alamos and Leah Epstein of Taos, selected via a statewide video audition sponsored by St. John's.
Bernstein has compared the profound effects of music to profound aspects of life. Life, he says, has harmonies and dissonances and resolutions, just as music does. "Musicians become philosophers," he says. "I believe you won't enjoy that resolution if you don't have that dissonance. We're searching for the truth of that B Flat."
8 photos
Inauguration of Mark Roosevelt