The Student Activities Center is no longer requiring reservations and is accessible to current students, faculty, staff, and alumni with your SJC ID card. For more information contact maryanne.burke(at)sjc.edu for more information.
"Athletics" means a lot of things at St. John's in Santa Fe. It means Eastern-influenced sports like archery and aikido that require meditative focus in order to develop mind and spirit over body. It means adventure sports, which call on the strength of one's courage and resolve in order to overcome external challenges—like a black diamond ski run or an 800-foot wall. It means intramural games and drop-in classes, from yoga and dance to racquetball and volleyball; from Crossfit-style training and weightlifting to soccer and Ultimate Frisbee; from table tennis to real tennis, and more!
Student Activities Center
Racquetball. Volleyball. Weights. Shall we continue?
Get Fit, Have Fun at the SAC
Built in 2000, the 26,000-square-foot Student Activities Center (SAC) invigorates the quality of student life on campus. Home to approximately 40 offerings per week, the SAC houses a full-size gymnasium, two racquetball/squash courts, a bike loan shop, a part-time dojo, and an extensive exercise and free-weight training room. Equipment for tennis, racquetball, squash, pool, table tennis, and outdoor adventure activities are available to check out at the front desk. All skill levels welcome and instruction provided.
The Center's director develops new course offerings based on student input and has recently funded new classes (like ballet), complete with transportation options to off-campus locations. Long-standing classes include aikido, karate, archery, soccer, pottery, yoga, and a slate of outdoor adventure options like skiing, snowboarding, kayaking, climbing, and backpacking. In addition, a healthy competition has arisen between tutor Krishnan Venkatesh's Iron Bookworm and SAC Director Mary Anne Burke's JohnnieStrong workouts.
However, just as in the classroom, the real point of the Student Activities Center is not competition, but a greater understanding of the self and of the community we share.
SAC HOURS SUMMER
Monday-Friday: 7:00a.m.-7:00p.m.
Saturday: 10:30a.m.-5:00p.m.
Sunday: Closed
*We will be closed July 4 in observance of the July 4th holiday.
SAC HOURS ACADEMIC YEAR
Mondays: 7 a.m.–7 p.m. / 9:45 p.m.–midnight
Tuesdays: 7 a.m.–10 p.m.
Wednesdays: 7 a.m.–10 p.m.
Thursdays: 7 a.m.–7 p.m. / 9:45 p.m.–midnight
Fridays: 7 a.m.–9 p.m.
Saturdays: 9 a.m.–8 p.m.
Sundays: 9 a.m.–8 p.m. / 9 a.m.–10 a.m., female, femme, and non-binary student hour
POLICIES AND PROCEDURES
The Grassy Field
300 days of sun = fun on the field.
The grassy ball field sits below the Student Activity Center at the "bottom" end of our Rocky Mountain campus. The field is where every imaginable outdoor activity unfolds, from archery tournaments and soccer games to Ultimate Frisbee and our annual Holi Festival that honors our South Asian community. It is where barbecues, water balloon fights, and the Funeral Games go down. It is the hallowed location of the annual softball game, which caps off the end of the year with a competitive game between the students and the staff and faculty.
Intramural Program
Are you a Geometer or Myrmidon? An Olympian or Quixotic?
St. John's has a long history of intramural sports, and every Johnnie is assigned to a team that will remain unchanged until graduation and beyond. In other words, one's team is a team for life, and deep friendships across class years are made on the court and on the field. The big question is this: What team will you be assigned to and who will be the classmates that you compete with for four years? In Santa Fe, the teams are the Geometers, Quixotics, Myrmidons, and Olympians.
Regardless of skill level, all students are welcome and able to discover the joy of amateur athletics in a welcoming setting where teamwork, exercise, and friendly competition are emphasized. In fact, alumni, siblings, faculty, staff, and parents are often invited to participate.
While the sports can change across years as new classes and students express interest in new kinds of team competition, common sports include soccer, volleyball, Ultimate Frisbee, flag football, basketball, dodgeball, four square, and table tennis.
So what exactly do students win for participating in intramurals? We're glad you asked. Points are earned at each game by participating students in the hopes of achieving the highest and most coveted award—the St. John's navy blazer!
Sports + Wellness
Not into team competition? You're not alone.
Want something different than intramurals and competitive athletics? The Student Activity Center sponsors a full slate of fitness and wellness programs that include self-directed fitness activities like weight lifting and yoga.
While SAC-sponsored programs and events can change from year to year and are offered in response to expressed student interest, common offerings are yoga, archery, aikido, karate, and drop-in volleyball. In addition, there are regular student-, tutor-, and staff-led classes like Over 9000 (a Crossfit-style class), Iron Bookworm (weightlifting), and Women Warriors (a stretch and power class). Recently, the SAC also sponsored ballet classes for students.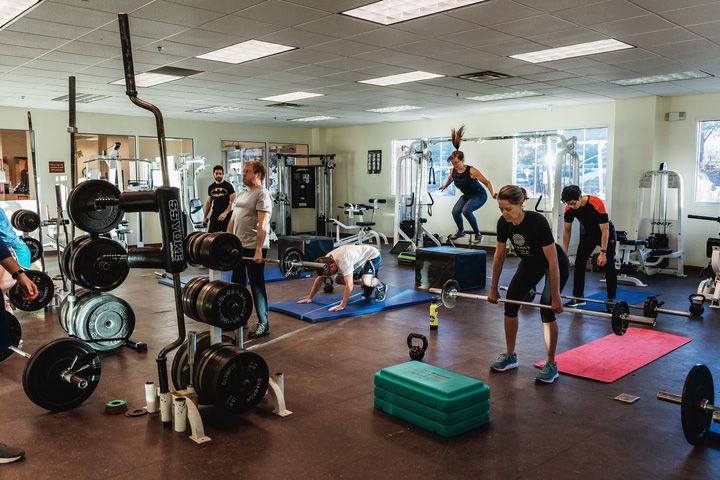 Bike Loan Program
Want to cycle downtown? We have bikes, helmets, and locks available!
For students who want to explore the City Different on a two-wheeler, the St. John's Bicycle Loan Program catapults commuters and urban adventurers straight into downtown Santa Fe. These commuter bikes, along with locks and helmets, are free for 24-hour use.
We also provide semester-long loaner bikes on a first-come, first-served basis for students who live or work off campus. Loaner bikes cost $50 for the semester—basic tuneups and flat repairs included.
For mountain bikers, our Outdoor Program provides mountain biking excursions complete with high-end mountain bikes.
In addition to these offerings, we also have a complete bicycle maintenance bench where students are welcome to work on their bikes. Don't know how to fix something? A staff of experienced and knowledgeable mechanics on campus will teach you! This, too, is free of charge.
Outdoor Equipment Rentals
Planning your own adventure? Free snowshoes, backpacks, paddleboards, and more!
Keep involved by following the SJC Outdoor Program on Instagram @sjcoutdoorprogram.
It's true! The college offers students outdoor adventure equipment at no charge, helping to facilitate self-initiated trips with friends. These include:
top-of-the-line backpacks
sleeping bags
snowshoes,
cook stoves
climbing shoes
crash pads
paddleboards
personal flotation devices (PFDs).
And if your trip is happening via an official college club—like the Ski Club or the Climbing Club—college vans can also be reserved as long as protocols are followed and an approved student driver from the club is driving.
For more information, inquire with the Outdoor Program, which is housed in the Student Activity Center.