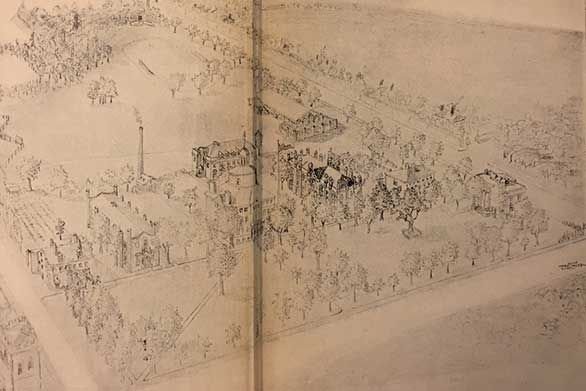 ANNAPOLIS—As the campus prepares to welcome alumni, family, and friends for Homecoming 2015 on September 25 to 27, here is a glimpse of St. John's College from 81 years ago.
This illustration is from the inside cover of the 1934 Rat-Tat yearbook, where Mark Smith drew an aerial view of the Annapolis campus. Clearly visible among the buildings are (from left to right): Paca-Carroll (1857), Humphreys Hall (1837), McDowell Hall (1742), Pinkney Hall (1858), Chase-Stone (1857), and the Barr-Buchanan Center (1899). Back then, the Barr-Buchanan Center was called Woodward Hall and served as the college's library. Randall Hall (1903) sits behind McDowell and Pinkney, while Iglehart (1910) is situated on back campus.
An old heating plant with smokestack sits where Campbell Hall would be constructed 20 years later in 1954. On back campus, there appears to be two tennis courts. Farther back is the French Monument, which honors the French soldiers and sailors who were buried on the shores of College Creek during the Revolutionary War.
Notable, too, is which buildings are not depicted in the illustration. The Carroll Barrister House, originally built in 1722-1723 by Charles Carroll, the surgeon, would not be moved from its location on Main Street to the St. John's campus until 1955. Also not depicted is the Greenfield Library, originally known as the Maryland Hall of Records, which was constructed in 1934 on land deeded to the state by St. John's for $10.
Across St. John's Street on the corner, stands College Avenue Baptist Church that was formally organized in 1903 and on that site until 1972.
The illustration also features the Liberty Tree, a 400-year-old tulip poplar which sheltered the Sons of Liberty before 1776 as well as French troops on their way to Yorktown during the American Revolution.
Want to see how much has changed? Here is the Annapolis campus now.
—Brady Lee (AGI14)