Alum Continues Pioneering Career in International Development
June 29, 2020 | By Les Poling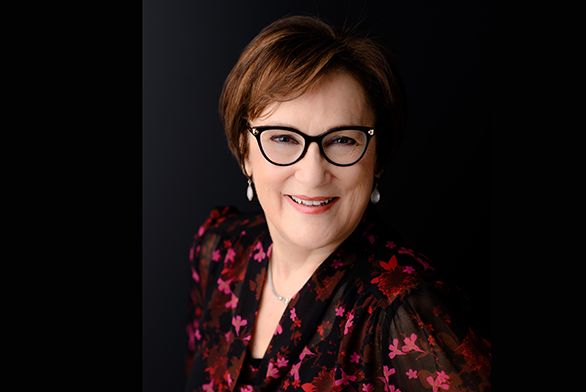 Nine years ago, Betsy Bassan (A75) decided to start her own company. For many, founding a business would be the culmination of a lifelong journey—the highest peak on the highest mountain of entrepreneurship. For Bassan, though, it's something different: the next step in a life devoted towards bringing the private, public, and nonprofit sectors together to help those in need.
Bassan arrived at St. John's College Annapolis in 1971. Initially, she intended to bypass United States higher education altogether. During high school in Seattle, she recalls, "I was very bored, and feeling like the American educational system wasn't getting me very far." She left school early, finishing her final semester while living in Belgium, and she intended to stay overseas. "I told my dad I was just going to stay in Europe and go to the Sorbonne, because I just didn't feel that [American higher ed] had anything to offer."
But her dad gently maintained that she should at least have options. One night at home, Bassan was doing the dishes while he read out loud from a college reference guide, including a description of St. John's. "Wait, go back over that one," Bassan remembers thinking. "That one sounds interesting." Her curiosity piqued, she decided to interview at the Annapolis campus; shortly after, she applied and was accepted. What she didn't know at the time was that her dad already knew about St. John's—in fact, he had wanted to go there himself. "He knew not to tell me," she laughs.
For Bassan, St. John's was the perfect fit. "The experience overall was like a conversion, learning to learn in a whole new way" she remembers. "I loved the discourse, the ability to delve deeply and discuss collaboratively, and experience this conversation that played out over time." She also treasured the campus and the college gym, where she was a regular. She stayed active in intramurals throughout her four years; along with another student, she formed several new women's teams and helped advance gender equity in the athletics program, even serving as women's athletic director in her junior year. From the gym to the classroom, she loved forging intellectual bonds with her peers.
"You're a part of this community of learning, of learners. And it's a treasure," she says.
She was led to a career in international development by both her St. John's education and a formative gap year spent in Greece, where she lived in an apartment in Athens, took classes, and embarked on excursions all over the country, including a month-long stay on tiny Astypalaia—an island less than 40 square miles in surface area. It was a time of massive upheaval in Greece, and for Bassan—who grew up in a comfortably middle-class family—it was eye-opening. "I had never honestly seen poverty," she says. "It formed my decision about what I would do with my career and my life when I was finished with St. John's." While she didn't know the specifics, she had utter certainty that she wanted to fight global inequality.
"[There's an] Aristotelian idea of a person's potential, and cultivating that and allowing them the opportunities to fully reach that," she says. "I remember feeling that so many people in the world, who were unknown to me before, just didn't have the conditions that allowed them to reach their potential."
That principle has motivated her ever since. After St. John's, she attended Columbia University's School of International and Public Affairs and earned a master's degree, at the time called "Planning in Developing Nations." That led to seven years living in Sudan and Kenya, where she worked for a variety of non-governmental organizations and U.S. Agency for International Development (USAID) missions. When she returned to the U.S., she joined Chemonics International, a recognized leader in the international development sector, and quickly moved into a leadership role. She launched a variety of strategic initiatives for the company, including a new regional division for Europe and Eurasia in the mid-90s and a health practice in the 2000s, all while serving at the helm of several boards to advance global advocacy and knowledge exchange in international development.
In between executive positions at Chemonics, she led a USAID effort at Save the Children to help U.S. and international NGOs adopt state-of-the-art practices in family planning, reproductive health, and HIV/AIDS; she then oversaw a USAID review of the International Planned Parenthood Federation's worldwide programs, collaboratively identifying priorities for donor funding. Overall, Bassan says "I learned that I am happiest on a private sector platform; with the focus on results and efficiency, I feel I can make a greater dent in addressing global issues."
So why leave?
In 2007, Bassan was diagnosed with a particularly aggressive form of breast cancer. Her work, she says, helped her avoid feeling consumed by cancer treatments—she continued leading the Europe and Eurasia division at Chemonics and served as chair of the Society of International Development, donning wigs for public appearances. When she was finally declared cancer-free, she remembers thinking "what do I want to do next? I've got this new lease on life, this new opportunity, this new time—use it well."
In 2011, after negotiating a founding contract with Chemonics and completing several U.S. small business administration courses, Bassan launched Panagora Group—a small business with the mission to "help make the world a better place for good through high-quality, high-impact international health, development, and learning consulting." For Bassan, it had become clear that there was a role for small business partners in niche areas of the international development field, such as learning from experience and past efforts, using evidence and performance data to guide programming, and building the capacity and ownership of local partners upon whom sustainability depends.
"Pan Agora" translates loosely to "all marketplaces." What that means is "having places where ideas can be exchanged, where people can identify what works, identify best practices, and replicate them, and ultimately have what works in development underway across all agoras—everywhere," Bassan explains. "We're really looking at what we're doing and making sure that it's having an impact; our mission is to 'make our world a better place for good.' It seems so basic but has been disconcertingly elusive in international development."
Panagora began with Bassan and one other employee working out of her home basement. Since then, growth has been mind-boggling. The company has expanded to more than 125 employees and 15 countries around the world—and, of course, has moved out of Bassan's house. But what's more impressive is the scope of the work itself, from developing the "gold standard" child protection protocol for USAID to helping introduce monitoring, evaluation, and learning (MEL) practices within the U.S. State Department—and strengthening those practices within USAID to offer millions of people better access to health care. In 2019 alone, Panagora won three prime contracts as well as two subcontracts, was named USAID small business of the year, and was listed in the top 10 percent of fastest growing companies in America by Inc. magazine.
To top it off, Bassan won a 2020 Enterprising Women of the Year award, courtesy of Enterprising Women magazine—an honor that, as the CEO of a woman-owned small business, holds a special place in her heart. While small businesses make up 99% of the American economy, and 40% of those small businesses are owned by women, "only 1.7% of those women-owned businesses crack the ceiling of $1 million in sales. Why is that?" Bassan asks. "It's because of a lack of access to credit and opportunity. And we need to change that."
"One of the things I try to use this platform for is to encourage other women to break into international development," she adds. "It's important to me—as a person, as a human, but also as a woman—to really establish our presence."
Of course, due to COVID-19 the field of international development looks vastly different now than it did even half a year ago, and Panagora is no exception. Staff in the U.S. headquarters moved to full-scale telework in the middle of March, while teams in India, Colombia, South Africa, and the Philippines began using a variety of platforms to facilitate and support local projects remotely. For Panagora, like everyone else around the globe, the future is unknowable. But one thing is certain: Bassan will be working to make the world a better place.