Alum Explores Relationship Between Democracy, Technology, and the Liberal Arts
May 30, 2019 | By Kimberly Uslin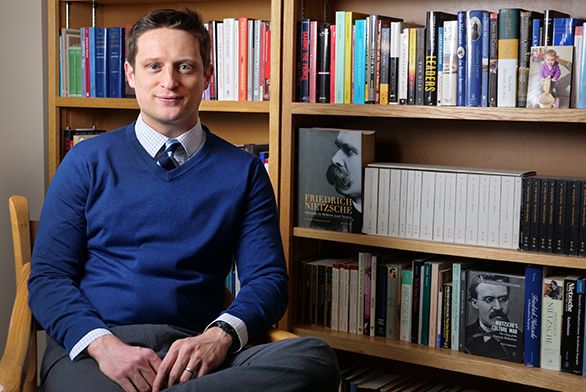 St. John's College alumnus Shilo Brooks (A06) has some advice for Facebook founder Mark Zuckerberg: Read Xenophon's Cyropaedia.
"The book is about Cyrus' tremendous ambition," explains Brooks, who often teaches the text in the context of modern technology as a faculty member at the University of Colorado. "Cyrus thinks he can make the world a better place if he can only create an empire in which virtue is justly rewarded … and so he, in a way, attempts to make himself and his leadership the solutions to a profound political and theological problem. In his view, his empire and his judgment are just, so if he can encompass the entire world and make it dependent upon his view of justice alone, he can make it better."
Zuckerberg's vision of a "more open and connected world" through social networks, Brooks says, is similar in both its good intentions and its tyrannical misconception.
"When I hear him [Zuckerberg] talking about bringing the Internet and Facebook to third-world countries, when I hear him talking about how Facebook can enrich our connections and our friendships and our politics, I think that he's a well-intentioned, beneficent, good-hearted person who is deeply misguided," says Brooks. "He has made an empire which people have lately begun to believe is more malevolent than benevolent, despite its apparently good intentions. Facebook has about 2.2 billion users. Christianity has about 2.2 billion adherents. It took Christianity 2,000 years. It took Facebook about 15. Like Cyrus, Mark Zuckerberg has made much of the world dependent upon his judgement about what is good and desirable for humankind, and it is beginning to backfire."
The problem, according to Brooks, is that Zuckerberg "doesn't understand the roots of his own ambition," or "human nature." And that, he argues, is where the Great Books come in.
Brooks is the director of the Engineering Leadership Program in the College of Engineering and Applied Science at the University of Colorado Boulder. The program, which builds upon the University of Colorado's Herbst Program of Humanities in Engineering, teaches Great Books courses to engineering students with the aim of strengthening their leadership skills.
(The original Herbst program, it's worth noting, was modeled after the St. John's Program but eventually moved away from the St. John's model, Brooks explains, because putting students through the rigor of both an engineering and the St. John's curriculum simultaneously was not sustainable.)
"I think technological leadership requires liberal education, in large part because the kinds of things that come at you … are problems which are not strictly technical in character," explains Brooks. "Technology leaders have to be widely read, curious people because they can't foresee the nature of the kinds of problems that their technologies may inadvertently create."
Under Brooks' direction, the Engineering Leadership Program introduces primary source readings in philosophy, history, and literature alongside contemporary issues and leaders—comparing Cyrus and Zuckerberg, for example, or reading Machiavelli's The Prince alongside Bad Blood by John Carreyrou, which documents the rise and fall of fraudulent billionaire Elizabeth Holmes.
Though he will continue to direct the program remotely, Brooks was recently awarded a fellowship at the James Madison Program in American Ideals and Institutions at Princeton University. There, he will dedicate 10 months to researching the relationship between technology and American democracy.
His fascination with politics and government, he says, was first sparked as an undergrad at St. John's.
"I had not [been] interested in politics, but when we were reading some of the Greek histories freshman year, I was arrested by the accounts of the great generals and the great rhetoricians and the great political men," he remembers. "I fell in love with a certain kind of political greatness, and that sort of got me very loosely interested in politics, but then as I progressed through the Program, everything really changed for me."
Brooks was fascinated by Machiavelli and other sophomore-year authors, but says it was junior year that impacted him the most.
"I can remember just being captivated by the quarrel between the ancients and the moderns on the question of how political society begins, and with the teachings of people like Locke, Spinoza, and Rousseau versus the Aristotelian account of the origins of the city I'd studied in the freshman year."
Senior year introduced more political philosophy in the form of Marx, Tocqueville, and Nietzsche, and it was the contrast in thought between these three that Brooks said propelled him to graduate school.
"It was then that I thought, 'There's a real disagreement about the goodness of the entire way of life that I've known in the West … and that's what really hooked me."
Brooks went on to earn his PhD in political science from Boston College, later securing teaching positions at Bowdoin College and the Program on Constitutionalism and Democracy at the University of Virginia before landing in Colorado. He published Nietzsche's Culture War in 2017, and is excited to return to the foundations of American democracy with his new book project.
"I thought I would like some time to write about this," he says of his fellowship, "to think about the relationship between technology and American democracy, and then to think that problem through in the context of the Civil War, the Second World War, all the way to the present, when science and technology are wreaking havoc on the West as we know it."
"I also want some time to write about why I think the Great Books and the liberal arts are a necessary ingredient in a well-rounded education in science and technology. STEM has exploded in higher ed, and the liberal arts are under siege—in some places dying and withering away. I think the liberal arts are crucial for STEM folks, and I think narrow specialization is going to harm STEM in a way, or back it into traps it can't navigate itself out of," he continues. "The kinds of questions that STEM students are now confronting are not simply scientific in character. Looking at AI and its implications, or at algorithms that are trying to master the art of determining what constitutes offensive speech, or at Twitter bringing its platform to countries in which free speech laws are very different from free speech laws in the United States—those are extra-technical, extra-scientific questions that fall outside the purview of specialized education in applied science. My sense is that many Silicon Valley companies are bumbling because they're not able to think through human, social, political, and theological questions, much less are they able to reflect in any deep and nuanced way on the radical manner in which technology and science affect and alter democratic institutions and culture, to say nothing of the human soul."