Alumna Embraces the St. John's Education in All its Forms
March 18, 2019 | By Kimberly Uslin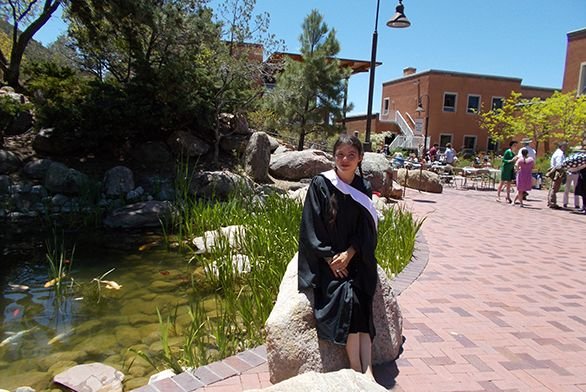 At 14, Marzia Dessi (SFGI16, EC18) had already started college. Three years later, she had earned an associate's and then a bachelor's degree, and by 18, had enrolled in a graduate program.
It wasn't until she arrived at St. John's a few years after that, however, that Dessi says she "found [her] home." Two master's degrees later, she's still sitting at the seminar table in Santa Fe.
"I'm auditing the Eastern Classics seminar again because I couldn't get enough of it," Dessi says with a laugh. "It's proving even better the second time around."
Dessi started with the Master of Liberal Arts (MALA) at St. John's, inspired by professors she'd had in undergrad who were alumni of St. John's undergraduate Program.
"It's very different from other graduate programs," she explains. "[At others,] you go in, study, listen to the lecture, go home and do research by yourself. At St. John's, you're connected by reading and discussing the same texts every week."
In the MALA, Dessi was particularly interested in Herman Melville's Billy Budd and in the politics and society segment of the program, though she's quick to mention how much she enjoyed the math and science section as well. She enjoyed the St. John's model so much, in fact, that the Eastern Classics program felt like a natural next step.
"When I was teaching world history [to high schoolers]," she says, "I noticed that there is so much attention given to the West, and it seemed unfair."
"I connected most with the Zhuangzi and early Chinese philosophy, which is more political science than metaphysics," she adds. "I feel they deal with more concrete problems and how to solve them, which I find satisfying."
Still, Dessi encourages anyone interested to pursue both programs because it gives a "complete framework"—though she says there is not as clearly delineated a difference between East and West as is often assumed (at least in terms of ancient philosophy).
"I don't think there's much of a rift between East and West," she explains. "The bigger rift comes along with the introduction of Indian philosophy and the sense that there is no ultimate self, when Western philosophy comes to really emphasize the self."
Dessi did Islamic Classics over the summer, too, but it was the Zhuangzi that struck her most. The eponymous text, one of the main books of Taoist philosophy, is a collection of stories by Chinese philosopher Master Zhuang. She began translating it from the Chinese while in Eastern Classics as part of the program's language requirements, and though she hadn't studied Chinese before, Dessi was fascinated by the Zhuangzi and its format.
"I really liked it," she says. "I was drawn to the short story model, and I thought a lot of students would appreciate having access to it. There are these adorable little stories with profound philosophical significance, and I started drawing pictures to go with them, to make them easier to comprehend."
Dessi has self-published a number of Zhuangzi translations, including The Pipes of Heaven and Earth, The Dexterous Butcher, and The Useless Tree, as well as translations of work by the Brothers Grimm, a graphic novel adaptation of The Tragedy of Macbeth, and several original works including poetry, critical essays, and a children's book.
In her pursuit of continuous learning, Dessi is in the midst of applying to doctoral programs in Chinese philosophy and cultural studies, with the ultimate goal of paying her years of schooling forward.
"I do hope to continue teaching, but this time at the undergraduate level," she says. "I definitely feel like St. John's gave me a grounding education."