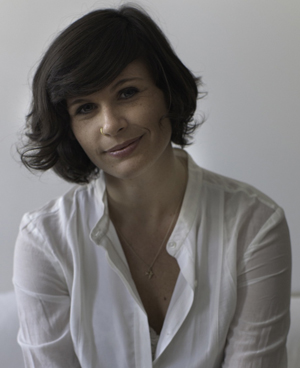 Alumni Profile: Editing the Visual Culture
Hannah Mir Jayanti (SF07), a documentary filmmaker and photographer in Brooklyn, New York, has a very specific compositional aesthetic. The framing of each photograph is deliberate, almost clinical in its precision, and what lives within the frame gives enough information for the viewer to form an entire story in her mind. Often, the images seem to have been captured just after a flurry of activity has ended—a simultaneous completion and fresh start: That carpet has just been vacuumed. Someone was just sitting in that chair. In her first documentary film, The Phantom Tollbooth: Beyond Expectations, which she directed, edited, and produced, the same aesthetic is at work—contained yet open, full of new things to learn. It's a joyful film, in which the beloved author and illustrator of The Phantom Tollbooth, Norton Juster and Jules Feiffer, along with other literary luminaries and young readers, discuss the creation and lasting importance of the groundbreaking children's book, 50 years after its publication. The documentary premiered at the New Yorker Festival in 2013.
Jayanti read and enjoyed The Phantom Tollbooth as a kid, but she wasn't a diehard fan of the strange, pun-filled adventure, in which a little boy named Milo travels to the Kingdom of Wisdom and rescues Princess Rhyme and Princess Reason. "I don't necessarily think that people who are diehard fans should make films about the things they love because it gets really tricky for it not to become a total love-fest that only other diehard fans can get into," Jayanti said. She wanted to make a movie that allows the subject matter to transcend its niche and appeal to a wider audience. What carries this film, she said, is the relationship between Juster and Feiffer, and how easy it is to feel connected to them—which is an entry into their work.
"That was probably true for how I ended up connecting to the material—I fell in love with Norton and Jules. They're warm and witty—two things that don't always go together that well—and incredibly insightful," Jayanti said. "One of my favorite things about them, and this is why I think they inhabit the spirit of the book, is that they don't talk down to people or children in any way. Often people look at children and think what they're doing is a temporary thing, just a means of becoming adults. Norton and Jules really respect the process of growing up and the minds of children."
On a personal level, she responded to what they had to say about the creative process. In the film, Feiffer talks about having to fail over and over again at anything that's worthwhile, a concept Jayanti thought about repeatedly while editing the documentary. "Editing is really hard," she confessed. "Editing is like an experiment in failure. You just fail over and over again. You try something and it doesn't work; you try something else. The process of it feels like a majority of failing and a tiny minority of succeeding. Jules really helped. I don't know if he knows that."
Jayanti got into editing while pursuing an MFA in photography at the School of Visual Arts. She ended up leaving the MFA program because she realized she loved photography too much to mix it with the world of money and careers. But she took an introductory video class at SVA and, while editing her first video—a short piece adapted from Mrs. Dalloway, by Virginia Woolf—she realized she could try to make a living editing videos. "I'm not sure if I believe in moments of realization, like This was the moment I knew what I wanted to do, but if I've ever had a moment like that, it was definitely doing this video. I remember locking myself in the editing room for three days, and the pace of time just totally changed."
Her father, Vikram Jayanti, is a documentary filmmaker, and despite never having imagined she'd follow in his footsteps, after dropping out of the MFA program she joined him in England where he was working on a project for the BBC. She did still photography and line producing and has since worked on other pieces with him. She made the trailer for The Agony and the Ecstasy of Phil Spector, which her father produced and directed. As an independent video producer, her projects have included making and edited videos for Vice's Creators Project and book trailers and author videos for publishing companies including Random House. Book trailers look like movie trailers, except instead of clips excerpted and edited together to be enticing to audiences, short clips of the story have to be created from scratch, right down to casting and location scouting.
"It's not excerpted, because there's nothing there," Jayanti said. "It's a truncated version of something that never existed."
She's not entirely sure why video trailers have become such a popular marketing tool for books, but guesses it goes along with the general trend of becoming a more visual culture, with more money being directed toward visual culture than literary culture. Right now, she said, everyone wants video. "The idea is, in young-adult fiction, for instance, to hype up the young, cute couple or the vampires, to make it seem like an exciting blockbuster, to convey the same dramatic energy that's in a film."
For Jayanti, editing video is where she feels comfortable, a place to call home. "I consider myself to be a verbal person," she said. "I don't know if that's true anymore, but learning about the visual world in graduate school was difficult in a way that leaning about the literary world at St. John's College wasn't. I was incredibly stimulated at St. John's; I'm someone who finds out what they think by chatting about it. My thoughts are like words. I'm quite analytical. But editing—you know that thrill you get in seminar when you connect to ideas? One thing leads to another and then a third thing comes out? It's almost a body high. I love that. I have the same feeling when I'm editing. It feels like an intellectual connection to the visual world, and it was like finding the feeling of St. John's in the world."