Alumnus Launches Successful Trade Platform in East Africa
April 26, 2019 | By Rebecca Waldron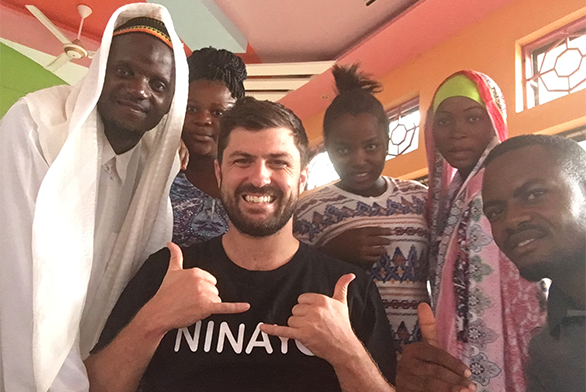 Like many alumni before him, Jack Langworthy (SF07) joined the Peace Corps shortly after graduating from St. John's College. While the experience is always impactful, however, Langworthy's service had a much more immediate effect: inspiring the creation of an award-winning business venture.
"I knew I wanted to make some kind of an impact and I thought the Peace Corps might be a good place to start," says Langworthy, who was placed in Tanzania teaching math and physics to middle and high school students. "The Peace Corps is oddly well-suited for Johnnies. It felt a little bit like the [St. John's College] Program in intensity—only on top of that, I was living in a hut with no running water [and] no electricity in a remote village in East Africa."
His time in Tanzania, he says, sparked an interest in local business and economics.
"I was surrounded by people who worked hard but were struggling with a kind of poverty I had never seen up close before," he recalls.
He began tracking the fluctuations in the price of maize, a staple crop in the region, and saw that many farmers were struggling to know how to price their goods properly throughout the changing supply and demand cycles. There were also problems with the shipment and storage of the harvest—much of the farmers' product ended up spoiled due to bug infestations or contamination from aflatoxins (the result of improper storage methods). Spoilage sometimes led to losses of up to 40 percent before the farmers could even make it to market.
Dismayed by the situation, Langworthy decided to remain in Tanzania after his Peace Corps term had ended to work for a non-governmental organization (NGO) dedicated to helping farm cooperatives. He soon found himself frustrated by the inefficiencies of the organization and other local aid institutions.
"They all had great plans on paper," he says, "but implementation is a whole different ballgame. These organizations have been doing things like trying to help smallholder farmers make more money for 50 years, [but] these countries are still suffering like crazy."
Convinced there had to be another way, Langworthy decided to return to the United States to pursue a business degree, hoping it would give insight into what could be done differently to help the struggling farmers. But it wasn't until he read Zero to One, Peter Thiel's book on startups, that Langworthy began to see what that better way might be.
"I realized that in all the places that are flourishing economically, there is almost always a strong private sector and lots of private investment," he says. "Zero to One got me thinking about software as a solution. I had never thought much about tech before. I don't code. A great thing about St. John's is that you learn not to be afraid of a new subject. I had very little musical knowledge [before coming to St. John's] but I learned to go deep into music. I quit mathematics in high school because it was so hard, but by senior year [at St. John's], I was getting As in math. St. John's teaches you a way to be fearless when learning a new skill and that definitely applied to trying to launch a tech company when I couldn't write a line of code. It's about not being afraid to do a new thing that you don't necessarily understand."
With the help of an engineer, Langworthy launched online trading platform Ninayo, which helps farmers find out what are people are charging for goods in their area and adjust their prices accordingly. The platform, which operates in East Africa, gets information from crowd-sourced data. (Or, as Langworthy puts it, works "kind of like a Craigslist for East African farmers trying to sell their goods at the best price.")
Langworthy used his contacts from his time in the Peace Corps to spread the word about Ninayo, and was soon able to secure his first 1,000 users. He sought investors in Silicon Valley and Silicon Beach, but it was a hard sell: a pre-revenue company building a product for farmers in East Africa living on less than $1,000 a year.
Eventually, however, he was given a multimillion-dollar seed capital valuation, established financial partnerships with organizations like the USAID and UNCDF and won attention and financial backing from some of Silicon Valley's most sought-after investors and advisors. And in 2018, he was awarded the MBA Entrepreneurial Venture Award by the Association of MBAs for the success of Ninayo.
This success, he says, is largely thanks to his time at St. John's.
"The Program was so fundamental to my success," he says. "I think I ended up being really good at talking to investors thanks to St. John's. Its all about logos and the truth and highlighting that. I don't think there's any other way to build a sustainable business."