Annapolis Chef Cooks at James Beard House
February 8, 2019 | By Kimberly Uslin
Michael Cleary, general manager of the Annapolis campus dining hall, recently joined a group of college and university chefs from Bon Appétit Management Company for a "Back to School" dinner at New York City's James Beard House, the former home of celebrated Chef James Beard. Bon Appétit was the first-ever residential dining management group to cook at the House, where the kitchen is typically run by full teams from restaurants all over the world.
"Normally at the Beard House, what happens is a restaurant or some other kind of food service operation shows up and they bring their team with them," Cleary explains. "None of us had cooked together before, so it wasn't like I was bringing my sous chef and my team from here at St. John's—people who I work with and I know what they do. This was kind of like working with strangers. So we had a bunch of conference calls, and on the conference calls we just tried to be as thorough as we could and tried to work out a lot of the details."
Each of the chefs, representing Johns Hopkins University, Roger Williams University, Massachusetts Institute of Technology, Brown University, University of Pennsylvania, and—of course—St. John's, was responsible for a course in the traditional French framework established by JHU's Philippe Chin.
Cleary, who has been at St. John's since 2010 and with Bon Appétit even longer, was assigned the chicken course but felt it didn't reflect the company's ethos.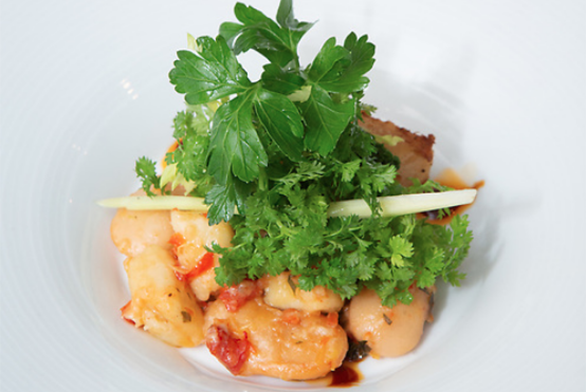 "We do a lot more plant-based proteins, and we do a lot more kind of innovative cooking," he says. "We don't really do this kind of classic French format, so I changed mine to a vegetarian course."
The result? A pot roasted celeriac basted in herbs served with potato gnocchi, gigande beans, and leafy winter greens–almond pesto.
Cleary is no stranger to fine dining. He previously worked as chef de cuisine at Nora, the country's first organic restaurant, and for renowned Philadelphia chef Georges Perrier. Though he wasn't able to sit down and enjoy the meal prepared by his fellow Bon Appétit chefs ("We were cooking the whole time!"), he was able to taste everything.
"It was a lot of fun," he says. "I tried to really bring St. John's to the James Beard House. We have a lot of different styles and diets to try to meet, so that's what I was trying to reflect."