Ariel Internship Recipients Pursue Opportunities Worldwide
June 18, 2019 | By Rebecca Waldron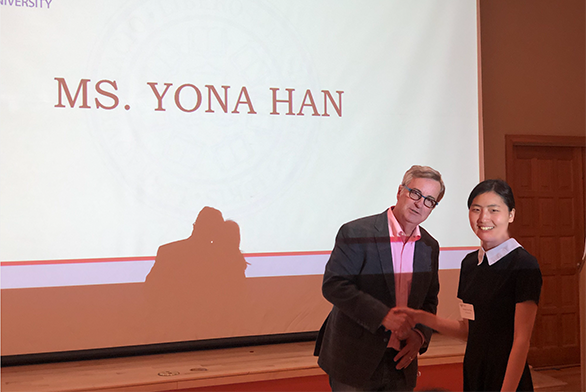 Each summer, as many students return home for the break, a small group of St. John's students heads off to pursue internships with the support of funding from the Ariel Internship Program. Initiated in 2004, the Ariel Internship Program offers a select group of students from the Santa Fe campus a stipend of up to $4,000. The aim of the Ariel award—an acronym for "Award for Relating Intense Education to Life"—is to encourage hard-working, ambitious students to use their summer vacation as a time to explore possible career paths, gain practical experience, and deepen their knowledge of a specific field.
The application process is competitive, and awards are chosen by a committee of faculty and staff. The application itself is designed to mimic employment and graduate school applications, with requirements like a resume, personal statement, and letters of recommendation, to help students become familiar with explaining their skills, interests, and ambitions in a clear and engaging way. Such writing skills will help students in the future with both job and graduate school applications.
"Students can intern in any industry as long as they are doing meaningful work," says Piér Quintana, the Assistant Director of Personal and Professional Development at the Santa Fe campus.
This year's recipients will be pursuing diverse opportunities all over the world. Internship opportunities include a recording studio in Los Angeles, CA, the Massachusetts House of Representatives, the Ethiopian Red Cross Society, the Open Society Initiative for West Africa in Nigeria, and a tax and advisory enterprise in India, among others. Several students will also be working locally in New Mexico, including positions at Los Alamos National Labs, the Santa Fe Institute, and the Santa Fe Botanical Gardens.
All undergraduates except January freshmen are eligible to apply, and stipends are available to both U.S. and international students regardless of need. Students interested in finding out more about potential internship possibilities can visit the Office of Personal and Professional Development.
See the full list of recipients below:
David Adah-Ogoh (SF22)
The Open Society Initiative for West Africa, Abuja, Nigeria
Eve Admasu, (SF20)
Ethiopian Red Cross Society, Addis Ababa, Ethiopia
Hannah Ann (SF20)
Santa Fe Botanical Garden, Santa Fe, NM
Adna Arnaout (SF19)
Magee Women's Institute, Pittsburgh, PA
Aviral Chawla (SF21)
Grant Thornton, New Delhi, India
Anh Do (SF19)
Los Alamos National Laboratory, Los Alamos, NM
Avinash Kumar (SF21)
Public Employees Retirement Association (PERA) of New Mexico, Santa Fe, NM
Yona Han (SF19)
Seoul University: Music and Audio Research Group (MARG), Seoul, South Korea
Kidus Kebede (SF20)
Mother Child Rehabilitation Center, Addis Ababa, Ethiopia
Arthur Seltzer (SF19)
Sonora Recorders, Los Angeles, CA
Susmi Sharma (SF21)
Santa Fe Institute, Santa Fe, NM
Gregory Syssoyev (SF20)
Massachusetts House of Representatives, Boston, MA