March 7, 2022 | By Eve Tolpa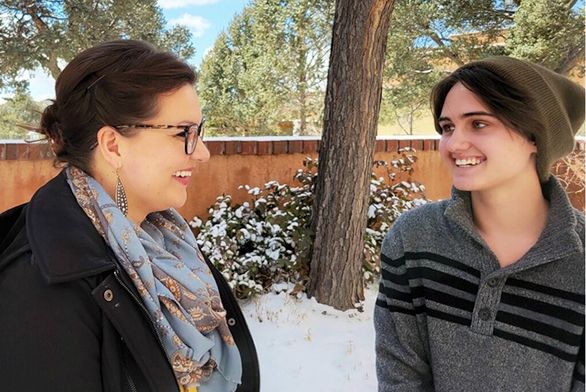 "Did you eat? Did you sleep?" Those are just two of the questions that Piér Quintana asked Sydney Whitten (SF23) on an almost-weekly basis in summer 2021.
At that time Whitten—a part-time senior who had medical school in her sights—was struggling to complete a very demanding hospital internship through the ARIEL program, which Quintana oversees in her role as Santa Fe's assistant director of personal and professional development.
But the support Quintana offered Whitten went deeper than standard career-service advising. The two had recently been placed in a mentor-mentee relationship through the Athena Mentoring Program (AMP).
Operating in collaboration with the Women's Empowerment Collective, AMP began in 2020 as a limited pilot program available to female-identifying members of Santa Fe's incoming freshman class. As of fall 2021, it has been open to all the campus's female-identifying students. Currently 20 student mentees are paired with 14 staff mentors.
According to Quintana, who has three other mentees besides Whitten, the pandemic spurred wider interest in AMP. "A lot of [students] are reevaluating their lives and what's important," she says.
The program was spearheaded by Dorothy Roosevelt, wife of Santa Fe President Mark Roosevelt, as one of a handful of initiatives created by the college's senior leadership to expand student support. Roosevelt says she "was looking for a way to become more connected with the college and to offer my help."
"I thought about my college experience and the challenges I encountered, and I could have benefitted from a program like this," she adds. "I knew people who had mentors and how important that mentorship was to them."
Mentor-mentee pairs meet a minimum of four times per semester, and while the interactions' frequency and nature can change from year to year, they are usually strengthened with consistency. "Once trust has been established, that foundation of support and communication often makes it easier for students to contact their mentors when they need help," Roosevelt says.
Whitten has experienced that dynamic firsthand in her ongoing relationship with Quintana. "Piér has been an absolute godsend," she says. "This year, she was a big part of my decision-making process to go part-time. She helped me slow down and prioritize work-life balance."
Ultimately, Whitten realized she didn't want to go to medical school after all. "I love art," she says. "I want to pursue art, and Piér made me believe I could do that." She sees Quintana as "a clear and objective voice about going out into the professional sphere, [who] has given me some really clear steps to take."
In summer 2022, Whitten will study fine art at the Marchutz School, in Aix en Provence, France, through St. John's Global Pathways fellowship program.
From Quintana's point of view, a big part of personal and professional success consists of "being open about what your experience is and how it makes you feel. Personal lives are so much a part of the stresses that come with being a college student. Sydney has been very introspective about what it is that really brings her joy, and what she wants to spend her time in college doing, and what she wants to do when she leaves."
There's an official list of qualities that AMP mentors are encouraged to bring to the table, from patience and confidentiality to having clear communication skills and being "big-picture oriented."
For Roosevelt, some personal keys for success as a mentor include intuition and flexibility: "Being attuned to where the mentee is, putting them first. Sensing what they need, not going in with an agenda. Just caring enough about the person to be there for them in whatever way."
"As a mentor I have really enjoyed getting to know my mentees and getting to know the college," she continues. "We all benefit from connections and from engaging with other people."
The St. John's Program tends to cultivate a particular type of interpersonal relationship, one that prioritizes curious and respectful open-ended engagement. Tutors don't position themselves as experts in the seminars, but rather as fellow participants.
Roosevelt recognizes a similar set of values at the heart of the Athena Mentorship Program. "It's not a one-way street," she says. "We're all here for one another, and here to learn from one another. It's very St. John's in that way."