Balancing Theory and Practice
April 10, 2018 | By Eve Tolpa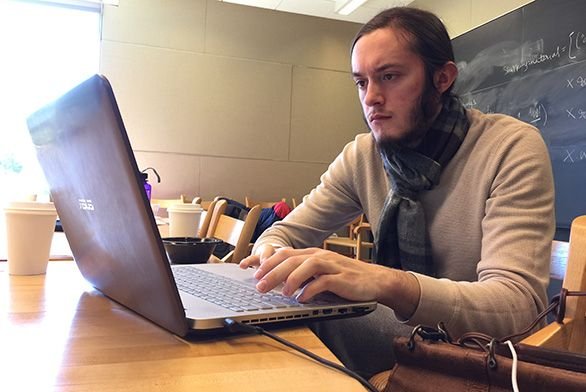 Jake Stief (SF20) is a curious thinker, energized by possibilities.
These personality traits propelled him toward a theoretical physics class at Harvard Summer School in 2017. The experience was the result of a Pathways Fellowship, made possible by the Office of Personal and Professional Development in Santa Fe.
"They are very active in the students' lives, which makes it easy," Stief says. "They'll do some research for you, too."
The Office of Personal and Professional Development helps dozens of Johnnies a year land fellowships and internships. Stief found the office's library, which contains bound copies of other students' reports, to be an especially valuable resource.
Harvard was the only program that offered an introductory class in theoretical physics, and it helped Stief achieve an important goal.
"It was more of a personal experience to test the waters and see if that's what I want to get into," he says.
Familiarity with calculus was necessary for the course, and though Stief had never before studied the subject, the transferable skills he acquired at St. John's allowed him to pick it up quickly.
"Theoretical physics was a lot of fun," he says, noting similarities between the questions addressed by the subject and the questions that St. John's students contemplate in the Program. For both, he says, "the endgame is to discern some sort of truths about the universe."
However, Stief continues, "I don't think I want to do something in the theoretical field." Instead, he'd prefer to engage with a branch of science that's more practical.
"I'm really into innovation—that's something that's consistent. And adventure. And excitement."
Given those parameters, Stief determined that applied physics would be a better fit for him.
In addition to helping clarify the scope of his own scientific interests, his time at Harvard made him appreciate anew all that St. John's has to offer.
"Within a week or two after I came here, it felt like home," he says. "One thing that makes St John's superior is the sense of community here."
Things were slightly different in Cambridge, however.
"Whenever I was at Harvard, I never felt like I was at home," he says. "Unfortunately, there wasn't any source reading."
He had also hoped for more class discussion, an aspect of his education that he has found to be crucial.
"Before I came here, I started reading some of the great books," he says. "Once we started talking about the texts, it made me realize how superficial my reading was."
Through his continued participation in the Program, his approach to texts evolved—as did his ability to express his views on them.
"I used to be quite passive," Stief says. "In seminar I would hardly speak, I was so blown away by other people's ideas. But this year, I've become quite more assertive, contributing a lot more and participating."
He is fascinated by the relationship between the mind and the emotions and feels an especially strong connection to St. Augustine, through reading his Confessions.
Because Augustine is so influenced by Plato, Stief says he expected not to like him. But, he explains, "I trust Augustine much more than Plato. When I read Plato, I get this sense of inhumanity. It's like you take something very human and reduce it into a formula. I respond to works that are very emotional. I think the emotion can be a very powerful tool for motivation. It's sort of nice to have an irrational sense of motivation from time to time."
Stief's post-graduation plans are open-ended. Sometimes he leans toward graduate school, but "it changes from year to year." Ultimately, he takes an approach to his future that mirrors his experience of a St. John's education.
"I don't think any question is out of bounds."