Bill Donahue Wins 2022 LeRoy E. Doggett Prize for Historical Astronomy
January 31, 2022 | By Eve Tolpa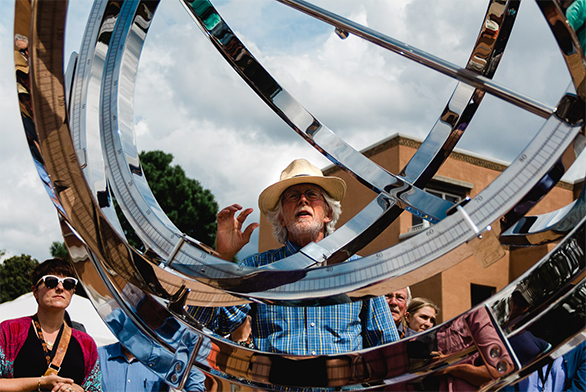 St. John's College tutor emeritus Bill Donahue (A67) has been awarded the 2022 LeRoy E. Doggett Prize for Historical Astronomy.
The accolade, which is presented every two years, honors what the Historical Astronomy Division of the American Astronomical Society calls "an individual who has significantly influenced the field through a career-long effort."
Though that field is relatively small, it encompasses not only past and present cultures' astronomical research, observations, practices, and beliefs, but also the methods and mechanisms of the discipline itself, including institutions and practices that make research possible.
Past Doggett Prize recipients include scholars from large research universities such as Harvard, Cambridge, and Notre Dame; NASA's chief historian; and the curator of astronomical history at the Smithsonian National Air and Space Museum.
Receiving the award, Donahue says, is "a surprising and exciting thing for me, since I have mostly worked outside the traditional academic context and never had a tenured position anywhere."
Like the subject to which he's devoted his intellectual life, Donahue's career has cast a wide net. After earning a bachelor's from St. John's Annapolis campus, he went on to get his PhD in 1973 from the University of Cambridge, in England. There, he says, historical astronomy was studied in the department of History and Philosophy of Science, noting that "in those days, [the two disciplines] were joined at the hip."
He found Cambridge's graduate program to be a good fit for a St. John's graduate. Students met with a supervisor and were free to pursue their own interests. "It was very self-directed," Donahue recalls. "There were no required courses, and no examinations. I could go to whatever lectures I wanted, [and] I didn't have to go to any. I went through my whole undergraduate and graduate degrees without taking a single written test!"
Of course, Cambridge required him to do plenty of writing—the kind "that represented some real thought." Thanks to St. John's, he was more than adept at it, and his doctoral dissertation, "The Dissolution of the Celestial Spheres, 1595-1650," was published by Arno Press in 1981.
Donahue's first stint teaching at St. John's Santa Fe campus lasted from 1973 to 1976, during which time he translated selections from Johannes Kepler's Astronomia nova for an exploratory preceptorial. After leaving the college, he served as a math and science instructor for primary and secondary students at the New School of Santa Fe, where he was dean of instruction and also ran the outdoor program.
A National Science Foundation grant allowed him to complete the translation of Astronomia nova, and in 1992, it was published by Cambridge University Press. A revised version was later released in 2015 by Green Lion Press, which focuses on reprinting primary source texts related to the history of science and mathematics—and of which Donahue is currently co-director and technical manager.
Donahue also received grants from the National Endowment for the Humanities to create a guided study of Kepler's Astronomia nova and to translate Kepler's Optics into English (the two books resulting from these grants have since been published by Green Lion), as well as from the American Philosophical Society to study Kepler's manuscripts in St. Petersburg, Russia.
In 2005, Donahue's path led him back to St. John's, where he was Director of Laboratories for more than a decade. After his retirement in 2016, he was named Tutor Emeritus, and in that capacity he was central to the creation of the functioning 16th-century armillary sphere gifted to the college in 2019 by the Santa Fe graduating class of 2004.
Throughout his career, Donahue has concerned himself primarily with questions about what sort of human thought science is and how it differs from, say, poetry or mathematics. Not coincidentally, this focus dovetails neatly with that of the St. John's curriculum—and, in fact, Donahue is the second member of the St. John's faculty to be given the award. The first was Curtis Wilson, a lunar theory historian who also served as dean of the Santa Fe campus; he received the inaugural Doggett Prize in 1998.
"As we read Kepler or Newton, we try to follow the thoughts that they were thinking," Donahue says of the St. John's Program. "This doesn't mean absorbing their opinions, setting them in their cultural context, and so on. Rather, it requires meeting them on neutral ground, as rational and sympathetic beings, so that we can see and better ourselves through knowing them."
"That's the point of doing old science: studying how some really brilliant person in the past approached a problem that nobody knew how to solve. Like them, if we're going to do good thinking about the world, we have to be confronting questions that had never been asked before."
Donahue will receive the Doggett Prize in June 2022, at the American Astronomical Society's 240th meeting in Pasadena, where he will deliver a plenary lecture to the entire society.