Bringing Shakespeare to Life
November 15, 2017 | By Tim Pratt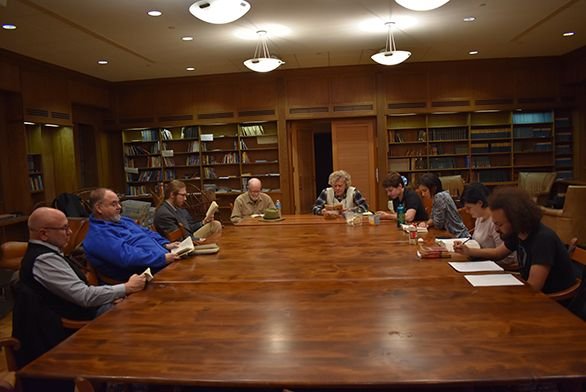 As St. John's College students and faculty gather on the top floor of the Barr-Buchanan Center in Annapolis, a tragedy plays out in the center of the room.
There is love and jealousy, revenge and repentance.
The Shakespeare Reading Group is gathered for a dramatic reading of Othello, one of the bard's most well-known plays.
The group, comprised of students and other members of the St. John's community, re-formed this year after a two-year hiatus. It now meets monthly to read aloud Shakespeare's plays and other works.
"Apart from the fact that I get to spend time with students, which is wonderful, it's great to be around a table with a group of people who are passionate about Shakespeare," says Annapolis President Panayiotis (Peter) Kanelos, a Shakespeare expert and enthusiastic member of the group.
The group began the semester by reading The Merchant of Venice; during its last two gatherings, the group read Othello.
At the beginning of each act, senior Sarah Moreno assigns parts to each group member.
Othello. Desdemona. Cassio. Iago. Emilia. Roderigo. Ludivico. Bianca.
The group gives impassioned readings, with members raising their voices during particularly dramatic parts, channeling the emotions of the characters they portray. They simulate knocks on doors, the sounds of a trumpet and other noises from the play.
On this night, Moreno, who helped re-form the group with tutor emeritus Robert Williamson, even sings "The Willow Song" in Act 4, Scene 3.
The group takes the readings seriously, but the gatherings also have some levity. Students occasionally laugh at the delivery of lines, or at phrases within the play. Kanelos jokes that he needs the group to tell him "what happens up until now" in the play since he wasn't at the last reading
"I'm kidding, I'm kidding," he says as the group laughs along with him.
For Moreno, who is directing a play by The King William Players this fall, the readings are a way to further explore works that aren't necessarily part of the Program, like The Merchant of Venice. Reading these works aloud also provides a dramatic element that can't be matched when reading alone, Moreno says.
"This stuff is meant to be heard," she says with a smile.
The group has not yet scheduled its next reading, but is tentatively planning to read The Twelfth Night in December.