Brothers Represent Many Different Paths Taken by St. John's Alumni
February 7, 2019 | By Kimberly Uslin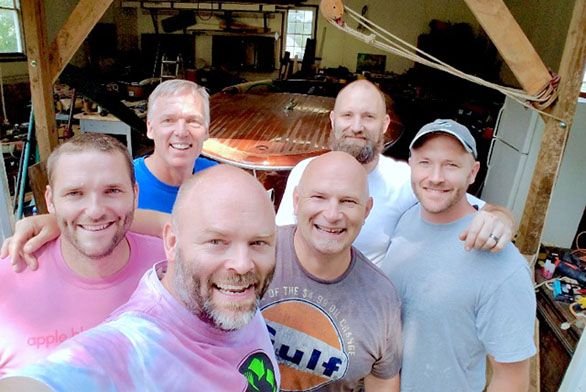 While St. John's College students go through the same four-year Program, the paths their lives take are anything but uniform. Case in point: the Stevens brothers—Christopher (A97), Jonathan (A01), and Nathanael (SF05)—whose educations were nearly identical, but with vastly different results. Christopher is headmaster at the Cornerstone Classical School in Kansas, while Jonathan operates MotoKofe, a business that converts vehicles into craft beverage purveyors, in Texas, and Nathanael serves as a pastor at a church in Pennsylvania.
The brothers are three of eight siblings (with two more brothers and three older sisters) who grew up in a rural part of southeastern Pennsylvania. The grandchildren of missionaries, they grew up below the poverty line and alternated between public, private, and homeschooling depending on their financial situation. In Chris's 11th grade year, however, he received a scholarship and enrolled at the Hill School, a classical boarding school 20 minutes from the Stevens home. Jon and Nathanael, several years younger, followed—and when Chris enrolled at St. John's College, they followed him there, too.
"I can remember driving down for a campus tour on a blustery summer day, with the wind whipping the waves on College Creek," Chris recalls. "I didn't really know what I wanted. As a fifth child in a big family, I had learned to take whatever came to me, whether it was clothing or food or whatever."
St. John's, however, felt right.
"We're one of the families that financial aid made education possible for in a big way," he says. "The charity that people have for those who have need was a big deal for us, and it opened doors for us that would have been closed without it. Not having a lot of money and going to places that cost a lot of money was pretty formative for me, and probably was for all three of us."
"Looking back on it, St. John's made a big difference in my life," he adds. "It's not just what you learn, it's how it changes you, and I think I use what it made me on a daily basis."
Chris' time on campus did not overlap with that of his brothers, who came along after he had graduated: first Jonathan, then Nathanael two years later. The younger brothers, like Chris, worked in the boathouse under Leo Pickens and were roommates for Nathanael's freshman and sophomore year—a closeness that would prove invaluable after their father died shortly into Nathanael's first semester on campus.
"The fallout from the death of a parent, especially as a young person, can [create] a feeling of being unhinged," Nathaniel remembers. He struggled both personally and academically in his first two years before leaving the college the summer Jon graduated. Several years later, he returned—this time to the Santa Fe campus.
"St. John's has been a welcoming and understanding place in years where I was a little bit adrift," he says. "St. John's was where we all came out of our shell. A big part of that was learning not to be afraid of people, learning to talk, learning to say things that are stupid and it's okay. You don't have to agree and you can still be friends and you can still learn from each other. I don't remember a lot about the course material, but I do remember conversations I had with friends."
Jonathan feels similarly.
"I definitely still get the wish of being able to experience the education and the people again now that I'm older and have perspective on it. I think the campus provided a really good place for growth," he says, "especially with my dad's sickness. The reliability of rowing practice and senior seminar provided the structure that I needed and was healing for me."
Keeping with tradition, the three brothers attended the same postgraduate program at the Dallas Theological Seminary. From there, they branched out into their respective careers—Chris beginning in Dallas public schools and then becoming enamored with the classical model, Jonathan starting a rowing program for high school kids in Dallas and then moving on to found MotoKofe, and Nathanael working in churches in California and Pennsylvania.
Though the brothers experienced their adult educations together, they admit that they don't spend hours discussing Homer and Hegel.
"I don't think we talk a lot about Program books necessarily, but we talk about a different range of things from religion to politics to our family growing up. We have great conversation, and its one of the highlights of my year to just spend a couple of days with the brothers," says Chris. "But being able to learn through discussion, being able to learn through conversation and come around and see others' perspectives and viewpoints—those skills have definitely added depth and enjoyment to our relationships with each other and our other two brothers."
"St. John's gave us the courage to think outside the box," he adds. "Reading how thinking changes over time as you read through the Program, you see that it's okay to think differently. I think differently in education, Jonathan thinks differently about coffee shops, and Nathanael thinks differently about theology. We can forget the coursework and come back to that central theme that through hard work and focus and commitment to each other and the community, we can arrive at a different place than where we started."