Charles O. Anderson (A04): Art Inspired by the Great Books
February 21, 2022 | By Eve Tolpa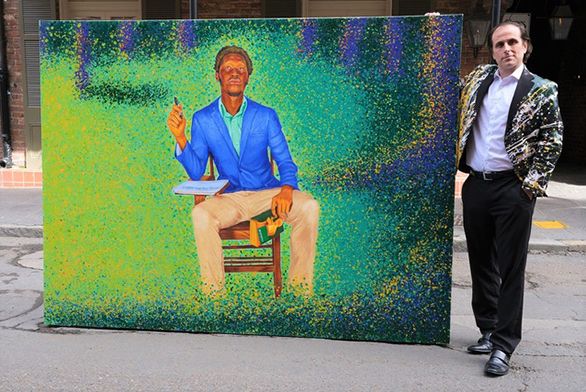 When Charles O. Anderson (A04) was a senior at his New Jersey high school, he got suspended and almost expelled. "There was a lot of self-reflection," he recalls of that period. "I was on probation, and I spent a lot of time studying."
A teacher he describes as "a Nietzschean figure," who prodded students to look beyond their narrow professional goals, had introduced Anderson to the Great Books, sparking an enthusiasm that kept him engaged during that year and ultimately led him to St. John's.
As a college freshman, he was "always in the library reading and rereading the texts. I wanted to find meaning in life. These books changed my life profoundly."
The Program texts continued to sustain his interest and now play an integral role in an art project he's been working on for two years.
That project, "A World Without Gun Violence," brings together Anderson's talent for painting with a love of the Great Books and the desire to foster peace in his adopted home of New Orleans.
He moved to the city in 2007 after being inspired by CNN news coverage of a massive march in response to the murder of two prominent New Orleanians.
"I actually saw my soon-to-be pastor talking passionately about ending gun violence," Anderson says of the footage. "I moved all my stuff, and I started volunteering with various organizations."
One of those organizations was Solutions Not Shootings (now known as Cure Violence), which entrusted ex-felons with interrupting violence in their communities by initiating individual discussions. That approach, says Anderson, "immediately reminded me of Socrates and the dialogues, using logos as the most powerful weapon."
"When they shared how they individually built a meaningful life that opposed violence," he writes in his artist statement. "I knew I wanted to paint the lives of the violence interrupters."
To determine the best way to portray each man, Anderson invited them to share their stories while he listened "for those points of change when they decided they wanted something else. A lot of them had that 'aha moment' in jail."
Then Anderson chose one of the Great Books for them to read together. "I wanted them to get a book that speaks to their life," he says. "What the Great Books do is take people up the mountain to look at their lives. The book is a platform to get to a higher perspective about themselves. You're not just living in the now of New Orleans, you are living in the eternal now."
As an example, Anderson cites one of his friends, a violence interruptor with an infamous past who is now "a humble servant" focusing on "giving back." He and Anderson read the Biblical story of Saul's transformation into Paul, where "[Saul] had this spontaneous light that went off, and he changed his ways."
Moments like Saul's are precisely what Anderson depicts in his paintings. To convey the spirit of transformation, he applies artistic techniques that have evolved over the last two centuries to the tradition of classical representation that elevated kings, leaders, and heroes.
Anderson always had a natural ability for art, but it went dormant in high school. Though he picked it up here and there in college, doodling while he read Dante or Cervantes, he didn't really pursue it until he came to New Orleans, when "a mother asked me to draw her son."
"I taught myself to draw just by doing it," Anderson continues. "After that, I got addicted to it. I draw like I read." He had ideas about combining abstraction with realism, but drawing wasn't the right medium for the exploration, so he taught himself to paint.
Points of reference from his St. John's education kept Anderson on track when he got discouraged; in navigating the Program texts, he says, "you're constantly confronting things that are way above your head. What 17-year-old can understand Einstein?"
His ongoing relationship with socratic ignorance is what allowed Anderson to stay open to experiences and keep learning. Like the subjects of his artwork, he is willing to question his preconceptions about who he is and what he's capable of.
"This is going to be hard," Anderson remembers thinking when he first started painting. "I'm going to make a fool of myself, but I'll come out the other side."