Creating a Cultural Institution
August 16, 2017 | By Tim Pratt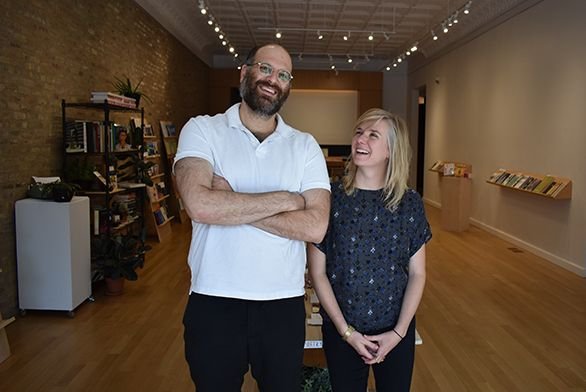 In a gallery space along a busy street in the Logan Square neighborhood of Chicago, Caroline Picard and Devin King have created a cultural institution.
During the summer, books and plants line tables and shelves in the main gallery. During the rest of the year, the space hosts contemporary art exhibitions, live readings, screenings and performances, with plenty of room to relax and enjoy beer or wine.
This is Sector 2337, a space that sells beverages and books to support The Green Lantern Press, a nonprofit publishing company and art gallery. It also serves as a social gathering place, hosting three contemporary art exhibitions, publishing three books of poetry and art, and presenting roughly 50 evening events per year.
King and Picard, a husband and wife team, are the St. John's College graduates running the operation.
"We're interested in a broad range of contemporary culture, whether it's art, poetry, literature, theory ... (and) we use this space to find overlaps between disciplines, and try to make those overlaps more accessible through public conversation," Picard says. "I think it's interesting to try to have a very, very, very tiny cultural institution that offers museum-caliber exhibitions and public programs embedded within an essentially residential neighborhood."
Origins
While Sector 2337 opened in 2014, The Green Lantern formed a decade earlier in a different part of town.
Picard had graduated from St. John's in Annapolis in 2002. She found a loft apartment in Chicago's Wicker Park neighborhood and decided in 2004 to launch The Green Lantern Gallery and Press. With the help of friends, she published her first books a year later. In the meantime, she hosted shows in the space, from musical performances to art exhibits to video displays.
The Green Lantern received nonprofit status in 2007. The business was hitting its stride, publishing books, hosting exhibits and putting on programs and events. Then in 2010 the Green Lantern space officially closed, though it continued to publish books and produce public events at a variety of locations around Chicago from 2011 to 2013.
In 2014, Picard and King (SF03) opened Sector 2337 at its current location on North Milwaukee Avenue, with Green Lantern inside.
Picard and King met in college, when King and his friends traveled to Annapolis to witness the annual croquet match between St. John's and the Naval Academy. Both played in rock bands and had strong interests in the arts and written word. They had mutual friends, too.
Years later, King decided to look Picard up, he says with a smile. They eventually began to date, then married five years ago.
Now, the pair is working together to further cultivate The Green Lantern Press at its new storefront location.
The Present and Future
This fall, the gallery will host a group show called "Coming of Age," featuring seven artists from different parts of the world. In December, The Green Lantern will release a book about Chicago-based artist Ellen Rothenberg. In addition, King has been editing a new collection of poetry by Rachel Galvin.
It's an exciting time, Picard says, but it's also typical of a year at The Green Lantern.
For much of the year the space serves as a nonprofit art gallery. This fall, the permanent art, poetry and theory bookstore will open in the rear of the space. It hosts public programs, poetry readings, performance art and discussion panels, too, with beer and wine for sale.
Last year, 6,000 people visited the space, Picard says.
King, a poet with a background in publishing, music and literature, joined the project with the idea of editing poetry books.
"That's what I always wanted to do," he says.
He is now co-director of Sector 2337, as well as poetry editor and director of public programming for The Green Lantern.
Picard is executive director of The Green Lantern and co-director of Sector 2337. She stays busy publishing, curating and fundraising while making comics and writing freelance criticism.
In July, a graphic novel penned by Picard was published by Radiator Comics. Picard spent 10 years working on "The Chronicles of Fortune." It's about a superhero who suffers from a bad case of ennui, which makes her "more or less ineffective," Picard says.
"I started making the book when I lived in the old Green Lantern loft apartment, so some of the drawings depict that original architecture," she says. "There was an old BITTERS advertisement painted on one of the brick walls that shows up sometimes; and the old place had a wandering leak when I lived there. The leak also appears in the book."
Looking ahead, Picard and King want to continue to provide an artistic and intellectual space for the community. Both say their St. John's education has played a role in their current endeavors.
The broad, discussion-based curriculum they completed now allows them to access and discuss many themes people bring forth, they say. And they use those conversations to connect contemporary art, poetry and philosophy.
"We try to curate a really tight program that weaves different voices and bodies of knowledge together," Picard says. "The hope is that presenting these threads together in an intimate environment encourages a sense of community engagement and public discussion."