The Critical Role of Johnnie Chairs at Homecoming (No, Not That Kind)
February 27, 2019 | By Anne Kniggendorf (SF97)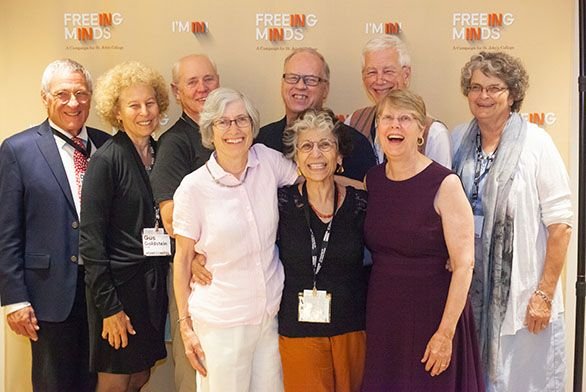 While Homecoming at St. John's College is open to any alumni who'd like to attend, it's always a big event for classes hitting various five-year marks.
That's where class chairs come in. A small group of volunteers, usually between two to five people, band together from each class to encourage their fellow Johnnies to make the trip back to Annapolis or Santa Fe. Though attendance can be low for graduating classes without class chairs, with only one, or with a chair that isn't active, those with a strong cohort at the helm generally see 20 or more representatives on campus come September.
Busy schedules, travel limitations, or concerns about cost can all play a factor in attendance rate, but the positive persistence of the chairs is key.
"I think the people do feel somehow validated in the process of things by having a classmate reach out and say 'Hey I want to see you,'" says George Bingham (SF68), who helped organize his class for the most recent Homecoming weekend, which marked his class's 50th reunion.
Bingham joined Allison Lemons (SF68), working together with classmates to spread the word. Like every other alumni group that volunteers to round up their classmates, the Santa Fe 1968 class used a list of contacts from the college as their starting point. The two reached as many as they could on their own, but asked each person they spoke with to spread the word. They were also interested in drawing in people from the other "pioneer classes"—the first four groups who graduated from the Santa Fe campus from 1968-1971.
"We simply started communicating," says Bingham.
Twenty members of their class attended as registered guests (as well as six alumni from the class of 1969), and some who did not formally register attended other informal gatherings off-campus hosted with venues provided by James Liljenwall (SF68) and Jerry Peters (SF70).
"The college gives us the opportunity to get together and reacquaint and catch up on each other's lives," Lemons says.
But just as important to her were the events off-campus, such as a "pioneer class" dinner that Bingham helped to organize.
"I think those kinds of things off-campus are not only a draw to our class, but to many—as much as I love the coffee shop or some of the other venues on campus—having a place where you can very informally come and go is a big plus," Bingham says.
On the other end of the spectrum, members of the Annapolis class of 2013 prepared for their first big alumni event: the five-year reunion.
Grace Tyson (A13) lives in Amsterdam, but had committed to helping her class plan its 2018 Homecoming, so she couldn't miss it—not that she wanted to.
Tyson had spent months working through the college-provided list of her class's contact information with fellow volunteers Virginia Early and Saul Leiken. They were each active leaders while they were students, so it was no leap for them to help organize Homecoming.
"We really wanted people to come. We selfishly wanted to see people, too," Tyson says.
Each of the three contacted those they knew best. They mostly communicated through Facebook and emails.
"We had these grand dreams of getting 75 percent of people to come. It was a good goal, but it was kind of crazy," Tyson says. "It was not too time-intensive to send personalized emails and send Facebook messages reminding people about the early discounts and that sort of thing, but I wish I had done more. I think we all felt that way."
Overall, Tyson and her fellow chairs pulled in 19 alumni, as well as two from the class of 2012 and four from the class of 2014. Next time, she hopes to incorporate phone outreach, establish clear responsibilities, and delegate tasks to willing volunteers—because, she says, it's more than worth it.
"The huge payoff is actually getting to reconnect with people you haven't seen in several years who were part of such a tight-knit community and part of such an important and formative time of your life," Tyson says.
While at Homecoming, she attended a chorus tutorial and says it was magical to sing Giovanni Pierluigi da Palestrina's "Sicut Cervus" again. She and her former classmates wandered into the pendulum pit with their sheet music still on them and began to sing.
"We started singing in the pendulum pit, which is so resonant, and another alumna who had graduated several decades ago heard us and asked to join, and we all sang together," she recalls. "That was so memorable. It was awesome."
Aside from singing in the pit, Tyson says she loved being around the seminar table again.
"You fall right back into the seminar style. I was a little nervous about how it would go," she admits. "We were doing the Constitution and the amendments, so given the political climate especially, I thought, 'Oh no, how will this go?' But it was just like when we were students. It was a very civil, interesting, thoughtful discussion all around, and everyone in the seminar participated."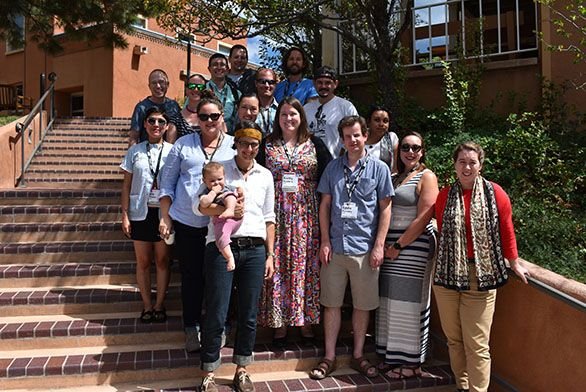 For Isla Prieto and John Anders (SF03), celebrating their 15th reunion, keeping details together on a spreadsheet was key—and more fun than it sounds.
"The most fun part of being a chair was taking time to think about what would be a fun reading," says Anders. "We actually did kind of an elaborate survey."
With the help of a survey created by Cathy Garcia (SF03), Anders and Prieto decided on James Baldwin's "Sonny's Blues."Working together to find a reading was an easy way to create enthusiasm for Homecoming, says Prieto.
"It was an amazing seminar; my mind was blown."
The Class of 2003 relied on the college to provide a structure for the weekend, but made good use of the gaps left in the scheduled formal events by eating meals and hanging out together. "It was constantly like we were looking at each other: 'Okay, where are we going to go to next?'"
If she could do it all again, Prieto says she'd have tried to do a physical mailing—a personalized letter or a postcard—rather than solely online communication to encourage more participation, but she was still pleased with the turnout.
Combining the two methods of communication proved fruitful for Phil Jemielita and Larry Ostrovsky (A78), who have teamed up three times in the past, usually with one or two other people.
Ostrovsky says their first point of contact is an email, followed by a personalized piece of mail.
"I think [it] is really important because people are absolutely inundated with emails. Let me tell you, it's rare for me to get a letter that's not a bill or something," he says.
To add to the fun, the class chairs made T-shirts for attending members of the class of 1978 and held an off-campus reception.
Rather than choose their own seminar, they asked a tutor who was especially close to their class, Howard Zeiderman (A67), to pick the texts and lead the seminar. He chose three stories by Jorge Luis Borges, and Ostrovsky says the experience was wonderful.
"As a group, we really drew meaning out of the reading and it reinforced to me how great the experience of St. John's was; how a group of people can sit together and pull a deeper meaning out of something than I could get individually," he says.
Interested in helping to rally your class for your next reunion? Contact the Alumni Office (alumni(at)sjc.edu, 410-626-2531/505-984-6103) for more information on how to step up as a Class Chair volunteer!
Save the date for Homecoming 2019: Annapolis: September 27–29; Santa Fe: September 13–15.