Daniel T. Russell (A05), Named to "40 Under 40" by NACVA, Sees St. John's as Fundamental to His Success
August 26, 2022 | By Patricia Moore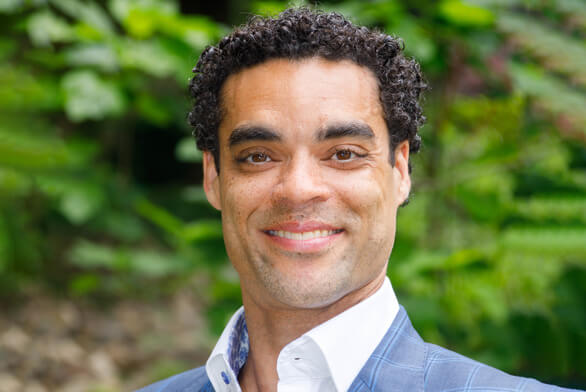 Alum and St. John's College volunteer Daniel T. Russell, CPA, CVA (A05) recently was chosen for the National Association of Certified Valuators and Analysts' (NACVA) "40 Under 40" list for 2021. A partner at HeimLantz CPAs and Advisors in Annapolis, Russell serves as the Director of Business Development for the firm and as the leader of the Consulting Business Unit, where he performs business valuations as a Certified Valuation Analyst. This award "is a testament to the high-quality work that my clients perform," as well as "the positive experience our clients have had" in working with his firm's experienced accounting team, according to Russell. He also credits his St. John's education for helping him acquire questioning skills and a knowledge of history that have proven fundamental for his achievements.
Why a St. John's education is best for an accountant
Coming from a family of Johnnies—including his father, tutor George Russell, his mother, Mary E. M. Russell (AGI02), and three brothers who also graduated from our college—Russell emphasizes the value of a St. John's education for students considering pursuing accounting or many other professions. "I believe liberal arts is the best education for an accountant, offering a 30,000-foot-point-of-view. St. John's gives you a great historical perspective on the world at large."
Because of its Great Books program, the college provides value in education that cannot be obtained elsewhere, according to Russell. "There never may be a more important time for people to be holding books in their hands and reading them," he asserts. "St. John's teaches you where we've come from and why the world is the way it is. Whether you ultimately go into education, philosophy, politics or another field, what has happened in history is still happening. I can't argue that we'll get very far, very fast if we do not know [history]."
'St. John's is all about the why'
"Questioning why things are being done has been invaluable to my career," states Russell. He is especially appreciative of how the college "taught him how to learn," and the emphasis on inquiry that assisted with his master's degree at University of Baltimore, as well as the ethics course required to become a certified public accountant. "In accounting, it's easy to simply go along with the way things always have been done," Russell states. "The St. John's focus on questioning is so important for understanding the complexity of higher-level accounting, allowing one to navigate through all the noise out there and identify what's truly valuable," he explains. "Such distractions can make one forget why we are here – and forget our purpose."​​​​​​​
Bringing the St. John's way of thinking to the community
In addition to working with HeimLantz clients, Russell is active in the community "to help students become educated." He gives lectures, speaks to students interested in finance or accounting careers, and serves on the boards of the Archbishop Spalding High School, Anne Arundel County Community College Foundation, and the Port Discovery Children's Museum. Russell also recruits other alums to help students "understand what life after college looks like and to make sure the college continues to thrive and flourish." He tells students how his own success has been directly linked to "specific professors" at St. John's and the University of Baltimore, without whom he "would not have had the career I have had."​​​​​​​
Passing on blessings received at St. John's and elsewhere
Russell underscores his gratitude for opportunities he received "at St. John's, in the local community, and at my firm." He volunteers in the community because he "is hopeful that St. John's will continue to provide opportunities for its graduates like the ones I have enjoyed." Local organizations seeking speakers and students interested in the college or exploring opportunities after graduation can contact Russell at daniel.russell(at)heimlantz.com.