Doing Well by Doing Good: Jessica Peterson's (A21) Urban Planning Internship
July 21, 2021 | By Eve Tolpa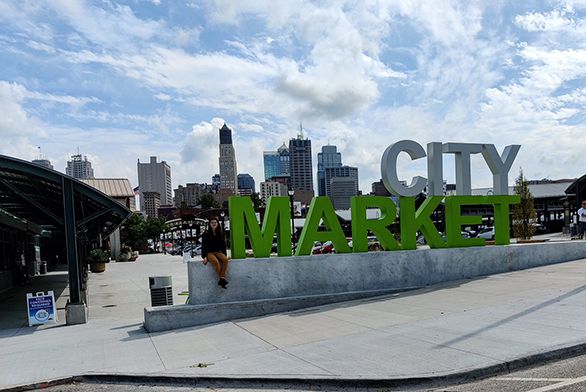 Summer 2020 was a season of career clarification for Jessica Peterson (A21), who participated in a Hodson internship with the Kansas City, Missouri, City Planning & Development's Long-Range Planning group.
Peterson joined the department just as it was beginning the two-year process of updating and replacing its comprehensive plan, which, according to the city, "sets priorities and guides decisions to assure Kansas City is a thriving, people-centered community and a successful model for other American cities to follow for future generations."
In order to ensure that the plan accurately reflects the needs of the city's inhabitants, the Long-Range Planning group's "goal over the summer was to gather as much input as possible from citizens, neighborhoods, and other organized groups," says Peterson.
She had been slated to engage in community outreach, attend neighborhood events, and compile specific feedback from attendees about how to improve their own corners of the city. But because of the pandemic, very few people convened publicly during the summer months, so these tasks were moved online and reoriented toward data collection.
In addition, the scope of the data collected was widened, and Peterson ended up researching other Kansas City department plans, as well as comprehensive plans for a selection of different cities across America.
She was also invited to join meetings about using social media to innovate online outreach. As someone much younger than her coworkers, Peterson felt she was able to offer "valuable insight on how social media and apps are used by the up-and-coming generations."
"Being a Johnnie was especially helpful for these conversations about outreach to citizens," she continues.
"The comprehensive plan needed input from all areas of the city and all demographics, but now nearly all of it had to come from virtual sources. My experience with St. John's-style discussions helped elevate me in meetings concerning equity and access. It brought me a unique perspective at the table when brainstorming new ways to reach out."
What Peterson lost in terms of face-to-face interactions with the citizens of Kansas City, she gained in guidance from fellow colleagues.
"The department handles a city's worth of planning, and this means every employee (myself included) has a variety of tasks on their plate at once," she says. "My supervisor was the department head, and he encouraged all meetings to be open conversations. This made it easy for me to jump in and participate."
Between weekly departmental meetings, her collaboration with the communications team, and the comprehensive plan project itself, Peterson was in frequent contact with coworkers—many of whom were generous about sharing the finer points of their professional lives.
"Several of them were particularly proactive in making sure I was involved and aware of all the moving parts that were obscured by only working virtually," she says. "They made any moment they could a learning moment for me, and were free with advice about the urban planning field."
That spirit of generosity extended beyond interpersonal office relationships, with the department members embodying a sense of purpose that Peterson found appealing. "There was a clear passion for the work," she says. "Employees were interested not just in doing well but also doing good"—an ethos "that will be important for me to look for in my future employment, as I am interested in [city] planning for the impact it can have on people and communities."
Peterson is grateful for the experience she gained handling supplemental data for the department, and she found that working remotely only strengthened her desire to get out and connect with community members, person to person.
"I could see myself working here in the future, or in another city with a similarly structured department," she says of the Long-Range Planning group, adding that her ideal environment is one "where I can be on the front side of things, helping and working with constituents."