End-of-Year Celebration Honors Freshmen
April 24, 2019 | By Kimberly Uslin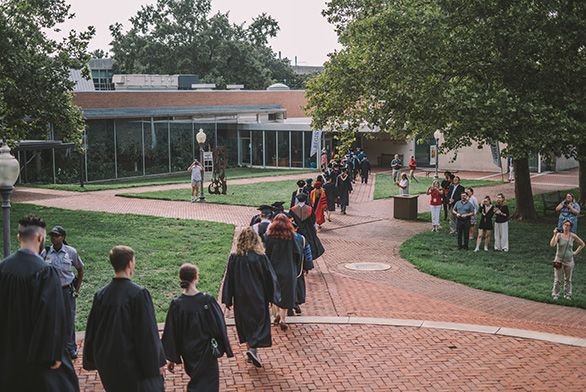 On May 12, hundreds will gather on the Front Lawn of the Annapolis campus to celebrate the graduating seniors of St. John's College. A week earlier, however, a smaller group will convene to commemorate a more infrequently celebrated—but no less impressive—accomplishment: the completion of freshman year. For the first time, the President's and Assistant Dean's Offices will host a Freshman Celebration honoring those who have successfully completed their first year on campus.
"I think it's a tremendous achievement to make it through one's first year at St. John's," says Annapolis campus President Pano Kanelos, "to be willing to jump into such a rigorous academic program, to make a radical choice for one's college education, and to spend so much time reading and discussing. One year at St. John's College is harder than one year at any other institution—especially the freshman year, when you're learning how to become a Johnnie [and] becoming acclimated to the college. I think it's something to really celebrate at the end of that year."
The Freshman Celebration will be held Monday, May 6, from 3-5 p.m. President Kanelos will address students at the library, followed by a reception at his home (to which all tutors with freshman seminars and tutorials will be invited).
While the event is meant to acknowledge the first-year students' academic accomplishments, says Director of Student Services Taylor Waters, it also serves as an opportunity to celebrate growth outside of the classroom.
"From the student services point of view, I get a real sense of it," she says. "You have to live with someone you've never met before, there are so many changes, some students are learning how to do laundry, and some have never left home. It's a real accomplishment as far as maturation and leaving family life, not to mention that the Program of instruction is so rigorous and so different. It's difficult for even the most excellent student."
The celebration, according to Waters and Kanelos, is a way to shepherd students into their summers and then sophomore years feeling confident and motivated.
"We want to celebrate our freshman and give them a milestone in their experience that will help them continue their momentum into the next year," says Kanelos. "This is the first year we're doing it, but it's our hope that this will be a new tradition. We're very proud of all of our students, but we're particularly proud of those students who have just made it through their first year."