Experimenting in Liberal Arts
October 31, 2016 | By Tim Pratt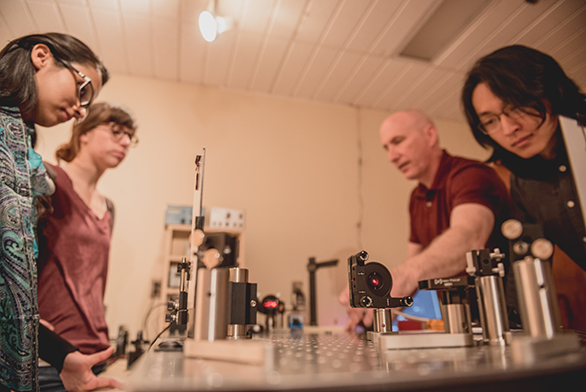 Inside a basement laboratory at St. John's College in Annapolis sits a broad table with lasers, crystals and mirrors.
There are polarizers and motherboards, computers and other equipment.
While St. John's has long been known for its focus on the great books, the college also is working to improve students' studies of quantum mechanics—all while staying true to its renowned liberal arts curriculum. The lab under construction in the basement of Mellon Hall will help do that, says tutor Chester Burke.
The goal is to give students the chance to work with the equipment and better understand the readings they are completing.
One work station in the lab is complete. Two more stations are under construction. The stations are a result of a grant from the Hodson Trust.
The Santa Fe campus also is working to put together a quantum optics lab, says Santa Fe lab director Eric Poppele.
"It helps people visualize what they're already reading and bring it home in a way," says Matthew Davis, dean of the Santa Fe campus.
Tutors and lab directors from both campuses traveled to conferences over the summer to conduct quantum optics experiments and gain a better understanding of the equipment.
Burke traveled to Colgate University in New York with Annapolis lab director Mark Daly and tutor Suzy Paalman. Santa Fe staff went to a conference at Whitman College in Washington state.
For the Annapolis staff members, the conference at Colgate was an opportunity to conduct some of the same experiments they were already doing.
The equipment for the first work station in Mellon Hall was purchased last year, then built and used by the group and St. John's students. That experience helped them this summer in New York, in the three-day event Burke refers to as "photon camp."
"The last morning, we got it to work so well," Burke says. "We were really, really successful. We got results that were close to perfection."
They were able to show that photons are entangled—meaning a photon can be split, and that what happens to one part of it will have an impact on the other.
With students already learning about photon entanglement, the new lab equipment will help them understand the lessons better, Paalman says. They can conduct a number of different experiments with the equipment.
"Before, they were reading about these thought experiments," she says. "Now, we have the ability to show these thought experiments in practicum."
Poppele, in Santa Fe, shares a similar view.
"It becomes an intellectual inquiry very much akin to what we do in other classes," he says.
Daly says most of the equipment in the Mellon Hall lab was built in-house. The work stations are being constructed on tables that eliminate vibrations; cabinets to store equipment are being built at the college, too.
"Setting it up and working out the problems has given me a deeper appreciation of quantum mechanics," Daly says. "It's hands-down the most technical experiment we have."