January 12, 2018 | By Eve Tolpa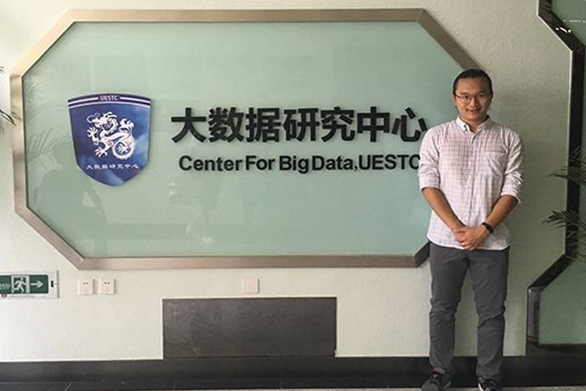 Qiubai Jiang (SF19) had never been particularly interested in religion. But a St. John's education changed that.
Growing up in China, a deeply secular country, Jiang says he had "no chance to touch religious activities. Religion (was seen as) weird in my education."
He discovered the subject as a sophomore, calling it "a new world for me" and citing St. Augustine as one of the authors who most influenced his path. "Confessions is a really great book," he says. "It shows his emotions, his questions, his confusions."
Jiang has been using his time at St. John's to explore why and how human beings established religion, and the pursuit is personal as well as intellectual. "I'm still learning about Christianity and other religions, too," he says. "I still have some thinking and exploring about my faith."
The Program has given him ample opportunities to do just that, with its commitment to examining "different directions to approach the truth." Indeed, it was this multidisciplinary approach that drew Jiang to the college in the first place. "If you focus on only one direction, that can blind you," he says. "Many academic breakthroughs are based on communications between different fields."
Jiang was given a opportunity to put his own multidisciplinary approach into practice during a 2017 Ariel Internship at the Big Data Research Center in his hometown, Chengdu.
The center accommodates a number of projects in different fields—including physics, game theory, and social science, to name just a few—and for two months during the summer, Jiang delved into religious research, focusing on the development of Christianity in China.
"Something is changing in the United States about religion, about Christianity," he says, recalling his own attendance at different American churches, where he saw fewer and fewer young people in the pews. "The center of Christianity, it seems to me, is moving (from Europe and America) to Asia and Africa."
His summer project at the center encompassed data analysis and information-gathering through church visits in Chengdu. But most valuable to Jiang were the research center's seminars, where he engaged in exploratory open-ended discussion with fellow students and their mentor, Professor Rong.
"I had a very good communications with (my) mentor," says Jiang. "He was surprised and very happy to talk to students, to have the seminar more active." He contrasts this interactive approach—second nature to Johnnies—with traditional Asian classes, often run as straightforward lectures with little or no input from students.
He also traces his own comfort with the seminar approach directly to the Program. As he noted in his internship report, "The discussion-based education in St. John's College made me communicate and express more bravely and effectively through the seminars, even though I didn't have a background in some of the fields."
This participatory approach also made an impact on Jiang's Chinese peers. "I inspired some of them," he admits.
He plans to continue the project he began in Chengdu at the Santa Fe Institute, an organization known worldwide for its work in interdisciplinary science. In fact, he's already submitted an Ariel application for summer 2018.
Jiang emphasizes the encouragement he's been receiving, not only from Professor Rong but also from St. John's Career Services, where staff has been supportive every step of the way.
"They have a responsibility to help and guide us for our future," he says of the latter. "If you write very good essays to show your passion and interest for your plan, they will help you a lot."