Finding Fulfillment in Solar Energy
April 20, 2017 | By Tim Pratt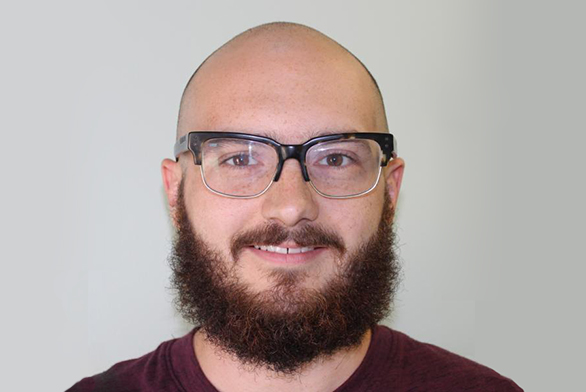 Shortly after Ethan Goddard graduated from St. John's College in 2014, a radio advertisement changed the course of his life.
The New Hampshire native was looking for a job in the Annapolis area when he heard an ad for a position at Solar Energy Services, a local company that completes residential and commercial solar projects throughout the region.
With nothing but his St. John's degree and a bit of mechanical experience, Goddard decided to apply.
Nearly three years later, Goddard is a commercial project manager for the company.
"I didn't know how long this was going to last, but it turned out I really loved solar," he says. "Having a positive impact on the world every day brings a lot of fulfillment to the work I do."
The search for fulfillment brought Goddard to St. John's in Annapolis in the first place. As he was growing up, he attended a small private school in New Hampshire and read a few of the great books as part of the curriculum.
When it came time to look at colleges, he felt like his liberal arts education wasn't complete. He says St. John's "fit the bill" for what he was looking for in a college education.
"I was sort of drawn to the breadth of the curriculum there and I felt like it was going to be good for general learning, or learning how to learn," he says.
At St. John's, he played croquet, completed a stint on the Student Committee on Instruction and was involved in other activities. When he graduated, he says he felt "a little listless."
Then he heard the radio ad.
Goddard started out as an installer for Solar Energy Services in June 2014, weeks after he graduated. It was strenuous work, he says, carrying solar panels to rooftops, installing them and performing other tasks.
"It was harder work than I had done before physically," he says. "There was a pretty big learning curve."
Much of the learning took place on the job, but Goddard also completed a 40-hour course and received a North American Board of Certified Energy Practitioners certification.
After about a year, Goddard started leading crews in solar panel installations. About six months ago, he was promoted to commercial project manager. He's now running the production side of commercial projects, installing solar electric and thermal systems throughout Maryland, Washington, D.C., and Northern Virginia.
Much of his job consists of logistical and administrative work that goes along with reducing companies' carbon footprints. He also helps run the service department and assists with residential projects, among other tasks.
There's a "good amount" of writing involved in his current position, he says.
"St. John's is all about the conversation, but the conversation continues in the papers," he says. "I feel like I really honed my craft there. I appreciate all the education I got there and being able to think through a problem and write about it."
Just as important, Goddard says he learned to think on his feet while at St. John's, where discussion-based learning leads to the exchange of different viewpoints and ideas. That skill comes in handy while completing his different tasks at Solar Energy Services.
"I wear a lot of hats," he says. "I have to be very adaptable and quick to change gears and adapt to new situations and new environments. I feel like that's something St. John's helped me with."