Float Brings Hope to Rose Parade
January 3, 2017 | By Tim Pratt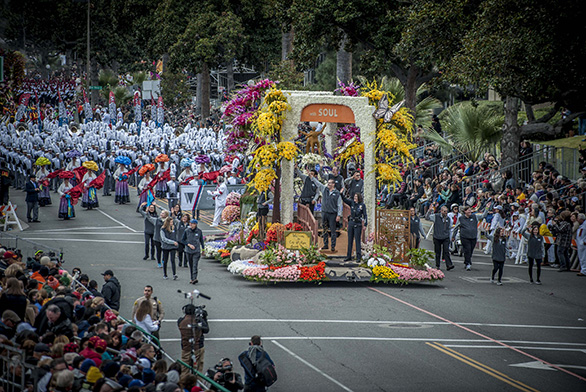 Among the floats, marching bands and equestrians taking part in the 128th edition of the Rose Parade, St. John's College alum Dr. Stephen Forman smiled and waved to the crowd.
Thousands of people were lined up along the parade route January 2 in Pasadena, California, cheering, taking photos and applauding the participants.
But it was the float from City of Hope research and treatment center, where Forman (A70) has worked for nearly 40 years, that drew special attention.
The float was built by cancer survivors from City of Hope, located just northeast of Los Angeles. About a half-dozen of those survivors, along with Forman and other staff, took part in the 5 ½-mile parade.
The group was featured that evening on NBC Nightly News, which allowed them to share their story with viewers throughout the country.
"The float, for us, represents everything we're trying to do: restore lives (and) bring them back to their communities and their family," Forman said in the NBC segment.
Forman is an expert in leukemia, lymphoma and bone marrow transplantation, among other things. He also is on the St. John's College Board of Visitors and Governors.
A day after the parade, Forman looked back fondly on the parade experience. Two of the cancer survivors, including Los Angeles Police Department Commander Anne Clark, were his patients.
"I think each one of them is alive because of the skill or the research, or both, of what we do here," Forman says. "I think it's kind of an announcement that they're back and part of the world again."
This was the 45th year City of Hope participated in the parade. The theme of the parade was "Echoes of Success." City of Hope's float was called "The Miracle of Science with Soul," to reflect its research and care practices. The cancer survivors, surrounded by floral arrangements, rode on it.
"I think, coming down the parade route, people in the crowd reacted very strongly to their presence," Forman says. "Pretty much everybody there knows somebody in that situation. To see these people healthy again, living life on their own terms, is very inspiring."
Founded in 1913, City of Hope is an independent research and treatment center for cancer, diabetes and other life-threatening diseases. Designated as one of only 47 comprehensive cancer centers, the highest recognition bestowed by the National Cancer Institute, City of Hope is also a founding member of the National Comprehensive Cancer Network, with research and treatment protocols that advance care throughout the world.