A Focus on Great Books, Not Textbooks
October 25, 2016 | By Tim Pratt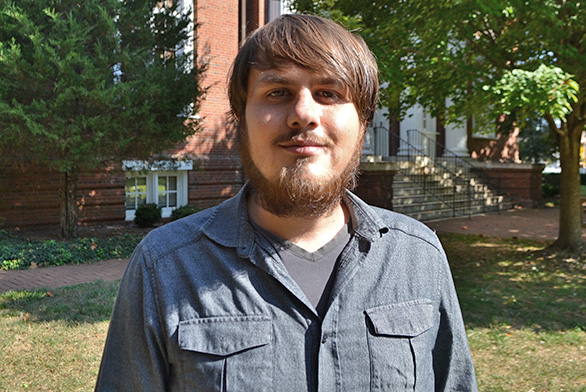 John Felis has a passion for learning.
The 28-year-old Michigan native says that if he had it his way, he would spend his life studying. Or traveling. Or discussing the great books.
This fall, Felis has done all of those things by enrolling in the St. John's College Graduate Institute in Annapolis.
"I love it," he says. "You're focused on the great books, not textbooks. It's an ongoing conversation, where you talk about the books even after class ends. It's exactly how I thought it would be."
When Felis graduated from high school, he hadn't heard about St. John's. Instead, he attended Madonna University in Michigan and focused on religious studies. Felis graduated and spent the next five years working, but he continued to read—including some of the items on the St. John's reading list.
But Felis wasn't content in the working world—jobs that included a stint with an optical supply company—and decided to go back to school. He considered getting a master's degree in philosophy.
One day, a friend told Felis about St. John's. Felis started conducting research and read through nearly every page on the college's website in one day.
"I pretty much decided that day that I was coming," he says. "It was the school I always dreamed about going to."
Felis was accepted and headed to Annapolis in August. He had never been to the historic city near the banks of the Chesapeake Bay until he arrived three days before the start of classes. He now lives in an apartment blocks from campus, overlooking the Naval Academy Chapel.
The work so far has been "rigorous," yet rewarding, he says.
"I don't have to write 10 papers about stuff I don't care about," he says. "That's work; that's laboring. Here, there's this freedom."
Readings for the curriculum are organized into five segments: Literature; Politics and Society; Philosophy and Theology; Mathematics and Natural Science; and History. Students must complete four of the five segments—36 semester credit hours—to earn the Master of Arts in Liberal Arts degree. Work is completed in seminars, tutorials and preceptorials.
Felis is taking Literature this semester.
"It suits me very well because all I wanted to do was talk about these things," he says. "It's something I always had a passion for."
Felis would recommend the college to prospective students.
"It will open horizons that you didn't know existed," he says. "There's nothing else in the world like it."
Felis says he plans to get a PhD after completing his time at St. John's, with the hope of one day becoming a professor or teacher.