ANNAPOLIS—In the spring of 1791, President George Washington visited St. John's College.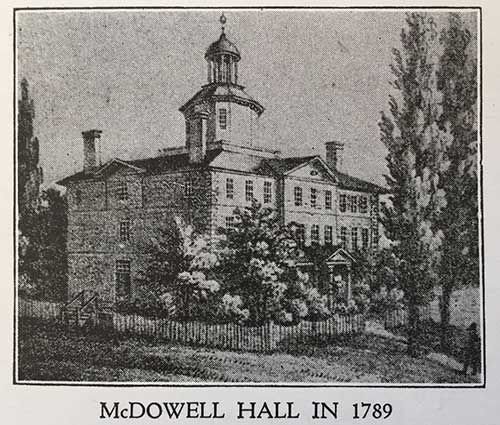 "Before dinner I walked with [Governor John Eager Howard] and several other Gentlemen to . . . the College of St. John's at which there are about 80 students of every description," Washington wrote in his diary for March 25.
The Gazette reported that Washington addressed the college, expressing "much satisfaction at the appearance of this rising seminary." The campus community and town were elated by his visit.
"It is no exaggeration to declare that, during two days, all care seemed suspended," the Gazette recounted.
On April 7, the Gazette published a letter dated March 26 from the faculty to Washington, addressed "To the President of the United States."
"We, the Faculty of St. John's College, beg leave to express the sincere joy which the honour of your presence in our infant seminary afforded us. In common with all who superintend the education of youth, we feel a lively gratitude to the defender of liberty, the guardian of his country, and consequently the great patron of literature."
The 1934 student yearbook contains the text of the letter Washington wrote in response to the faculty:
Gentlemen: The satisfaction which I have derived from my visit to your infant seminary is expressed with much pleasure, and my wishes for its progress to perfection are proffered with sincere regard. The very promising appearance of its infancy must flatter all its friends (with whom I entreat you to class me) with the hope of an early and, at the same time, a mature manhood. You will do justice to the sentiments which your kind regard toward myself inspires, by believing that I reciprocate the good wishes contained in your address, and I sincerely hope the excellence of your seminary will be manifested in the morals and science of the youth who are favored with your care.
April 17, 1791.
Washington's step-grandson George Washington Parke Custis was a member of the class of 1799. Two of his nephews also attended the college.
—Brady Lee (AGI14)