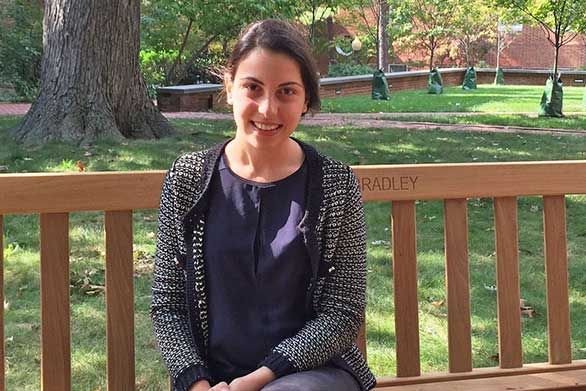 ANNAPOLIS—The first time Elizabeth Akhvlediani (A17) participated in a St. John's College classroom was in her hometown of Tbilisi, Georgia. Two elder Georgian classmates who attended St. John's helped organize discussion-based classes at the local high school.
"I was a sophomore in high school when I was introduced to the St. John's culture and the seminar and the discussion-based class, and I loved it," she said.
She even hosted faculty member Eva Brann for dinner in her house.
"After I graduated from high school I took a year off; I knew I wanted to apply to St. John's, and now I'm here," she said.
Akhvlediani was excited to explore Annapolis and attend college in America, which she had only seen in movies. Soon, however, the excitement wore off.
"I starting missing home and I started to notice the cultural differences," she said. "Even though people were speaking the same language, it's not the same cultural language. I grew up in an entirely different culture."
In an effort to understand American culture better, Akhvlediani tried to learn what music students listened to or the television shows they watched. She also became friends with the students in her section in chorus. The altos, she said, would often sit together and discuss the music.
This culture of discussion helped bridge the cultural gap. "People are really friendly and the class style here helps you to become friends with people because you have to talk with them during class. That makes it easier because everyone has the same interests. You always have something to talk about."
Now a junior at St. John's, Akhvlediani helps students—international and American—learn to engage with and learn from one another. She leads the international club Pangaea, which "helps students overcome geographic borders by sharing culture and making connections with one another." She and other Georgian students hosted a gathering featuring authentic cuisine and music to celebrate the Georgian new year.
"St. John's is a truly great place where the learning is the most valuable thing here, and the learning is not limited to the classes."
She has taken these lessons beyond Annapolis. The summer before her junior year, she earned a Hodson Trust Internship to work at the Georgian consulate in New York City. She said working at the consulate showed her the process of working toward peace. She learned how a country represents itself and its interests abroad, and she also met representatives from other countries and worked with them to resolve problems.
"That is something I am considering for my career, to be a diplomat and do conflict resolution, to help everyone to live in peace and have a good chance for growth and personal achievement."
Visit our International Student Services page.
—Brady Lee (AGI14)