May 17, 2018 | By Tim Pratt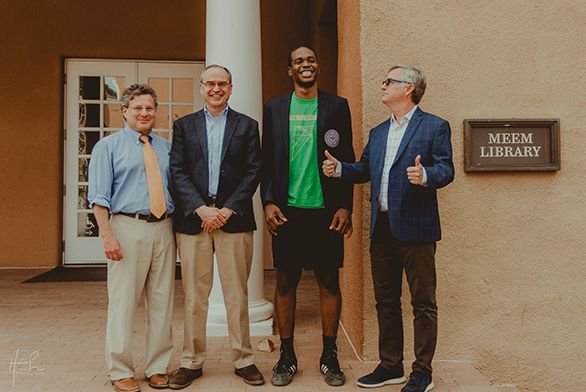 When Oye Ogunbamise (SF18) arrived at St. John's College in Santa Fe nearly four years ago, he found a group of Johnnies who loved soccer as much as he did.
Ogunbamise grew up in Nigeria and had been playing soccer since he was a child. The intramural sports program at St. John's allowed him to continue playing his favorite sport—and bond with new friends.
Ogunbamise's freshman experience set the stage for a long and successful intramural athletic career in Santa Fe.
On May 9, St. John's President Mark Roosevelt honored Ogunbamise with a customized blazer, complete with the St. John's seal, for his contributions to the intramural program.
"Oye has represented the intramural program not just through his good sportsmanship, love of competition and his athleticism, but also by encouraging others of all skill levels to join in," says Mary Anne Burke, fitness and wellness coordinator. "He makes sure all incoming freshmen are given the opportunity to be a part of intramurals and wear their team shirts proudly. He has been a campus ambassador of the intramural program with his enthusiasm, good will, and sense of community and the college will be eternally grateful for his efforts."
Ogunbamise grew up in Lagos, a major metropolitan area along the coast of Nigeria. While soccer, the country's most popular sport, was a big part of his life, so were books.
Ogunbamise says he read a lot growing up. When it came time to apply to colleges, he liked what he saw in the St. John's great books Program. Ultimately, though, he stayed home and studied electrical and computer engineering.
Throughout those years, Ogunbamise felt his education—listening to professors, formulating answers based on what they said—was too "restricted." His thoughts eventually returned to St. John's, and the study of works by those who helped shape Western civilization.
"I was mainly intrigued by freedom," he says.
In 2014, Ogunbamise applied to St. John's for the second time. This time, he enrolled.
Burke remembers Ogunbamise showing up to the Student Activity Center (SAC) as a freshman. He was looking for job, she says, and wanted to be part of the fitness community at the college. Ogunbamise landed the job and worked at the SAC for the next four years; he was a student-worker supervisor for the final three.
During that time, Ogunbamise excelled in intramural sports, from soccer to volleyball. He was the only student on the Santa Fe campus this year who earned enough points in intramural sports to receive a blazer.
On the pitch, Ogunbamise played primarily as a midfielder. He notched a few goals, but mainly assisted his high-scoring teammates. His team, the Geometers, won the intramural team tournament this spring.
"Intramurals has a lot of sports, and when you see people there every time, you suddenly become close to them," he says. "You know them. I think it builds a sense of community in a way."
The intramural program and the SAC help students lead healthier lives, Ogunbamise says. At commencement, he will receive an award for his contributions to the SAC, too.
"You need to balance your health and wellness," he says. "You can read your books, but you also need to participate in things that are physical, not just mental."
Ogunbamise received an Ariel Internship this summer at Los Alamos National Laboratory northwest of Santa Fe. While he is still finalizing career plans, he hopes the internship will give him experience and clarity about his future. He still has an interest in science and engineering.
As commencement approaches, Ogunbamise says he feels "bittersweet" about leaving St. John's. Burke has similar thoughts about his departure.
"He will be missed by all, but we embrace what lies ahead in his bright future," she says.