Graduate Institute Hosts Teachers' Workshop on the Black Intellectual Tradition and Classic Texts
July 18, 2022 | By Frank O'Mahony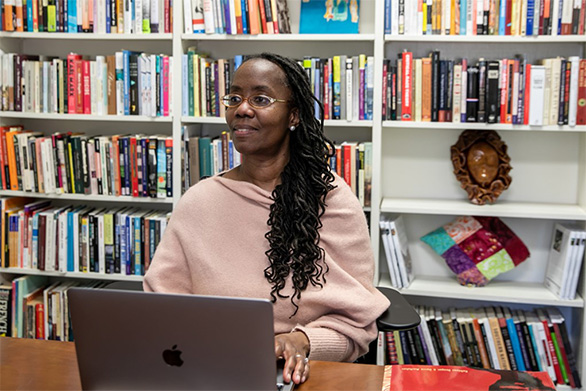 Angel Adams Parham, co-author along with Anika Prather (AGI09) of The Black Intellectual Tradition: Reading Freedom in Classical Literature, led a workshop for teachers at the St. John's Graduate Institute in July. In it she explored classroom strategies for bringing classics from the Black intellectual tradition into conversation with those of the Western canon.
Parham is an associate professor of sociology and senior fellow at the University of Virginia's Institute for Advanced Studies in Culture. She is also executive director and co-founder of Nyansa Classical Community, which evolved out of her experience homeschooling her children and provides curricula and programming focused on the beauty of classical literature and the Great Conversation for students with diverse backgrounds.
To help develop and expand the reach of the Nyansa program, Parham worked with interns from St. John's College's Graduate Institute. This work provides resources and training for K–12 educators to better integrate Black writers and Black history into their teaching.
"My own experience is that people from non-white or non-wealthy backgrounds feel discouraged from going into the classics," Parham says. "It might have to do with how we teach literature in the classroom. It's really a lost legacy; the opportunity is to explore powerful diverse voices, such as W. E. B. Du Bois and Anna Julia Cooper, that have been a vital part of the Great Conversation. I want to introduce these thinkers more broadly, which is why I lead workshops like this one."
Katrina Atsinger (AGI19), an adjunct professor in the English department at the United States Naval Academy in Annapolis, was one of the workshop's participants. "I already teach the poetry of Phillis Wheatley and the writings of Frederick Douglass in my classes," she says. "Dr. Parham showed me how to improve on my methods, and she validated my instincts as an educator."
In addition to workshops and regular lectures, the St. John's Graduate Institute offers a Master of Arts in Liberal Arts, a Liberal Arts Education Certificate, and a Master of Arts in Eastern Classics (at the Santa Fe campus only).