Great Books in the Wild: Retracing John Ruskey's (SF90) Legendary Twain Seminar on the Mississippi
November 9, 2023 | By Jennifer Levin
Known colloquially as the John Muir of the Lower Mississippi, John Ruskey (SF90) has been building canoes and leading wilderness excursions on the Big River for 30 years. The outdoorsman runs a website, rivergator.org, that offers a mile-by-mile paddlers' guide to the 1,155-mile stretch between the Missouri River confluence and the Caribbean Sea—the longest free-flowing river in the continental United States. With his Quapaw Canoe Company (island63.com), Ruskey's on the river almost 300 days a year—and once, in 2014, he even co-led a "Huck ʻn' Jim: Mississippi River Great Books Seminar" with fellow Johnnie alum Jim Bailey (A83). This powerful encounter with literature and nature has become the stuff of legend.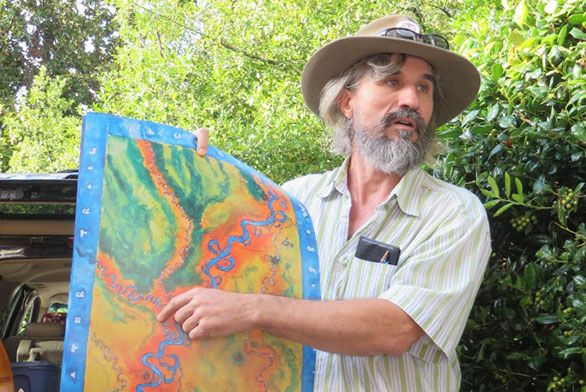 "We were in one of the most important biotas in North America that just happens to be the same landscape that is the backdrop for the Adventures of Huckleberry Finn," Ruskey recalls. Combining a seminar with a multi-day river trip, he says, presents a unique opportunity to challenge oneself intellectually, physically, and even spiritually.
"When you embark with a group of people, you kind of recreate a society amongst yourselves," he says. "A vessel like a canoe makes it more poignant, but it could have been a hike through the mountains. It could have been a group of people wandering through the English landscape, like in Chaucer's The Canterbury Tales. And it's exactly what Huck and Jim were trying to do on their raft. Huck is escaping from an abusive father, and Jim is escaping from an abusive society, seeking freedom from enslavement."
Though Ruskey doesn't always organize canoe trips around specific readings, they are often focused on art, music, storytelling, and deep conversation—a lasting influence of his time at St. John's (where he went by the name Raben). More than a dozen people attended his "Huck 'n' Jim" trip, about half of them St. John's alumni—some of whom had never camped or canoed before. Other paddlers, meanwhile, had never participated in a formal seminar. The group met Bailey in Memphis on October 2, 2014, and then took a bus to Clarksdale, Mississippi, where they spent a couple of days getting acquainted, discussing the readings, and preparing for the river. On Sunday morning, they canoed the Muddy Waters Wilderness, and in mid-afternoon they set up camp on a small island of white sand beaches and wildlife.
"There's no one else on the island except for coyote and deer, lots of water fowl, fish, crustaceans, reptiles, alligators, turtles," Ruskey says. "We were kind of like Huck and Jim on Jackson's Island, where they first met each other, south of Hannibal, before they had the raft."
The group held seminars on the beach, before and after dinner, around a campfire. "In the Adventures of Huckleberry Finn, Twain is effusive about the beauty of the Big River, but also of the terror of it at times," Ruskey says. "There was a fog that descended, and Huck and Jim got separated. That was terrifying, and at the same time, there are passages where Twain talks about the wind sweeping through the trees and turning the leaves upside down, and the serene quality of the river, and pieces of driftwood floating downstream. That made the readings, to my experience, much more immediate than they would have been reading in a classroom or at my house."
The next day held more seminar discussions as well as free time to explore the island, read, sleep, birdwatch, and relax. And then, after another calm night, the group awoke on their final morning to a powerful storm that tore apart their campsite. "We pushed off during first light to get safely back to shore before the worst of the severe thunderstorm hit," Ruskey recalls.
Bailey has nothing but admiration for Ruskey, who received the St. John's Alumni Association Award of Merit in 2022 for achievement in arts and exploration. (In addition to founding the Quapaw Canoe Company, Ruskey was the first curator of the Delta Blues Museum in Clarksdale and co-founder and director of the Delta Blues Education Fund.) The pair met in 2002 at the Minglewood Hall concert and reception venue in Memphis, where Ruskey was giving a presentation about teaching underprivileged youth to be river guides. "I'd heard stories about John. I think he's one of the most amazing St. John's grads of all time," says Bailey, who directs the Tennessee Population Health Consortium at the University of Tennessee Health Science Center and, with his wife, Sharon, has led a series of educational public health seminars in Italy called "Search for the Healthy City." "Or" he adds, "at least St. John's most amazing river rat."
Over the years, Bailey and his family have gone on numerous river trips with Ruskey. Planning the seminar together was a natural extension of their friendship and their shared passion for reading. In addition to the Adventures of Huckleberry Finn and other Twain writings, the group also looked at works by Herman Melville, T.S. Elliot, and Charles Bell. "The Mississippi River wilderness gave us opportunity for rebirth," he says, "just like it did for Huck and Jim. We formed a new integrated society of Johnnies and newcomers to seminar on its shores."
Talking about the seminar on the river makes Ruskey and Bailey want to do it again. After nearly 10 years, it seems more urgent than ever, Ruskey says, "to carry on a new conversation that leads to greater diversity and balance between homo-sapiens on one side and all of creation on the other. We're in need more than ever of places that bring us together and allow us to think freely, broaden our horizons, and see our own society and the world in new ways.
"I think equality is much easier on the river," he adds. "Of course, Huck and Jim carried their own preconceptions with them, and they had trouble leaving behind some of their prejudices. It was one of the themes we talked about." But on the river, "we see the best qualities of our human culture coming through—sharing together, sharing food, sharing the campfire, and sharing equal space in the conversation."