HANOI—During his Hodson summer internship, St. John's student Tri Nguyen (A17) went from novice in the lab to performing his own experiments. Nguyen worked at the Advanced Institute for Science and Technology, a nanotechnology and material science lab in Hanoi, the capital of his home country of Vietnam.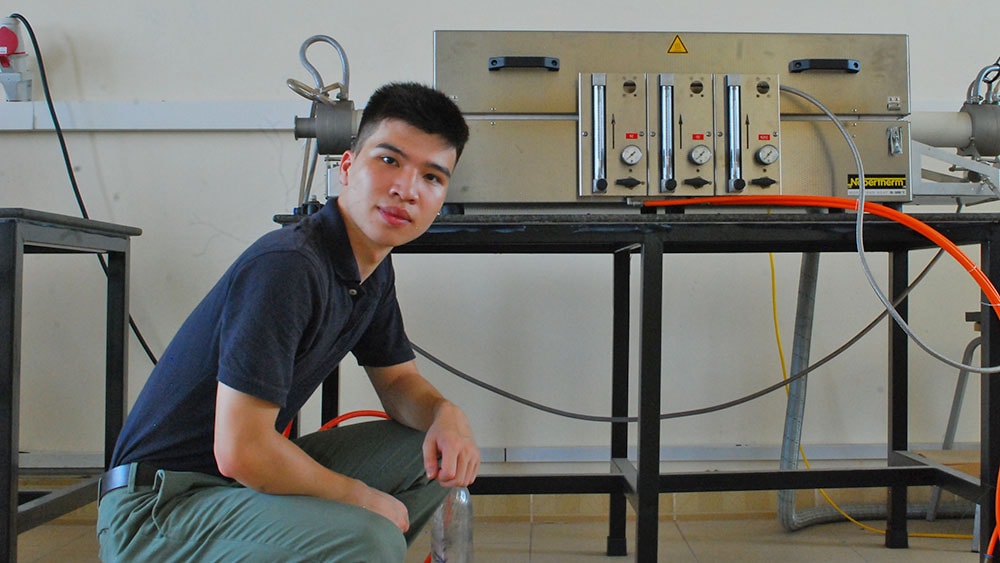 "The first day at the office, I was nervous about what was happening in the lab. My main duty was to help other researchers work on a project to learn how to build and bond different materials to form a new material," Nguyen said.
Nguyen's supervisor gave him scientific papers to read to help him increase his knowledge. Nguyen was well prepared for the quantity and complexity of the reading.
"What I had gained from my St. John's education was to be able to read carefully and quickly grasp the idea of the reading," he said.
At the end of each week, Nguyen posed questions to his supervisors and they would talk about what he was learning. The reading and discussion greatly increased his confidence in the lab and with his colleagues.
"After several collaborative experiments, I worked well with my teammates and was trusted by them. I proved myself to be a diligent, resourceful, and responsible researcher," Nguyen said.
During his time in the lab, Nguyen learned to operate a chemical vapor deposition (CVD) system, controlled the growth conditions of ZnP/ZnS nanorods, became familiar with characterization techniques, and gave weekly presentations on his progress and work.
At the end of his internship, he was approved to perform his own experiment based on the skills and knowledge he had gained over the summer.
"I prepared and calculated from scratch and then performed my experiment from beginning to end without aid from anyone," he said.
"The experiment did not bring out any significant result but I was very proud of this achievement. This showed that I had proved myself worthy to my supervisor and also earned their respect as a fellow researcher."
Nguyen was pleased with the experience he gained from his work in the lab.
"The internship was a wonderful experience," he said. "It further strengthened my desire to pursue science as my future career. The work of a researcher suited me well."
The Hodson Internship Program offers students the opportunity to pursue summer internships in virtually any career field, by funding otherwise unpaid positions through a generous grant from the Hodson Trust. Visit our Hodson Trust Internship Program page for more information. Quotes are excerpted from the student's internship report and used with permission.
—Brady Lee (AGI14)