Honorary Alumni Recognized at Homecoming
September 18, 2019 | By Rebecca Waldron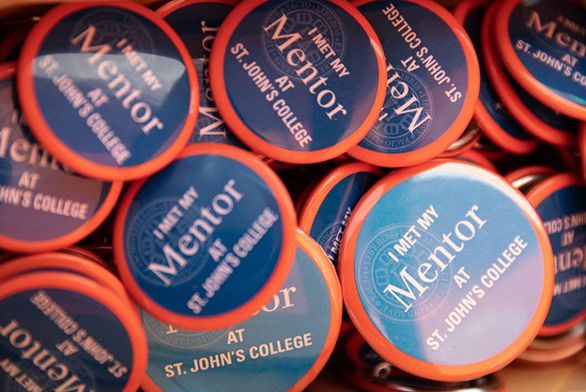 Each year, the Nominations Committee of the Alumni Association nominates candidates for honorary membership in the Alumni Association. Honorary membership is given in recognition to a member of the St. John's community for his or her service, contribution to the school, or notable impact on alumni and students. The Santa Fe-based recipients were recognized last weekend at Homecoming, and the Annapolis-based recipient will be honored during Annapolis' event.
Elizabeth "Litzi" Engel joined the St. John's College faculty in 1975 after earning her PhD in Philosophy from Yale University. Former students characterize her teaching style as thoughtful and generous, with excellent questions and a particularly encouraging approach that drew out the best in students who were more reserved or reluctant to speak up in class. Engel retired in 2018 after 43 years of service in the St. John's College classroom in Santa Fe.
"I'm delighted to be named an honorary alumna," Engel says. "I was 28 when I came to the college; it's informed so much of my adult life. It's been a joy to learn from friends, colleagues and students, and to be able to immerse myself in the books."
Charles Trefrey has long been a close friend of the college in the Annapolis community. For 25 years, Trefrey has participated in the Executive Seminar and served on the board of the Friends of St. John's College for over 15 years, including a term as president. He has built strong mentoring relationships with generations of St. John's College students in Annapolis. After graduating from Amherst College and spending time with the Army service in Korea, Treyfrey worked in the pharmaceutical industry for many years before retiring to Annapolis. He has been a long time and tireless promoter and supporter of St. John's College.
Marline Marquez Scally served as International Student PDSO advisor for 17 years and as Registrar of the college in Santa Fe for 15 years. During that time, she worked with four Presidents, five Deans, and six Assistant Deans and proudly shared the joy and excitement of approximately 1,000 graduating students. The wife of a tutor emeritus and mother of an alumna, she considered her work at the college to be a vocation and continues to serve the college community.
"Have I seen it all and from every angle? Have I shared the joys and anguish of students, tutors, and staff? Have I lived the St. John's experience so fully that it became part of living and breathing? Do I care about St. John's? Absolutely and with all my heart," Scally says. "The duration of a wonderful relationship matters little. Did we both discover something about our own Self and The Other because we engaged? This happened over and over again at St. John's with no consciousness of age, gender, or position. I have a special place in my heart for the near two hundred international students that I counseled and graduated. Across the globe, many cultures respond to an opening greeting between friends with 'I see you.' It's a type of seeing that goes beyond the visual; it involves penetrating the spirit or soul. I am sincerely grateful and proud [of] this honor. I share it with the near 1000 students who graduated and the many colleagues who have supported me in my work."