An Internship Investigating Faith: Christopher Campbell (SF23)
August 10, 2021 | By Eve Tolpa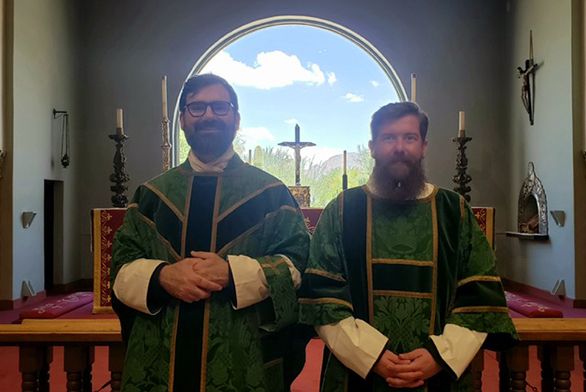 Christopher Campbell's (SF23) summer 2020 ARIEL internship was not easy. But, he says, "perhaps that is part of why it has been so immensely fulfilling."
Campbell served as a liturgical and technical assistant at St. Philip's in the Hills Episcopal Church, in his hometown of Tucson, Arizona. His intention was to learn more about the priesthood and begin his discernment process, a protocol required of prospective clergy members to determine the contours of their calling.
"I wanted to see what the day-to-day work of a priest is like and experience leading and assisting in the liturgy of the church, while also learning more about the church and theology," says Campbell.
Because the pandemic precluded in-person worship, St. Philip's in the Hills needed extra tech support. Campbell stepped up to assist, handling Zoom meetings and events, creating Sunday worship videos, formatting and editing the weekly newsletter, and building the church's new website—as well as acting as a general IT liaison for parishioners.
"Even with all of the new and unexpected responsibilities, I was still able to participate in some liturgy and formation," he says. "I would lead morning prayer every Friday and occasionally throughout the week when a priest needed coverage. I led the church Bible study and wrote the daily meditation several times."
Campbell also penned a three-part op-ed for the parish newsletter, participated in church events, and attended weekly staff meetings. Throughout, he worked closely with a number of priests, discussing texts (such as The Christian Priest Today and Spirituality and Pastoral Care) and his own discernment process, all while getting to know them personally and professionally.
From the church's rector, Campbell says, "I was able to catch a glimpse into what leading a parish looks like. One memorable quote from him is: 'If by the end of this experience you haven't thought about how you would do things better than me, then something is wrong.'"
The rigors of the internship were both spiritual and intellectual, but thanks to his strong educational foundation, Campbell was prepared to face them.
"I don't know if I would have even accepted the insight into the scriptures, liturgy, or myself if it were not for St. John's challenging me," he says.
"Entering my freshman year, I thought I knew what knowledge was. I had experienced life, and I had read books. But by the second semester, my mind was opened; I was truly ready to learn."
Campbell had been raised as an active member of Anglican church, but over time, he says, his "connection to God grew more and more distant."
Shortly before attending St. John's, he became an atheist—mainly, he says, because "I had never really explored my faith. I was becoming, at that point—and still am—compelled by the need for logical consistency in my understanding of the world, and saw religion as purely superstition, not backed by any true understanding of the world."
By the end of his freshman year, he "came to realize how arrogant and presumptuous my atheistic beliefs were, and that they were just as unfounded as I believed my previous Christian beliefs."
Delving into Christianity during sophomore year gave Campbell an opportunity to challenge his lapsed faith directly.
"What I was faced with was logical consistency and a network of beautiful ideas and philosophies which held up to scrutiny," he says. "[I] began to find true faith. While reading Augustine's Confessions I began to realize that my calling might be to the church, and that's when I reached out to St. Philip's for the internship."
During that summer, Campbell worked closely with one of the priests at St. Philip's to investigate his faith and calling. Since then, he says, "both my relationship to the church and my discernment have progressed drastically."
In fall 2020, he returned as a junior to St. John's, where he encountered "some amazing theological works," including a preceptorial that gave him an in-depth look at the Christian mystic Simone Weil. He decided to take a gap year after that first semester to further collaborate with St. Philip's and devote more time to his discernment. During that period, he's spent his time engaging in theological and philosophical discussions, working in various ministries, and assisting in the Holy Eucharist. (He plans to return to St. John's to finish his junior year in January 2022.)
Now Campbell characterizes his path forward as "honest."
"I feel not only that I have found true faith but my calling."