John Okrent (A04) on Medicine, Poetry, and Coronavirus
April 15, 2020 | By Les Poling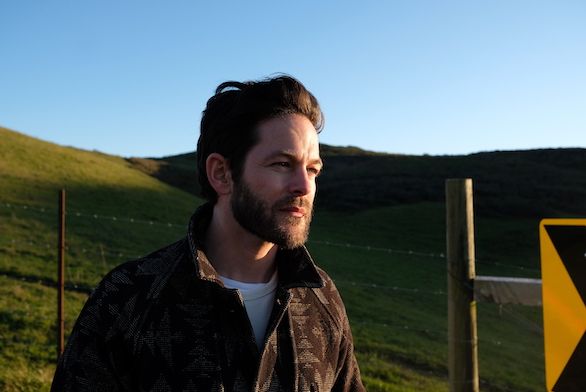 The color of lilacs, only darker—the clouds
that cover the top of Mt. Rainier like a shroud
this evening. Another beautiful day. Disturbing
to see so many people walking the waterfront
as if the sky weren't burning. The fish market is closed.
So begins "March 18, 2020­," a sonnet by St. John's Annapolis alum John Okrent (A04)—one of his five Corona Sonnets published by Poetry Northwest on March 30. Written as a series (the last line of each sonnet finds itself replicated in the first line of the next) and filled with stunning pairings of beauty and tragedy, the precise, often harrowing poems offer a chilling representation of our current world. But for the writer, who works as a family doctor in Tacoma, Washington, poetry isn't confined to times of crisis. "I've been writing poetry for as long as I can remember," he says.
Okrent's passions for poetry and medicine first merged at St. John's, where the major-less approach to study suited him well. He still dreams of St. John's—specifically, a recurring dream in which, having graduated, he finds himself taking courses or reading for pleasure. In the real world, his undergrad education is ever-present. "I am constantly having to remind myself of the necessity of dialogue and searching towards truth and beauty, rather than making a point, or being 'right,'" he says. "I recently read an article in The New Yorker by Alexandra Schwartz about the writer/critic Vivian Gornick, and there's this line in it: 'She likes to be right; but she loves to find that she was wrong.' I think that's the spirit that's instilled at St. John's, and is invaluable."
He decided to become a doctor during his freshman year in Santa Fe, largely due to lab dissections, Plato and Homer, and the consequent contemplations of virtue and the nature of being "good." While he always knew on some level that he wanted to write poetry, "I remember an all-college reading/seminar my junior year of Wallace Stevens's 'Thirteen Ways of Looking at a Blackbird' that kind of pushed me over the edge and helped me to realize the primacy of poetry in my life," he recalls.
He's pursued both ever since. Even before the onset of a global pandemic, Okrent wrote every day. "It is the art of attention," he explains. "If I am not writing poetry, then the quality of my attention is significantly diminished." Of course, in times like these, the writing takes on a greater weight. Corona Sonnets balances reflections on nature, everyday life, and beauty with a growing sense of unease, anecdotes from his clinic, and brief insights into the impact the disease has had on his family—"March 19, 2020" describes how his wife has to hide his daughter when he arrives home from work so he can shower.
The poems are defined by a striking sense of specificity that arises from their origin; they began as daily notes, intended to one day convey the unprecedented nature of the current era to Okrent's 16-month-old daughter. "The poems are constructed from the notes of my days, and so they arise naturally out of the stuff of my days," he says. That "stuff" includes morning walks in the woods punctuated by the scent of deodorant; an Italian pulmonologist on the radio; pixelated video calls with family and friends; the growing number of COVID-related deaths; and much more. Seemingly disparate subjects find themselves side-by-side. From "March 19:"
160 new positives in King County.
The number doubles by the day, and will,
and from the bureau last week's tulips bow their purple,
ludicrous heads.
Of this type of fusion, Okrent says: "I'm drawn to the poetic form because I feel it comes closest to lived experience—a poem, as opposed to describing experience, comes closest to being experience."
The structure of the sonnets matches the circumstances that inspired them. The dated titles—March 17–20 and March 22, 2020—reflect their diaristic quality, the idea that the poems began as an act of bearing witness. Then, there's the interconnectedness of the body of work. "The idea of writing a crown of sonnets, in which the last line of the first sonnet is repeated in the first line of the second, and so on, seemed to me a mirror to the run-on nature of our days during this pandemic," Okrent explains. "I've continued adding on to the initial five sonnets and will continue to write them as long as it feels necessary. It still feels necessary."
Meanwhile, as a doctor, Okrent spends every day witnessing the devastating effects of the pandemic. He describes his day-to-day life as "stressful," which would seem to be an understatement: King County, home of Seattle and Bellevue, has been one of the regions hit hardest by COVID-19. When he goes into work, he dons a plastic face shield and "a heroic gown of goldenrod;" while he's grateful to be working, he worries about becoming a carrier when he returns to his wife and daughter each night. Not to mention, he says, "it has been really hard for them, stuck at home with no social interaction; no more visits with the grandparents."
His poetry captures that sense of helplessness; the consequences of fighting a disease defined by its almost ethereal quality. The fact that, whenever we need groceries or fresh air, we tread carefully to avoid something we can't see, hear, or smell. It's part of what makes the disease so hard to combat. "People need to make the life-saving sacrifice of social distancing, staying at home, wearing masks, washing hands," Okrent says. "All of that is extremely important—and it can be hard to drive the point home to people because the 'enemy' is still very abstract for people. That's why I say in one of the more recent sonnets, 'We must learn to feel the pain of things that are not yet here.'"
When he's not writing, working, or spending time with his family, Okrent finds comfort and inspiration in the poetry of others. He's reading Whitman, as he does every spring, and is part of a group of poets who share what they're working on approximately every week—a group that includes Johnnie alum and former tutor Sarah Stickney (A04), who Okrent calls "one of my favorite living poets."
And while his sonnets are by no means cheerful, they, too, offer the reader a sense of solace through the heightened appreciation—the "art of attention"—that they attribute to everyday beauties; the moments that might have been previously taken for granted, like your daughter eating granola out of your hand ("March 22, 2020").
"There's that great Richard Wilbur poem, 'Love Calls us to the Things of This World,' [that gets its title from Augustine,]" Okrent says. "I am thinking about that a lot these days. As we are bombarded by mortality statistics and increasingly morbid news, I am more eager than ever to turn my attention to The Things of This World."