A Johnnie Abroad: From Santa Fe to Oxford
St. John's students and alumni can now participate in a two-week summer exchange program through Oxford University, an institution with which the college shares extensive intellectual DNA: the Great Books. In fact, the founders of the St. John's Program, Stringfellow Barr and Scott Buchanan, both attended Oxford, so the relationship is an easy and fitting one. Inaugurated in 2023, the newly launched program provides Johnnies with a two-week summer experience designed especially for them. Participants read some of Western civilization's greatest texts and study philosophy, politics, and economics ("PPE") in small classes led by Oxford faculty. And when they're not nose-deep in books, they're connecting with friends new and old, exploring Oxfordshire, and enjoying field trips across the U.K. Here, Graduate Institute student Sofya Yampolsky shares memories of her time across the Pond; for more information on OEX, visit the program's website. Registration deadline is January 31, 2024.
As a current Santa Fe Graduate Institute student, I enrolled in the Oxford Exchange Program to experience life at the renowned university while exploring a new area of study—and, of course, to reconnect with other Johnnies after the pandemic dispersed our cohort in 2020. With an eye toward further graduate work, I knew I would have the chance to make connections within the Oxford community and spend some short but focused time developing my research interests.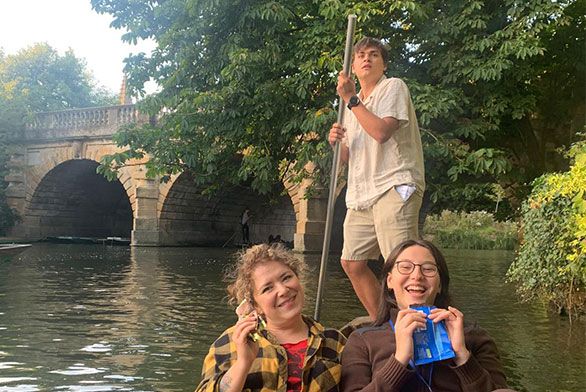 Living at University College was just as much a component of study as the course materials. All of us spent time exploring what life at Oxford would be like, from casual meetings in the pristine green quads to taking meals in the breathtaking dining hall. I also took many solo sojourns through the back alleys of various colleges and drank enough local coffee to earn a handful of free drinks. There is a vibrant local scene if you take the time to find it!
Our schedule was packed with engaging lectures (a departure from the usual St. John's format of learning, albeit with a welcome deluge of new ideas and theories), challenging collaborative exercises, and optional evening activities. Like a proper college town, Oxford is overflowing with cool things to do—my personal favorites were a Tudor early music concert and a campus history tour, arranged for us by our seemingly inexhaustible course directors, Louise Fornby and Craig Tiedman. A day trip we took to London—and the endless laughter of us all trying our hand at steering long boats along the Thames River—was certainly unforgettable.
I appreciated perhaps most of all how organized the OEX's academic content and timing was for such an intense week of study. Louise and Craig's deep experience shone through their attention to detail, punctuality, and genuine care for our collective wellbeing. Johnnies are a tough crowd to please, intellectually, but I felt a genuine and sustained enthusiasm across all of us, regardless of age or campus.
The "Oxford Essay" we were required to write was a challenge that—although being just as stressful as any other St. John's paper—ended up being a really rewarding part of the course. I gained some immensely useful insights into my area of research interest from the tutor with whom I was paired for the essay. I also took the time to meet with a professor from the school's Classics faculty to answer my questions about their graduate program; now I have a much better sense of what the application process and academic life would look like.
I would energetically encourage SJC students to attend the Oxford Exchange Program. It's so thoughtfully designed, and it will remind you that our way of engaging with the "great books" has a beautiful and rich origin at Oxford. You will have a chance to feel connected to something bigger and older than you may have realized.
—Sofya Yampolsky (SFGI)