Johnnie Alumnus Reflects on the Meaning of a Free Mind
January 10, 2019 | By Anne Kniggendorf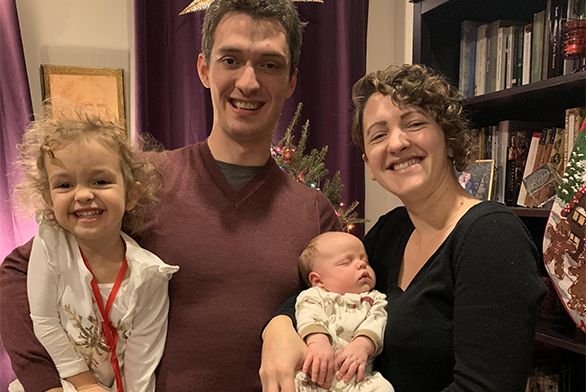 From his very first day practicing law, Kieran Dowdy (A09) hit the ground running. A new case had come out against a client, and the partner at Dowdy's new firm wanted him to figure out what the impact and scope of the new findings would be for the lawsuit in which the client was plaintiff.
"I was asked to evaluate the impact of the new case," says Dowdy. "I wasn't just doing something for an exam, I was being asked to read and think critically and was being trusted to give advice."
Part of him was surprised that anyone would want to listen to what the new guy had to say, he says. But on the other hand, his years at St. John's had made him accustomed to his ideas being valued by others.
"I felt like St. John's really prepared me to answer that question responsibly and confidently," Dowdy recalls. "You're no longer dependent on received wisdom or information. You have the intellectual strength and rigor to insist on ideas that are well thought out. You're no longer beholden to anyone to explain anything to you in a formal way."
Dowdy says that the Program helped him think for himself, consider others' viewpoints, insist that views be supported, and be critical of his own thinking.
Though he had briefly considered a career in law while in high school in Huntsville, Alabama, the idea didn't stick. When he was a student at St. John's, however, he worked as an intern in the Maryland governor's office, where he spent four years being exposed to various forms of legislating and became interested in the operational side of government.
"Understanding the law helps you make big ideas a reality," he says, "because you have to pass legislation or regulations."
Ultimately, his career in law has freed him in another way: through financial stability. He and his wife, Julie Dowdy (A11), have recently fulfilled a longtime goal of theirs to give back to St. John's. They've decided to set up a recurring gift—"Not much," Dowdy says, but a start they both feel good about.
"We're especially encouraged by the new tuition pledge," he says of the college's recent unveiling of its plan to lower tuition to $35,000 a year. "It means a lot to us to support the college's affordability for people of all backgrounds to come and to feel comfortable that they can take advantage of that when they want to."
Dowdy says he hopes the lowering of tuition will bring in students from a variety of backgrounds who might not otherwise have been able to attend.
"Your ability to grow depends on freeing yourself from what you see and looking at things from other people's perspectives," he explains. "(Being at St. John's) is the only time in your life you have the luxury to think broadly and seriously without any other obligations."