Johnnie Librarians: How Lisa Rosenblum Manages a $140 Million, 50 Branch Library System
February 1, 2023 | By Anne Kniggendorf (SF97)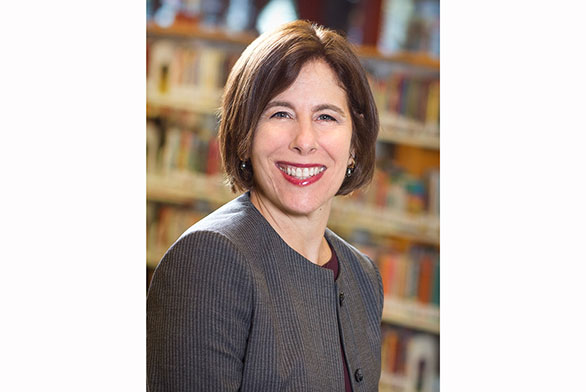 For the past six years, Lisa Rosenblum (A80) has been the executive director of the King County Library System in Washington state. With a budget of $140 million and 50 branches funded by its own taxing district, she runs one of the biggest systems in the nation.
But Rosenblum did not wake up one morning in love with library work. She didn't spend her work study hours in the stacks of Woodward Hall, Greenfield Library's predecessor. And she had no idea at any point in her St. John's College career that she would ever apply for a library position.
Her journey into library work was a pragmatic one, she says. Rosenblum learned first by cataloging in the back room of a Rice University library—a post-graduation job simply because she needed one—loathing every second. Later, she applied for a job at the ​San Jose Public Library. To​​​ land the position, she leaned heavily on what she'd learned at St. John's, but not anything meaty like critical thinking skills or how to be a good conversationalist. The story of how she was hired is one she tells often in interviews; it's funny.
A degree in library science, which she earned later, was not required for the entry level job she had her eye on. She just had to take a test. And, like many Johnnies, Rosenblum didn't consider testing her strong point.
"I had just moved from Houston to California and was not aware of all the state library-ish things that I should know. Or, quite honestly, some of the librarian things I should know, like, how do you answer a reference question?" Rosenblum recalls. "The reason I passed was the matching part of the test, where you have to match the author with the book."
On that portion, she found old friends like Herodotus and knew exactly which title to connect with his name.
"Then I had an interview, and that's where my St. John's skills came in," she says. "They asked me: 'How do you answer a reference question?'"
Well, she said, you ask the person more questions; you engage the person in conversation to tease out the real request.
Questioning has been at the heart of Rosenblum's three-decade long career in libraries.
"I always look at the big picture. And that might be a St. John's thing.​ ​Why are we doing this? Should we be doing this? Could we do it another way?" she says. "You can't just question though; it's a combination of questioning but also being outcome and results driven."
Additionally, she has the confidence to approach topics that are new to her. "I can walk into a room and not know something and say, 'Okay, I don't know this, but teach me about it,'" she explains.
It's a lot like walking into a language tutorial as a freshman not knowing Greek, she says, a challenge set before every St. John's freshman and sophomore.
That confidence has a non-academic source as well. Rosenblum says the intramural sports program on the Annapolis campus was hugely important to her. She grew up in the 1960s and ​early '​70s when girls didn't often play sports; programs typically weren't offered or encouraged, and​ there was no such thing as a scholar athlete. You were either one or the other.​​
Not so at St. John's. She played intramural soccer​, volleyball (where she had a killer serve), basketball, and softball​​.​
"It was fabulous. [Sports] got me confident, and, to this day, I exercise, I work out. At St. John's, I discovered how I couldn't just sit in a​ cold room in the ​ winter and read. I needed that physical activity," she says.
But she also discovered a camaraderie that she'd never felt with other women.
"I was with these other women my age. And I said, I understand now why men… pursuing that team competition thing... how that helps you in your career," she says. "We'd never had that before, and we were at a disadvantage."
Just as learning and growing at St. John's is not strictly book based, neither are public libraries only about books.
For Rosenblum, her field and the skills she uses to succeed have everything to do with connecting with​​ people and identifying their needs and interests. That happens through observation and conversation.
"If you're in seminar," she says, "and you have to stick up for your ideas, you must figure out a way you can talk to people that is not condescending,​ that​ is positive​ and gets your message across. I call it reading the room​."
Rosenblum uses that ability as she serves her community through public libraries, what she calls "the most democratic institution we have right now."