Johnnies Create Liberal Arts Education Company in South Korea
July 6, 2021 | By Les Poling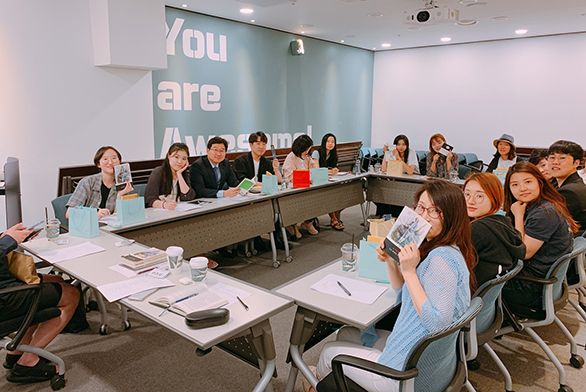 St. John's Santa Fe rising senior Eun Seo Oh (SF21) didn't grow up studying the liberal arts or participating in rigorous seminar-style dialogues. In fact, when she first started undergraduate studies in her home country of South Korea, she was a design student, focusing specifically on architecture and interior design. But during that time, Oh says, she felt intellectually unfulfilled.
"It felt hard to come up with deeper ideas while making my designs," she remembers. "I felt that I needed to study philosophy—not just study, but learn to think like a philosopher."
Shortly after, Oh stumbled across St. John's—in a Facebook article, somewhat ironically—and has been there since.
"At the college, I learned how to think," she explains. "I had to study things I didn't now, like math, Newton, and music."
That experience, Oh says, has value beyond the classroom. But from the beginning, she thought it strange that an education similar to St. John's wasn't available to her back home. Now, she hopes to bring the joys of the Great Books to others with PhiloUs, the liberal arts education company she launched in June 2020. Along with four other PhiloUs staff members who work as both tutors and administrators—fellow Johnnies Minseok Kim (SF20) and Siwhan Cha (A23), as well as two other students based in Korea—Oh, the founder and CEO, runs PhiloUs as an exploratory, seminar-style educational experience for children and adults alike.
The PhiloUs idea initially emerged during Oh's freshman year, when she recorded a podcast with a fellow South Korean Johnnie about life at the college. The podcast was a fun, informal experience intended to let other Korean students know about the Great Books, seminar, the liberal arts, and other hallmarks of St. John's. To her surprise, the episode received an enthusiastic response, leading her to wonder: Why can't there be a similar, seminar-style learning experience at home? By the next year, she was presenting the idea for PhiloUs to Kim (Cha joined as a tutor in July 2020), and what began as a book club concept quickly transformed into an educational venture.
"I was a sophomore in Santa Fe at that time," remembers Kim, who currently works as PhiloUs's financial officer and a tutor. "I was very skeptical, since I thought Korea was the last place on earth where a liberal arts education could work out well. However, it turns out that there are many supporters."
Practically speaking, PhiloUs is a Great Books-centered education company offering one-month and two-to-three-month seminar programs for children and adults. Currently, Oh reports, there are between 20 and 30 learners in this month's adult program, with 20 students in the concurrent children's program (there are approximately 200 students enrolled, total). Depending on the length of the program, students meet either weekly or biweekly, with a PhiloUs tutor helping facilitate the conversation with a Johnnie-style opening question. Unlike St. John's, the sessions—and the foundational works and thinkers discussed—are organized by theme and level (adult or children). A session on love, for example, would see students reading and discussing Plato's Symposium, Austen's Pride and Prejudice, and Fitzgerald's The Great Gatsby, among other texts.
The goal, Oh says, is twofold. On the one hand, she hopes that PhiloUs helps popularize the liberal arts in South Korea; "I want people to know why the Great Books, why thinking about and questioning them, are important," she says. The other goal is slightly loftier. "I want PhiloUs to make a culture in which people are free to speak."
"I think of PhiloUs as a liberal arts platform where people can find meaning in their own lives and enjoy them," Kim adds. Referencing his feeling that ideas of success and fulfilment are often clouded by money and careerism, he says, "I want everyone to be the masters of their lives, and I believe that a liberal arts education can help people achieve that."
Creating and maintaining an education company during undergrad is by no means an easy task, from managing finances and developing marketing materials to facilitating digital meet-ups and fielding logistical questions—Cha, for example, spends two weeks each month developing programming, contacting tutors, and then managing and expanding the curriculum. According to Oh, Kim, and Cha, balancing the rigors of PhiloUs and St. John's wasn't even the hardest part.
"Reading the Great Books isn't very popular in Korea, so I'm always trying to let more people know why reading them is important—that's the challenging part," Oh says.
But all three say the endeavor, however exhausting, has been worth it. Oh recalls one student, who she remembers as one of the quietest people in the entire program, slowly contributing more and more in discussion until "she was almost like a St. John's tutor." Similarly, Kim says, "a few months back, a former student thanked me and Ms. Oh for making PhiloUs. He talked about how PhiloUs changed his way of thinking and how that affected his life in a good way." And on a more holistic level, Cha adds, "the most rewarding thing is that some of the people see what we're trying to pursue, and they're willingly joining the discussion and learning together."
Oh, Kim, and Cha readily admit that PhiloUs is still finding its footing; after all, the company is barely one year old. Moving into the future, Oh says, the PhiloUs team has a simple objective: to continue to expand. The more people involved in the conversation, the better.
"I want to create a space where people are free to speak to each other, even though they are discussing really hard questions," she declares.