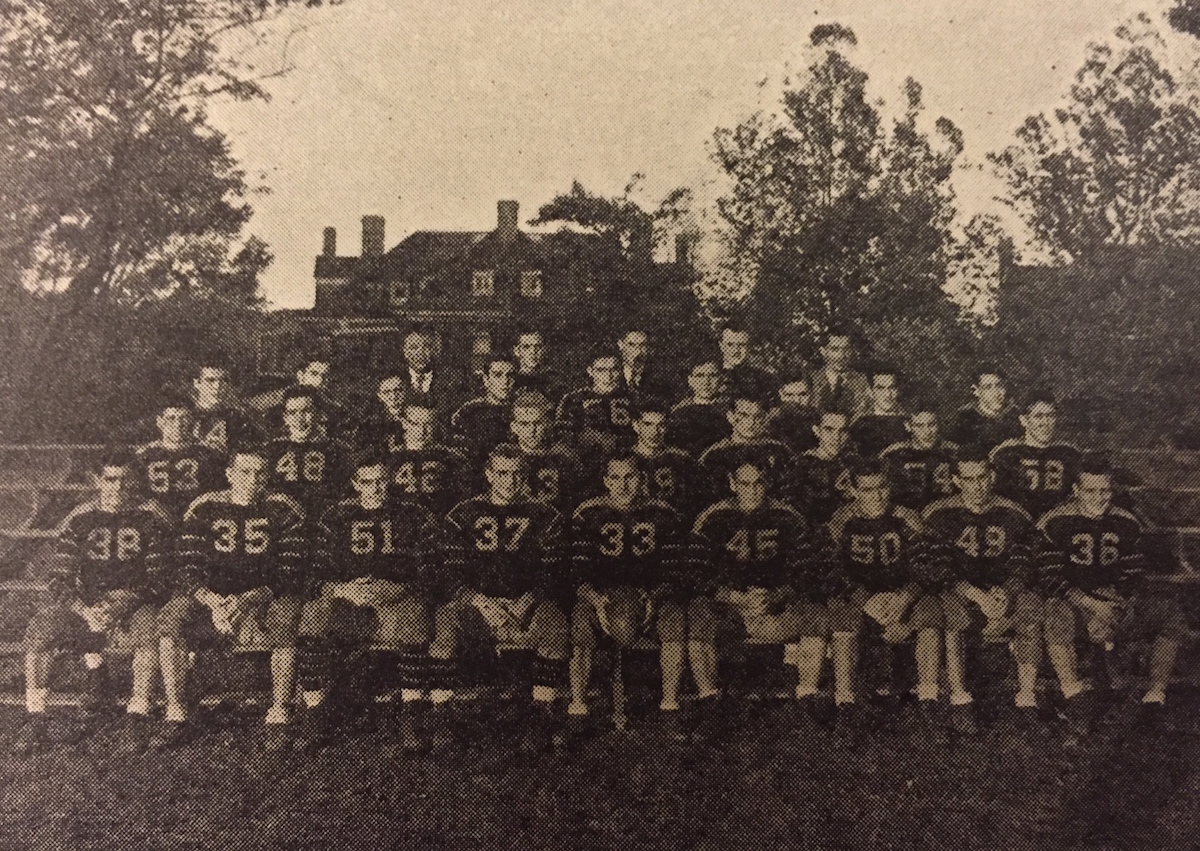 ANNAPOLIS—The 1933 St. John's College football team had, in the words of the 1934 Rat-Tat yearbook, "one of the most successful football seasons in recent years." The team went 5-2-1 in a year where a new rule made freshmen available to play on varsity teams.
"The past year has witnessed changes for the better in the administration of athletics at St. John's," according to the yearbook. "By far the most important was the abolishment of the freshman rule prior to the beginning of the football season."
The freshmen took advantage of the opportunity.
"Naturally we went out and did our stuff," the freshmen claimed in the Rat-Tat profile. "In football Bob Snibbe, Slim Summerville, Everett Smith, As Lee, and Ernie Cory represented our class."
As much as the freshmen contributed, however, Homecoming 1933 was a day for the seniors, as Carl Charles MacCartee, Lewis Emil Scheffenacker, and Gust Skordas rallied the St. John's team to an impressive 29-7 Homecoming victory over Arnold College. (Arnold College was incorporated into the University of Bridgeport in 1953.)
"The game was exciting throughout and had the 'Old Grads' on their feet much of the time," according to the game recap. "[Head Coach Tody] Riggs started a first string line and a second string backfield."
After Arnold scored on the second play of the game, it was all St. John's as Skordas, MacCartee, and Scheffenacker took turns being the star. Scheffenacker scored first on a 10-yard run. St. John's scored again on a Skordas pass to MacCartee, who also kicked the extra point.
After MacCartee intercepted an Arnold pass, he then dropped back and passed to Skordas to set up another touchdown, a Skordas run, making it 20-7. Scoring concluded in the second half with another Skordas touchdown pass to MacCartee and an Arnold sack in the end zone.
"The play of the team was not up to standard as Coach Riggs ordered his quarterback not to show anything to Hopkins scouts," the article concluded, in reference to St. John's upcoming Thanksgiving Day game against Johns Hopkins. "This caused quite a few comments from the alumni who were not acquainted with the facts."
The strategy apparently worked: St. John's defeated Hopkins 13-0 on Thanksgiving Day.
Join the Homecoming fun on social media by using the hashtag #SJCHomecoming!
—Brady Lee (AGI14)